When tens of thousands of people marched for reconciliation in Vancouver last Sunday, a tiny woman in full Inuit ceremonial dress took up the lead with two First Nation women and two Native children.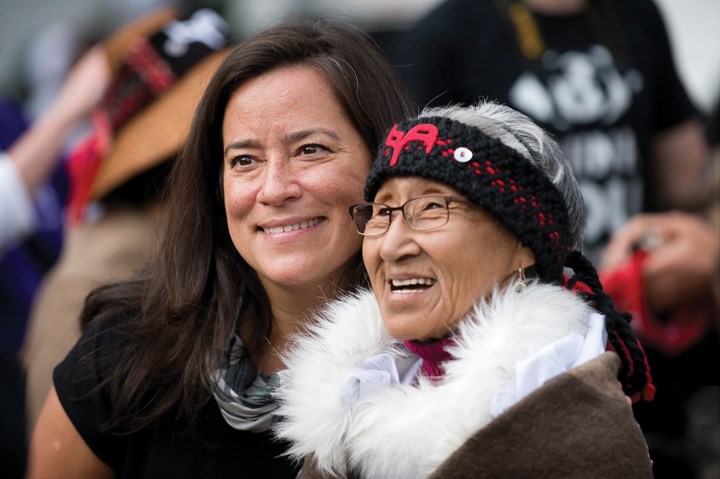 Annie Aculiak of Davis Bay was placed in the honoured position, according to husband Pierre Jacques, by Assembly of First Nations National Chief Perry Bellegarde, who marched directly behind her.
Recalling the experience the next day, Aculiak said one of the women organizers insisted, "The little short one has to be in front."
As the two-kilometre walk got underway, Aculiak said she told the woman next to her, "You know what? In the beginning I was really scared and right now I'm getting happy, and my nervous is gone." The woman told her, "The medicine is around you."
Aculiak, a traditional felt artist whose work hangs in Buckingham Palace and Rideau Hall, was in her usual vendor spot at the Shipyards Night Market in North Vancouver the previous Friday when Reconciliation Canada officials approached her, asking her to attend Sunday's walk as an Inuit representative.
The 59-year-old, who speaks Inuktitut with English as a distant second language, was a fitting choice.
"She's considered to be one of the very last Eskimos to be born in an igloo in Canada," Jacques explains.
Aculiak's personal history is interwoven with the tragedy of Nunavik, an area comprising the northern third of Quebec. When she was young, her family was moved off the tundra to Port Harrison – now Inukjuak – on Hudson Bay and their sled dogs were killed to prevent them from returning to their traditional way of life.
"My dad was heartbroken and he passed away after," Aculiak said.
She spent time in a residential school but returned home at age 10 after she developed tuberculosis. Of her own five children, only one survives.
Jacques said Sunday's walk, from Aculiak's point of view, was not so much for the residential school survivors but for their children, who are confined in remote communities with no work and little hope for the future.
"In Inukjuak, there's nothing to do," he said. "There's 1,500 people in that community, 60 per cent of them are under the age of 18, and there's no work. So what do they do? They drink, they fight, they go to jail. They've got no money. They can't use their Ski-Doos because they've got no money for gas… In the North, the culture is being killed off. Killed off by alcohol, by suicide."
The federal government, he added, "is turning a blind eye to what is happening."
Following Sunday's walk, politicians joined Aculiak on stage in a blanketing ceremony and, with captivated smiles, posed with her for photographs – among them B.C. Premier John Horgan, Vancouver Mayor Gregor Robertson and federal Justice Minister Jody Wilson-Raybould.
"They're happy to take pictures with Annie and everything," Jacques said, "and then that makes them look good, and they get a blanket. But are they going to do something about it?"