For arts and culture on the Sunshine Coast, 2022 represented a year-long resurgence from the arid constraints of COVID-19.
In the familiar language of local water restrictions, it was a shift from Level Four — on guard, with concern and suspicion — to Level One's judicious liberality.
The contrast is dramatic. Twelve months ago, dancers in the Sunshine Coast Nutcracker donned masks and fretted that a pending health order might shut down the show. In early January, a Coast Reporter arts writer attended a recital by MOTET at St. Hilda's Anglican Church, only to find that singers outnumbered audience members by a ratio of two to one.
Now, after 12 months of incremental steps toward normalcy, arts groups and organizers on the Sunshine Coast are savouring the succour of in-person presence. Restoration of each vital tradition — festivals, plays, exhibitions — felt like another step toward full cultural communion.
The careworn adventurer of Alfred Tennyson's poem Ulysses offers a description appropriate to the end of this curious solar circuit: "Though we are not now that strength which in old days / Moved earth and heaven, that which we are, we are; / one equal temper of heroic hearts."
As with those sailors three millennia ago, a chronicle of the year's cultural exploits shows how far we've come — while portending even greater glories ahead.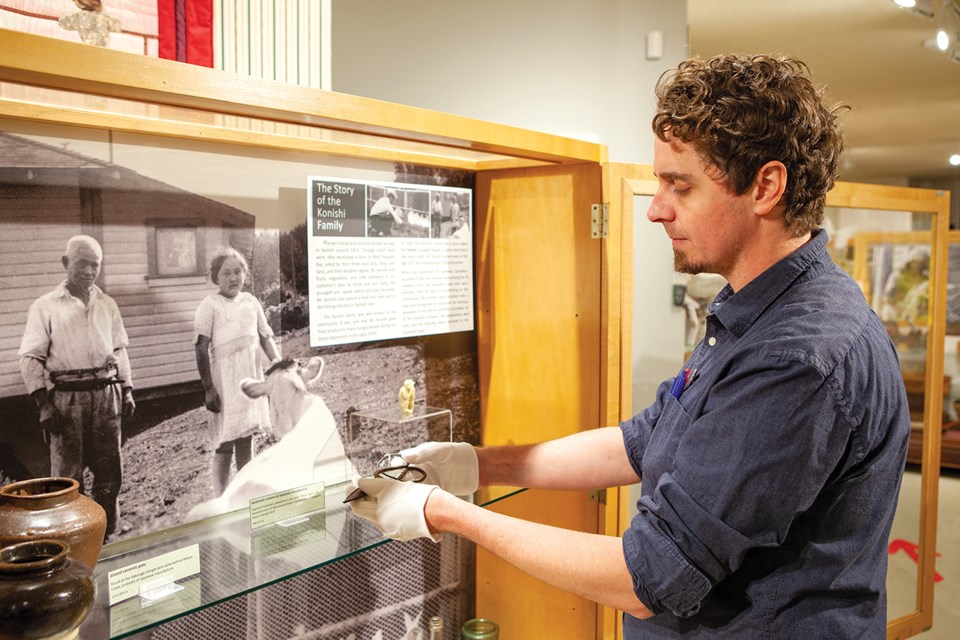 January
The Sunshine Coast Museum and Archives commits to further repatriation of its collections to the shíshálh Nation and Sḵwx̱wú7mesh Úxwumixw. "When we're thinking about repatriation," says Alison Pascal, curator of the Squamish-Lil'wat Cultural Centre, "we're thinking about how it helps us to remember and recreate cultural losses."
A hesitant Driftwood Players theatre company announces a resumption of their mainstage season, cautioning that masks might be worn for an upcoming production of A.R. Gurney's The Dining Room.
Multimedia artist Mieke Jay opens an immersive exhibit at the Gibsons Public Art Gallery. The show opens with a live-streamed public reception featuring live dance and original electronic music performed by Baeden Shendebray.
The Gibsons and District Public library prescribes socially-distanced "reading walks" to mark Family Literacy Week.
Gibsons puppeteer Kris Fleerackers premieres his pandemic project Idol at the Vancouver Short Film Festival before ultimately earning awards at the Comox Valley International Film Festival and the UK-based Do It Zero festival.
Vocalist Charlotte Wrinch, performing at the Persephone Brewing Company, is at the vanguard of local performers daring to perform in-person at local cafés and breweries. Guitarist Joe Stanton and others begin to schedule regular gigs.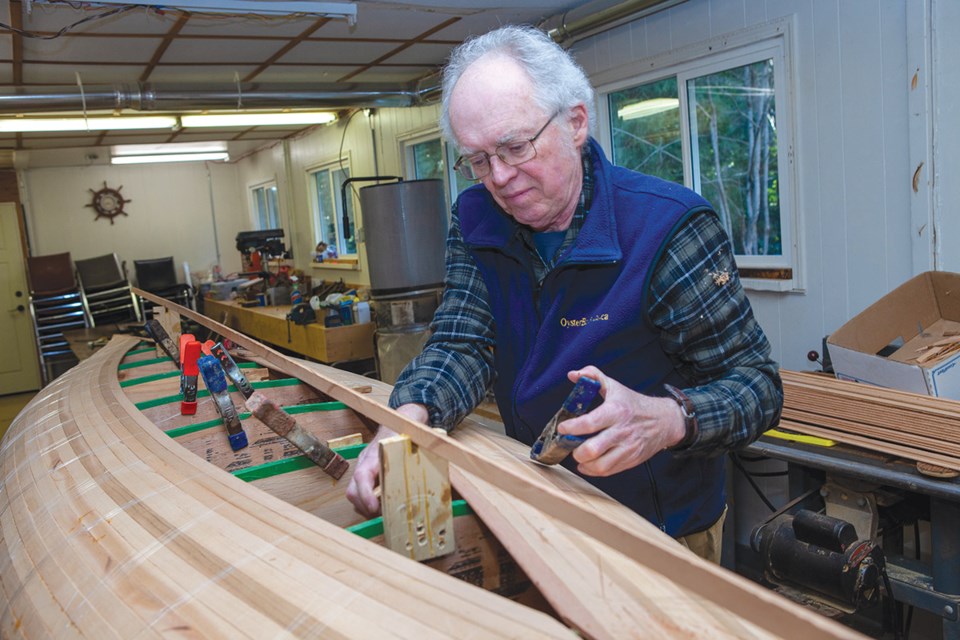 February
Teenage author Riley O'Sullivan launches his debut novel Rise of the Lost: Fall of Kings with a public reading at the Gibsons Public Library.
Geena Jackson, of the shíshálh Nation, recruits contestants for an upcoming reality series called Bears' Lair. The series, focused on Indigenous entrepreneurs, airs on APTN in the autumn and nets a $100,000 prize for Ontario-based indoor farming company AgriTech North.
Mezzo-soprano Rose-Ellen Nichols dies at 41 after a prolonged battle with cancer. Nichols grew up in Pender Harbour before launching a global career in opera and giving voice to Indigenous experience in acclaimed original works.
The District of Sechelt breaks ground on a $253,000 outdoor stage project in Hackett Park. shíshálh Nation Elder kwayimin Andy Johnson, shíshálh Nation hiwus (Chief) Warren Paull, MLA Nicholas Simons, Sechelt Mayor Darnelda Siegers and MP Patrick Weiler share their vision for the space.
At Sarah Wray Hall in Irvines Landing, boatbuilding instructor Rick Crook leads a team of six adults to construct a cedar canoe for the Pender Harbour Living Heritage Society. The completed craft is eventually launched in mid-March.
Black History Month celebrations, led by Valerie Mason-John and Iyabo Olaniyan, take place at the Gibsons Public Market. Dozens of community members participate in a free meal of African delicacies.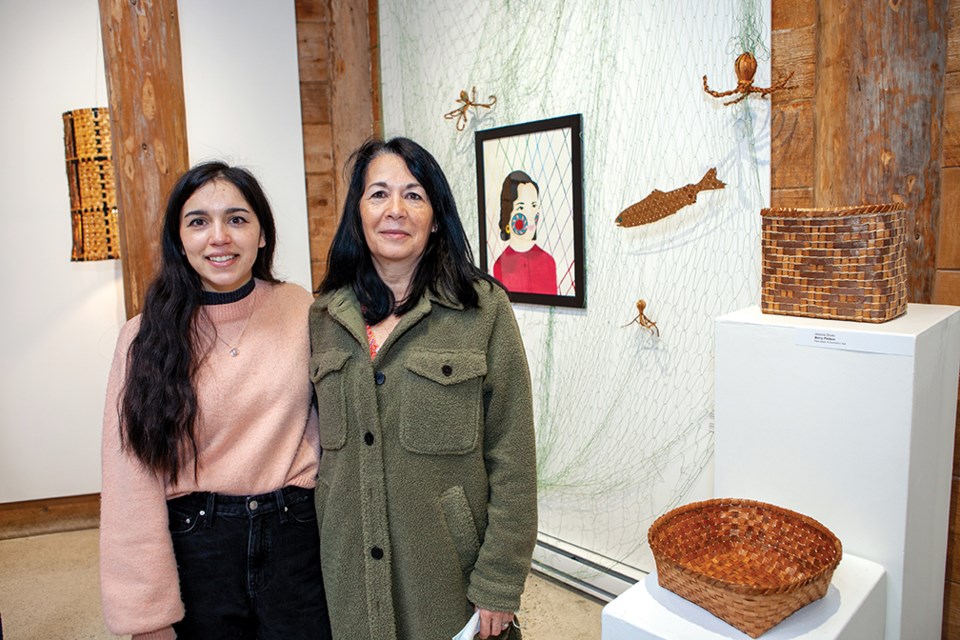 March
Author Vickie Jensen visits Gibsons to launch her new book about B.C.'s undersea maritime industry, Deep, Dark and Dangerous. While in Gibsons, she visits the Sunshine Coast Museum and Archives to view the 1960s-era remotely operated submarine built by Coast inventor Donald Hauka.
School District 46's musical theatre students don sterile face masks for a COVID-era journey to the Scottish highlands in a winsome production of Brigadoon.
The Coast Academy of Dance inaugurates dance competition season with a preview performance at the Gibsons Heritage Playhouse. Dancers sport transparent face guards while performing a high-calibre tribute to the musical Chicago.
A fundraising concert at the High Beam Dreams event centre in Gibsons unites the community in support of the beleaguered European nation, and marks the first of many local initiatives to support Ukrainian families and culture.
The Sunshine Coast Film Society resumes its 2020 program, screening "movies for grown-ups" (in the words of its president Doug Dyment) that were deferred due to COVID.
Roberts Creek blacksmith (and later Area D director for the Sunshine Coast Regional District) Kelly Backs is profiled in a definitive volume documenting metalworkers of the Salish Sea.
Mother and daughter artists Jessica Silvey and Ali Casey exhibit traditional Salish weaving and painting at the Sunshine Coast Arts Centre in Sechelt. Silvey recalls her mother's struggle to assert her cultural identity, thinking of the matriarch: "You're the most beautiful woman, inside and out, that I've ever known."
Multi-instrumentalist Steve Wright issues a call for contributors to his Complaints Choir. At the Rogue Festival later in the year, singers will harmonize the pet peeves submitted by community members.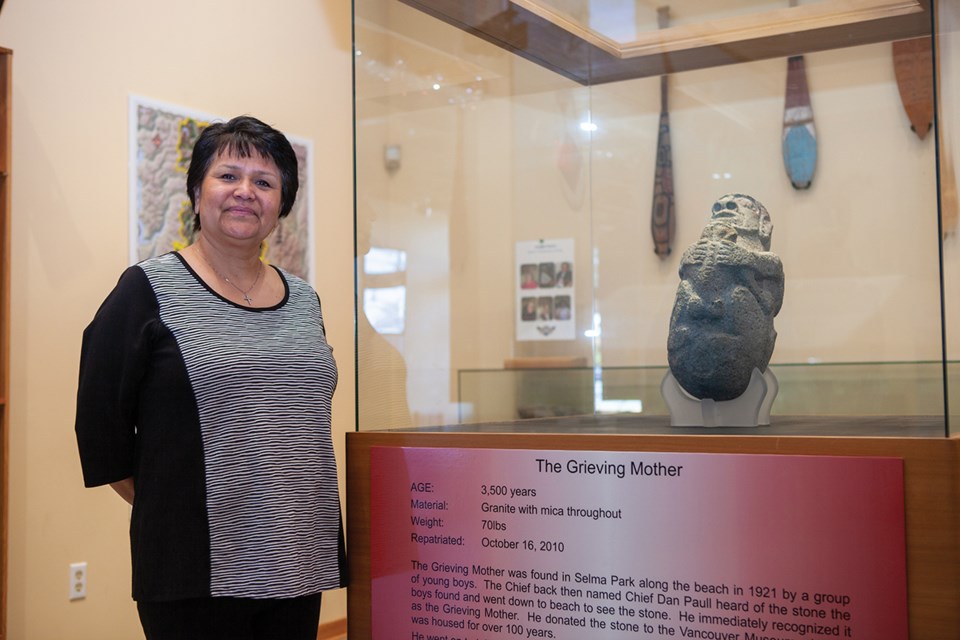 April
Gibsons architect Josh Wallace joins Vancouver artist Sunny Nestler for an exhibition at the Gibsons Public Art Gallery. Wallace's speculative designs imagine vast music-making installations on the Sunshine Coast.
The Driftwood Theatre production of The Dining Room reaches its opening curtain after some cast members overcome COVID infections. The actors go mask-free while the audience is encouraged to cover up.
The 48th annual Sunshine Coast Festival of the Performing Arts begins its month-long series of adjudicated performances, which are opened to the public.
The shíshálh Nation's tems swiya museum re-opens after a two-year COVID closure. Curator ch'elkwilwet Raquel Joe says an exhibit depicting the impact of residential schools will remain on display for the foreseeable future.
Wanda Nowicki and Peter Hill bring the music of an irreverent literary icon David King to the Heritage Playhouse stage in Foolish Man: The Songs of David King (King died in 2021). The pair will later reassemble their performers for another run of the revue in November.
Venezuela-born songstress Susana Williams introduces the Sunshine Coast to her irrepressible brand of Latin, jazz pop and rock, in a performance where she is joined by her partner Andrea Williams, a flamenco virtuoso.
Six books released by local publishing houses Douglas & McIntyre, Harbour Publishing and Nightwood Editions are shortlisted for awards at the BC and Yukon Book Prizes.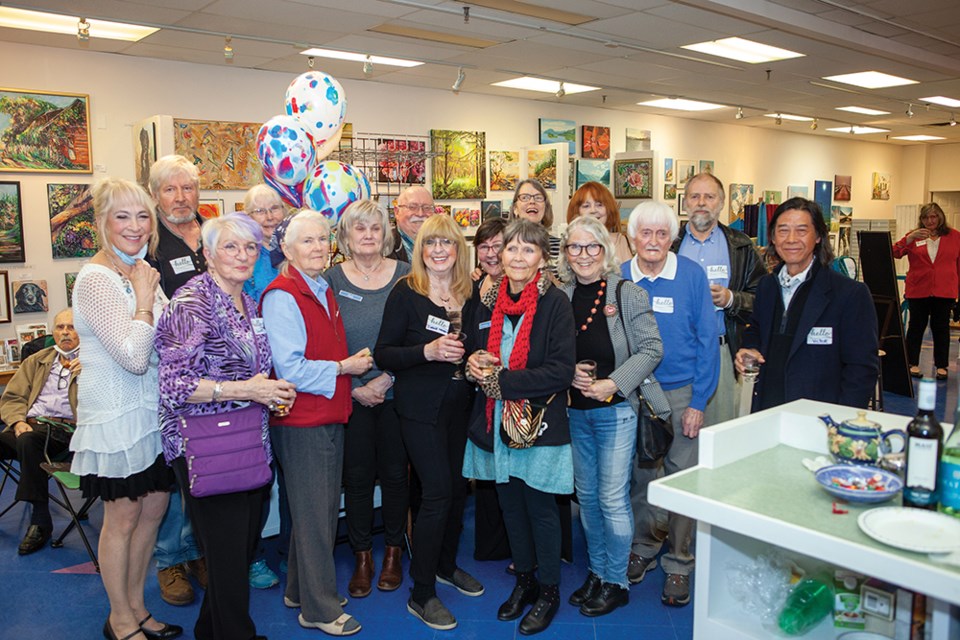 May
Children's performer and Sunshine Coast resident Charlotte Diamond releases her new book and album Charlotte Diamond's Animal Friends during a Mother's Day concert in Pender Harbour.
The Sunshine Coast Festival of the Written Arts announces the successor of longtime director Jane Davidson. Marisa Alps, a 30-year veteran of the publishing industry and a former board member, is scheduled to take the reins after the 2022 festival concludes.
The Sunshine Coast Hospice Society premieres a documentary commissioned from Gibsons filmmakers Nova Ami and Velcrow Ripper. Living With Dying features "compassionate conversations" with Sunshine Coast residents about the impact of terminal illness.
Three local mystery writers (Karen L. Abrahamson, Elizabeth Elwood, and Charlotte Morganti) are tapped to receive international crime fiction awards. The three are members of Sisters in Crime, an international association of writers and fans.
With a grand opening reception to inaugurate its new home, the Coastal Art Gallery relocates from Trail Bay Centre to Sunnycrest Mall. The cooperative gallery requires its members to take turns welcoming visitors.
Live musical performances continue to beat their return. The Suncoast Concert Band delivers a concert for Mother's Day, while the Coast Symphony Orchestra and the Coast Chamber Strings team up for their first post-COVID performance.
Launch parties herald the arrival of an updated Purple Banner Guide, the fold-out encyclopedia of local studios, galleries and artists. The guide is an ongoing project of the Coast Cultural Alliance.
June
Pride Month organizers marvel at the outpouring of community support for the Sunshine Coast's LGBTQ+ community. "All of a sudden, this year it just sort of took off," says Bet Cecil, chair of the Sunshine Coast Pride Dance Committee.
The Living Forest Institute begins a series of mountaintop concerts in the endangered Songbird Forest above Roberts Creek. Ticketholders are escorted to the performance venue by guides in hiking boots.
The Pender Harbour Blues Festival returns after a two-year hiatus, featuring three days of concerts, including a Sunday Morning gospel show at the Pender Harbour School of Music.
Musical mentor Steve Wright and 17-year-old Spade Hoile release a hard rock album, Title the document, that was eight years in the making.
Shain Niniwum Selápem Jackson brings together a group of Indigenous artists for an exhibition exploring themes of cross-cultural reconciliation at the Gibsons Public Art Gallery.
Author and Gibsons resident Marion McKinnon Crook receives the Lieutenant-Governor's Historical Writing prize for her memoir Always Pack a Candle: A Nurse in the Cariboo-Chilcotin.
The syiyaya Reconciliation Movement presents syiyaya Days across the shíshálh swiya (homelands), including musical performances and book readings that honour Indigenous and Métis history.
Collaboration by the Sunshine Coast Festival of the Written Arts and School District 46 results in the release of Coastal Voices, an annual anthology featuring creative writing by young Sunshine Coast residents. The book is released during a rain-sodden reception at Sechelt's Rockwood Pavilion.
Waldorf Ballet concludes its program year with a vivid performance of Alice in Wonderland, while the Coast Academy of Dance marks three decades of instruction with a show titled Celebration. The Gibsons Dance Centre year winds up with a recital inspired by Vivaldi's Four Seasons.
The Town of Gibsons launches its summer-long Music in the Landing concerts, while Sechelt inaugurates its Hackett Park outdoor amphitheatre with weekly shows in its Sechelt Summer Music series. The outdoor stage is adorned with a mural designed by artist Emily Gray that features words in the shíshálh language.
Over three days, the Gibsons Landing Jazz Festival deploys local ensembles and soloists to venues across the community, including a party and dance at the 101 Brewhouse.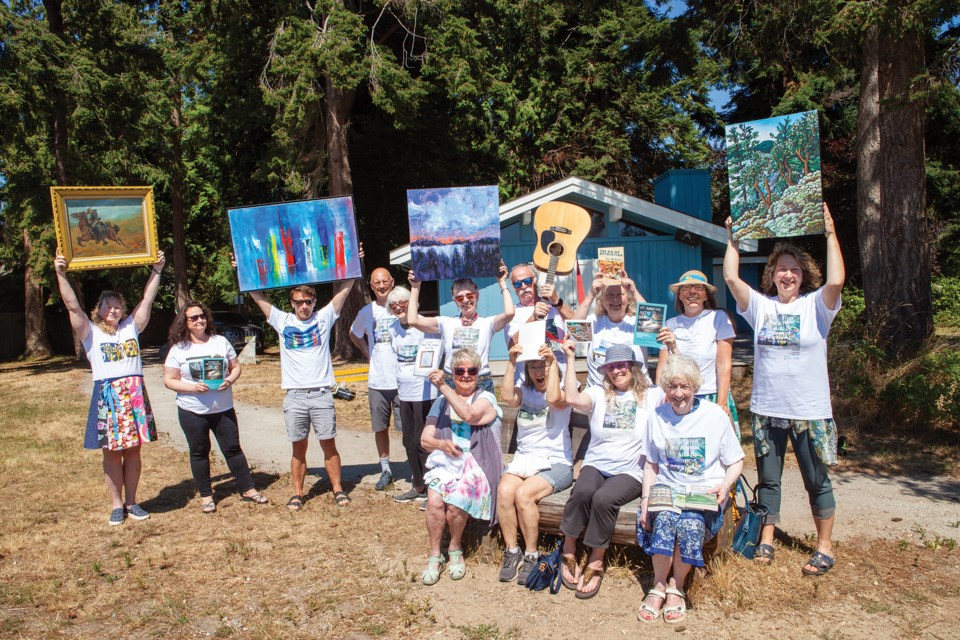 July
A multigenerational cast of performers render Shakespeare's A Midsummer's Night Dream in a public performance at Winegarden Park on the Gibsons waterfront.
The Synergy at Play summer musical theatre intensive for youth culminates in an adrenaline-infused performance at the Gibsons Heritage Playhouse, under the direction of Varya Moysey-Rubin.
At the Gibsons Heritage Playhouse, nonagenarian impresario Nikki Weber produces a sold-out musical revue, Silver Lining, featuring five decades of musical crowd-pleasers.
Beloved Beachcombers actor Pat John, who portrayed Jesse Jim on the long-running CBC series, dies at the age of 69.
The Sunshine Coast Writers and Editors Society launches the Art and Words festival in Davis Bay, bringing together random pairings of visual artists, poets, storytellers and filmmakers.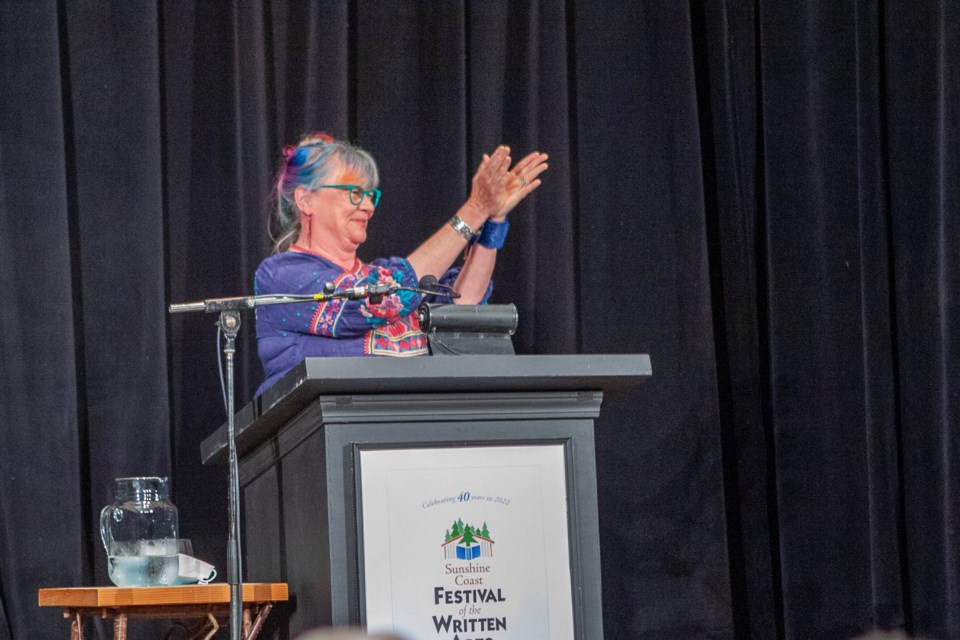 August
After two years of COVID curtailment, Rogue Fest returns to ts'ukw'um for a weekend of performances, public art, and the best-organized parking lot in music festival history.
The 40th annual Sunshine Coast Festival of the Written Arts assembles authors who consider themes of identity and reconciliation. The festival's keynote Rockwood Lecture is delivered by longtime CBC presenter Shelagh Rogers.
A Youth Indigenous Festival (last held in 2019 as the Indigenous Youth Festival) takes place at Sechelt's Hackett Park, featuring the hip-hop stylings of Dakota Bear.
Just in time for the annual Higgledy Piggledy parade in Roberts Creek, the community's 25th waterfront mandala is painted by community volunteers led by designer Robert Marion.
The Sunshine Coast Hospice Society launches a series of interactive workshops to help people cope with loss through creative expression. Weaver Janna Maria leads the inaugural sessions.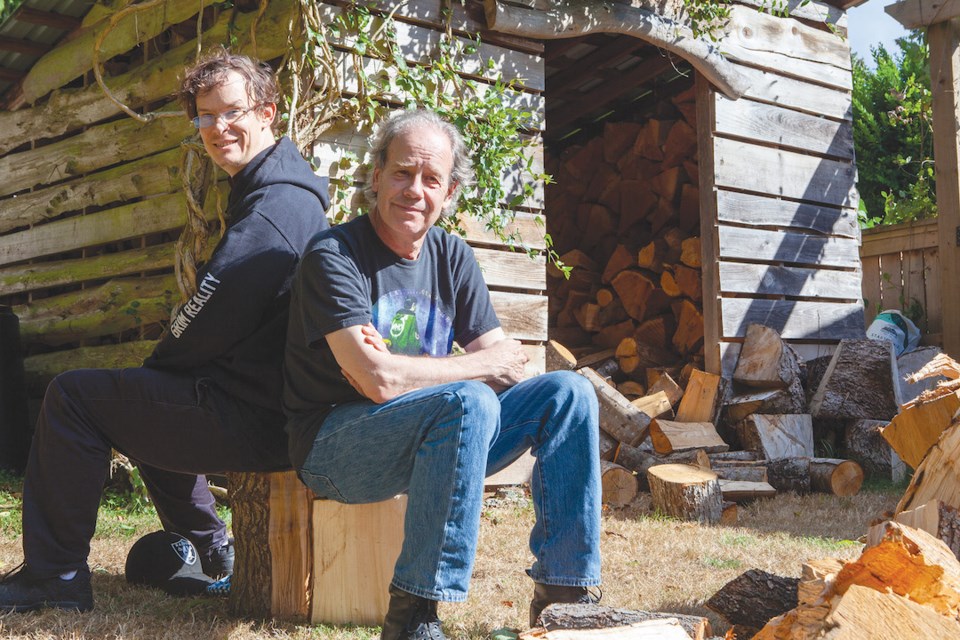 September
Actors Micheal Oswald and Richard Austin translate their homage to absurdist theatre, Nothing to be Done, from its original outdoor venue to the Heritage Playhouse stage.
Colombian filmmaker (and Langdale resident) Diego Samper screens his new movie Wild Symphony in Gibsons. The film's music and visuals were recorded on location in the Amazon rainforest.
The Driftwood Players present their second mainstage production of the year. Timepiece, by Vancouver playwright Kico Gonzalez-Risso, is performed one year after it was read as part of the Off the Page reader's theatre series.
The Sunshine Coast Writers and Editors Society releases an anthology of literary works and children's art to commemorate the 50th anniversary of the Beachcombers television series.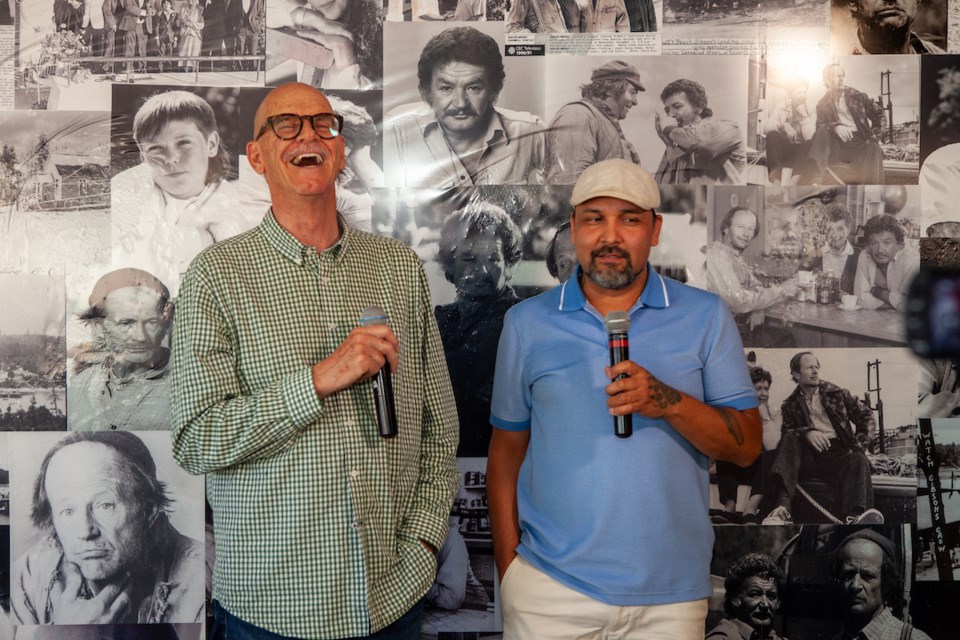 October
As former cast and crew members gather for a 50th anniversary reunion of Beachcombers, producers announce plans to create an animated spin-off version of the episodic comedy.
Gibsons artist Elizabeth Evans is honoured by the Nature Conservancy of British Columbia as Artist of the Year for her painting The Intruder.
The audiobook release of Caitlin Hicks's novel A Theory of Expanded Love is recognized by the the NYC Book Awards, another in a series of accolades for the Roberts Creek-based writer's 2015 fiction debut.
Gibsons-based director Sherry Yoon is shortlisted for the Siminovitch Prize, one of Canadian theatre's top awards.
The Buffalo Dreaming, an experimental dance production uniting Indigenous and Indo-Canadian performers, is performed at the shíshálh Nation band hall.
The Sechelt Arts Festival runs exhibitions and performances at venues across the district, concluding with a parade and music by the ad hoc Junkyard Band (playing upcycled instruments) on Halloween night.
Theatre groups, musical groups and food providers organize the first post-COVID Gibsons Halloween Block Party. An all-ages comedy penned by JoAnn Bennison, Beetlejuicy, is performed three times.
169 studios and galleries across the Sunshine Coast welcome Art Crawl visitors for a weekend that nets participants over $500,000 in sales and commissions.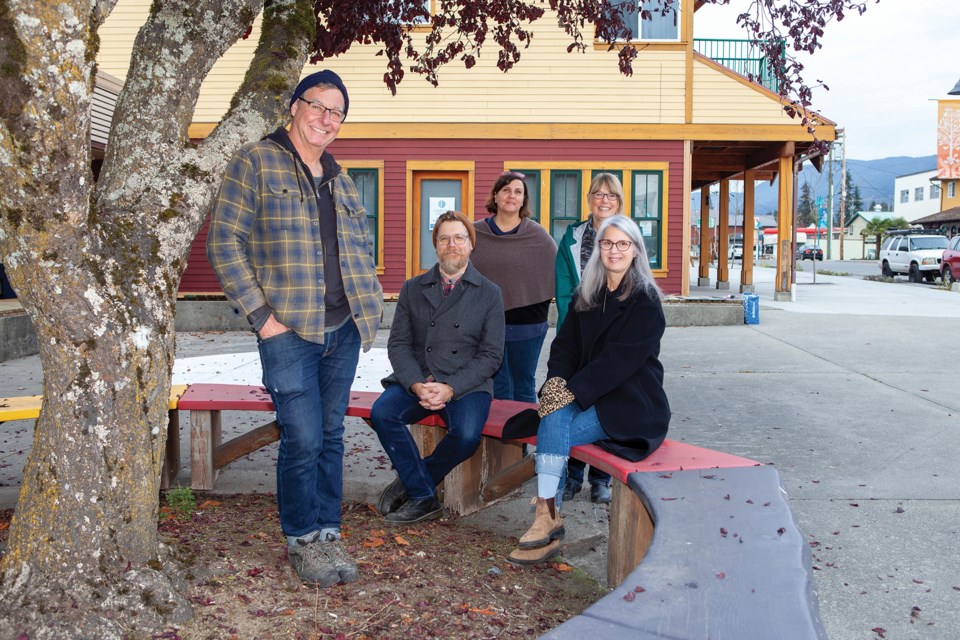 November
A student club from Elphinstone Secondary, under the direction of Colten Rockford, marks a year of groundbreaking efforts that transformed the school's courtyard gardens.
Choral director Sara Douglas directs a masterful Sunshine Coast premiere of Maurice Duruflé's Requiem on the 75th anniversary of the mass's composition.
Members of the Sunshine Coast Writer and Editors Society gather weekly in Gibsons to support participants in National Novel Writing Month. At month's end, they determine to continue meeting indefinitely to foster the local literary community.
A group of artists led by Jill Hemmings sets up an interactive public art experience titled Amplify the Space during Sechelt's Festival of Lights.
100 spectators gather in the shíshálh Nation Longhouse to witness performances by Alfonso Salinas and Ecko Aleck. Aleck's spoken-word presentation was filmed for a forthcoming documentary tentatively titled The Elders Project.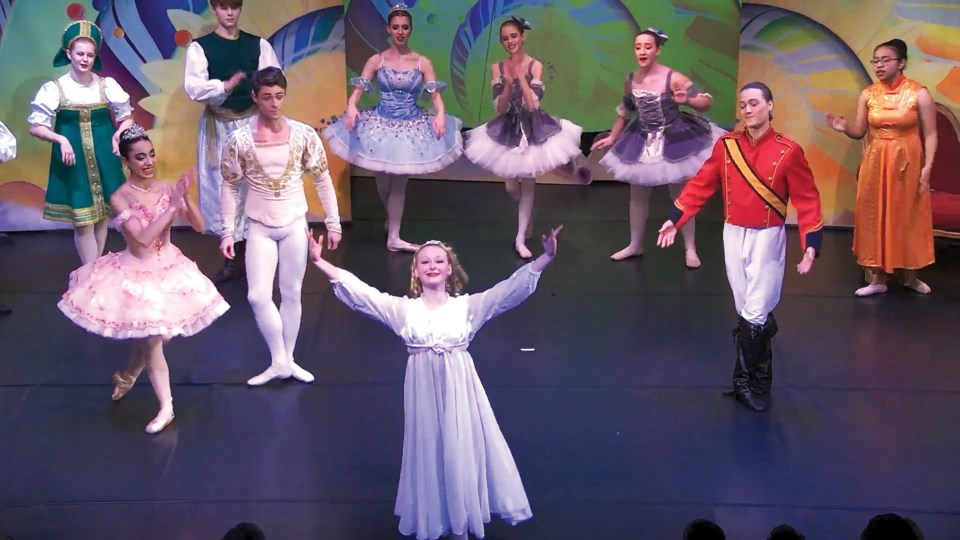 December
The Sunshine Coast Arts Centre features a month-long exhibition of works by young artists. Students also contribute designs for Sechelt's 2023 street banners.
Seasonal performances dominate the cultural calendar, including concerts by the Inspirato Vocal Ensemble, A Cappella Strait and Choralations Children's Choir (with Grace Notes Youth Strings), the Pender Harbour Community Choir, Wild Voices, the Sunshine Coast Youth Choir, the Coastal Lights, and the Suncoast Phoenix Choir. The Coast Symphony Orchestra and Suncoast Concert Band play to a full house. The Coast Messiah Choir reunites for the first time after COVID to perform the Christmas segment of Handel's oratorio.
Two separate renditions of the Nutcracker ballet are presented in Sechelt and Gibsons, by Waldorf Ballet and the Sunshine Coast Youth Dance Association respectively. The record number of performances (14) marks ten years of the annual Nutcracker tradition on the Coast.
Ten musical drag performers present Make the Yuletide Gay, a family-friendly Christmas show in support of the Sunshine Coast Affordable Housing Society. The year-old ensemble plans another performance in February.
A kaleidoscopic exhibition of members' art at the Gibsons Public Art Gallery provides a year-end reminder of the prodigious talent and prolific output of the Sunshine Coast's creative community.