The Western Hockey League's Calgary Hitmen have drafted 15-year-old Oliver Tulk of Gibsons.
The team chose Tulk 12th overall in April's 2020 WHL bantam draft and announced May 1 that he had agreed to sign with the club.
"We are very excited to have Oliver sign with our program and commit to Calgary," said Hitmen general manager Jeff Chynoweth in a release announcing Tulk's signing. "He is a talented young man who we believe will become a core piece of our franchise moving forward."
Tulk currently plays for the Delta Hockey Academy's Bantam Prep Green team, which is part of the Canadian Sport School Hockey League featuring some of the top high school age players in the country.
According to the Hitmen, the 5-7, 160-pound forward led his team with 69 points this season and managed 10 points in two playoff games before the league put a halt on the season because of the COVID-19 pandemic.
"Oliver is a terrific two-way offensive player and we are very excited to add him to our program," said Hitmen director of player personnel Dallas Thompson. "He's a quick skater with very good vision and has an excellent shot."
"I am so excited to be drafted and signed by such a first class organization," Tulk was quoted in the Hitmen announcement. "This is a tremendous honour for me and my family. I look forward to working hard on my game to be able to earn the respect of the players and coaches, when it's my time to join the Hitmen."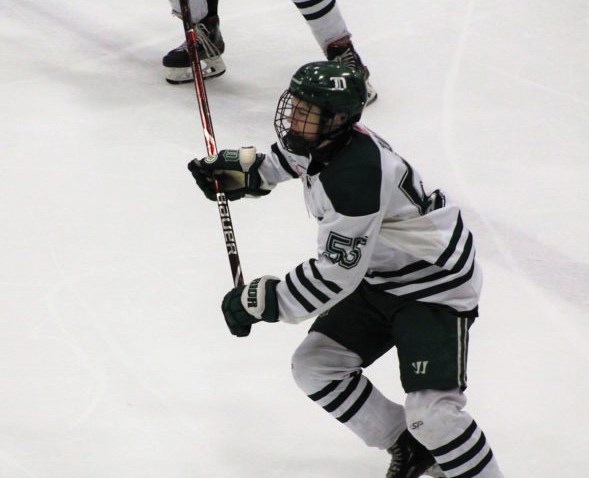 Tulk told Coast Reporter getting the call that he'd been chosen was a great feeling and that he was also excited to see some of his Delta friends and teammates go in the draft as well.
Tulk will be eligible to compete for a full-time roster spot with the Hitmen in the 2021-22 WHL season.
"It's going to be huge leap. I'll be playing with 20-year-olds so it'll be a huge accomplishment to get a chance to see how I do up against high competition."
After playing minor hockey on the Sunshine Coast and spring hockey on the Lower Mainland, Tulk went to Nanaimo at age 12 to get more playing experience before applying to the Delta Hockey Academy.
"We're very fortunate on the Coast to have some really good coaching," Tulk's dad Randy said. "We appreciate the development he got here."
Oliver also credits the quality of coaching and opportunities here on the Coast with helping him make the leap to more competitive leagues.
"It was great, " he said. "The coaching here is really good and being a leader for a couple of teams was really helpful for my development."
Tulk said during the pandemic the Delta Academy coaches have been working with the players through online clinics and distance learning while the players keep up their physical training on their own. And, like other students in B.C., he's taking classes online from South Delta Secondary where he's finishing Grade 9.
He's expected to play with the Delta Hockey Academy's U17 prep team come the fall.