Incumbent MLA, and projected winner in Powell River-Sunshine Coast, Nicholas Simons of the NDP, says he's now spoken with both the Green and Liberal candidates, although the Greens are not formally conceding the race just yet.
As of 1:58 a.m. Oct 25, Elections BC said with all ballot boxes counted Simons had 7,719 votes (48 per cent), Kim Darwin of the Greens had 5,541 votes (34.5 per cent), and Liberal Stoddart-Hansen had 2,811 (17.5 per cent) of the 16,071 votes counted – a pattern that had been consistent for much of the night.
"Obviously there are a number of votes still to count, but I think I'm very, very pleased with the confidence I seem to have been trusted with," said Simons, speaking from his home in Powell River on election night. "I'm pleased to see that the message that we've been giving has resonated with people in British Columbia."
In a Facebook post Sunday, Simons said he'd spoken with both Darwin and Stoddart-Hansen, thanked them and their teams for their efforts during the campaign, and said he's open to hearing their "suggestions, observations, or requests or inquiries over the next term."
Although Simons holds the lead and is projected to win, Darwin said election night that, with an estimated 8,338 mail-in ballots, she's not prepared to concede the race until those ballots are counted.
"In a normal election if these numbers were what we were seeing, I'd say yes. But there's this wild card out there right now and I just I can't do it. Not yet," she told Coast Reporter during a small gathering with family and supporters at a Sechelt restaurant.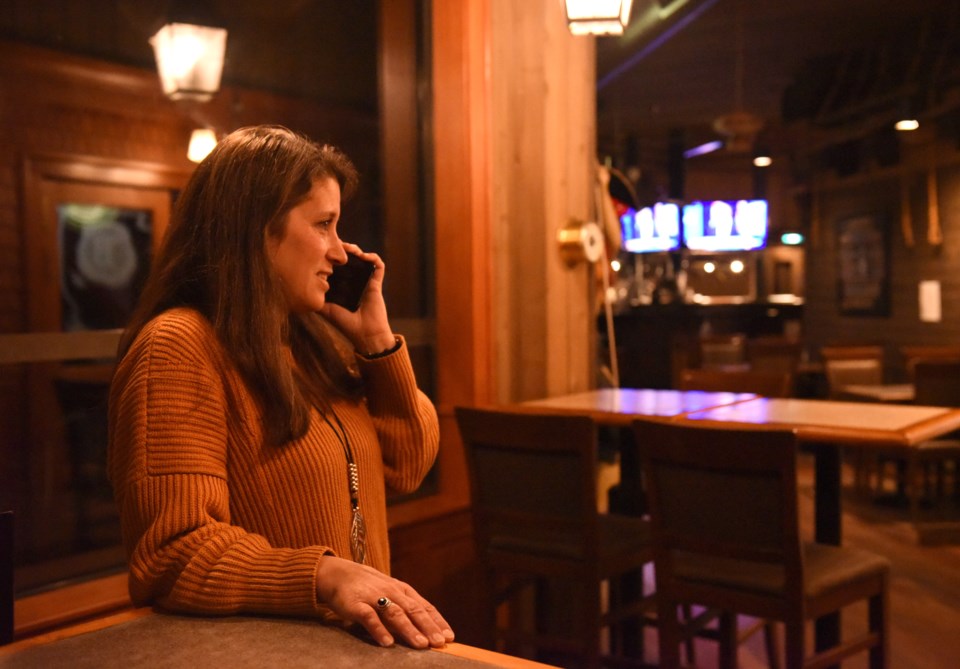 In a follow-up Monday, Darwin said when she and Simons spoke she congratulated him on his preliminary results, but added that while she recognizes it's unlikely the final vote count will result in a Green win, she still plans to wait for the mail-in ballots.
Darwin said she was pleased overall with the Green result across the province. 
Three Green candidates are projected to win, including party leader Sonia Furstenau and former Gibsons councillor Jeremy Valeriote, who ran in West Vancouver-Sea to Sky.
"When you see how much gains we've had, it's pretty incredible," she said. "And the odds were always stacked against us with the snap election."
Simons said he doesn't think the apparent growth of Green support came at the NDP's expense and wasn't necessarily a message for the NDP.
"I don't know people actually vote as a message necessarily, but I do recognize that there were people who were not happy with some of the policies or the decisions that were made," he said. "I get a message every time there's an election, I think we all learn something."
He also said, pending final results, he's looking forward to working with Valeriote as the MLA of the neighbouring riding. "I worked well with Jordan [Sturdy of the Liberals] and I'll work well with Jeremy."
Stoddart-Hansen, who watched the results from home with supporters and family, offered congratulations to Simons.
"It appears he's en route to another victory in the riding, and [congratulations] to Kim, who had a really good showing," Stoddart-Hansen said. "Obviously, the results overall are disappointing for me as a B.C. Liberal supporter from many years back, but the public have spoken."
Stoddart-Hansen, the only rookie candidate in the race, said she was honoured to run.
"I'm disappointed but I understand that this is the democratic process at work," she said. "I've worked on many campaigns in the past and this was extremely difficult and very different from any other campaign because of COVID and because of the nature of the snap election, which in my case only left me three weeks to mobilize and get started on the campaign."
Simons said he also found campaigning with COVID restrictions a challenge, but believes an NDP majority will "allow us to make solid plans continuing on the successes that we've shown and with some more certainty without having to think about an election within a year."
– with files from Sophie Woodrooffe