"Everybody in this school can find a way to connect with that rainbow," said Deborah Luporini, principal of Gibsons Elementary, while standing in a classroom with a cluster of Grade 5 and 6 students eager to explain the origins of the bright new addition to their school.  
The rainbow is painted in stripes on the cul-de-sac outside the school entrance. It was painted on May 13 at a cost of $200.
Last year Chatelech Secondary School got its own rainbow crosswalk, but this is a first for the district's elementary schools.
The decision to install the crosswalk wasn't made by principal Luporini, school district administration, or even by representatives of Sexual Orientation and Gender Identity 123 – a district-wide program aimed at tackling transphobia and homophobia.
Instead, the idea hatched after an author visit.
In February, Victoria-based author Robin Stevenson presented her book, Pride, to a class of Grade 5 and 6 students, thanks to a grant from the Sunshine Coast Festival of the Written Arts and the school district. The book describes the concept of pride and the history of the LGBTQ2+ rights movement.
"I think that really triggered something that some people in our class wanted to do something about it," said Johnathan, a student in the Grade 5/6 class.
After Stevenson's presentation, students approached their teacher, Colleen Hourigan, about their idea for the crosswalk. "It really grew out of what the kids wanted to do," Hourigan said.
With assistance from Hourigan, the students sought permission from Luporini and superintendent Patrick Bocking, who later told Coast Reporter he was inspired by the student's initiative and desire to "demonstrate that, without exception, their school welcomes everyone."
Facilities gave them a budget of $200 and off to two meetings the students went.
One group attended a parent advisory council meeting – decked out in tie-dye at the suggestion of Hourigan. "I was worried we might have a parent or two, maybe who were brought up old-fashioned, being a bit unsure about this being at a school," said Maya, one of Hourigan's students. The PAC gave unanimous approval.
Another group pitched the idea to about 30 Gibsons Elementary School employees who had gathered for a staff meeting. Thumbs up from them.
From there, the students presented their idea to the school's student body and organized a bake sale in April, with extra confections donated by Elphinstone Secondary students. The class doubled their fundraising goal and spent the rest of the money on a trip to Playland after they finished the project.
While involvement in the project was voluntary and marks were not administered, the content of the project fits into a unit on global justice. The maintenance costs for the crosswalk will be folded into the district's annual maintenance budget.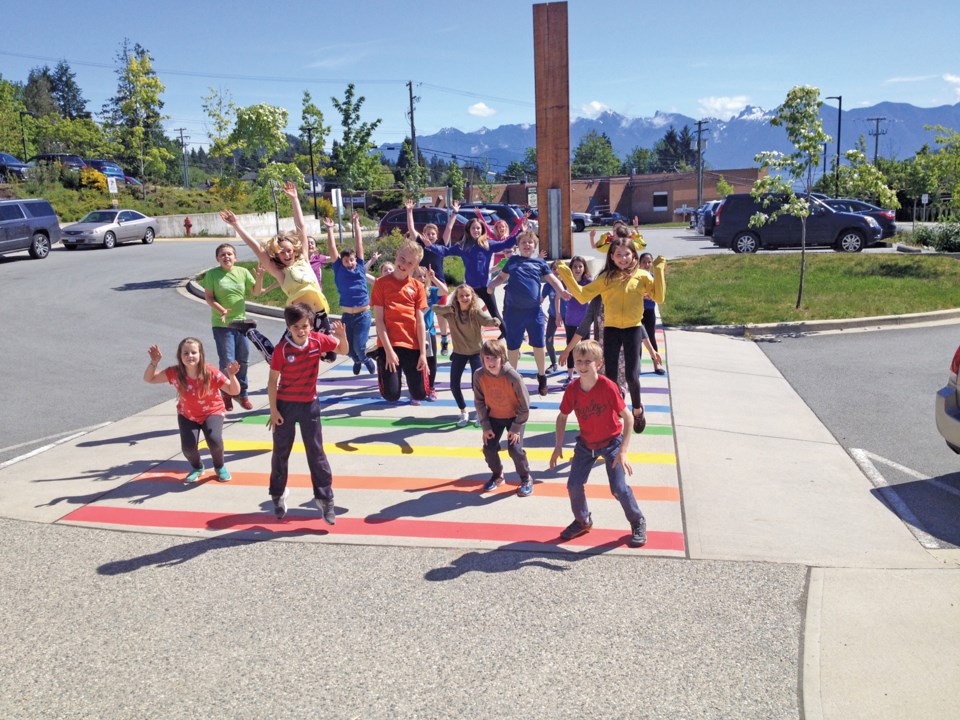 Stevenson, who has visited schools across Canada, said this is the first time she has heard of students turning her words into action.
"There was so much silence about LGBTQ issues when I was a kid," she said.
"The reality is that for many kids, bullying is still a problem, homophobia and transphobia in schools is still a problem, and if they aren't supported at home, then schools become even more important."
Students Coast Reporter interviewed said the rainbow crosswalk represents LGBTQ2+ pride, but should also be taken as a general symbol of acceptance.
While schools in the district display stickers with pride colours, explained Maya, the small decals weren't enough.
"We wanted our school to immediately be looked at and be like, this is a school that accepts everyone," she said.
Even more to the point, added Johnathan, "especially parents driving the roundabout to drop off their kids. They don't see those little stickers, but they drive over the crosswalk almost every day."