As of 12:01 a.m. on Friday, April 8, 2022, the BC Vaccine Card, the provincial "vaccine passport" needed to access events and businesses like restaurants will no longer be mandatory.
Also in effect at the same time: post-secondary school residencies will no longer require proof of vaccination, while businesses will transition from COVID-19 safety plans to communicable disease plans.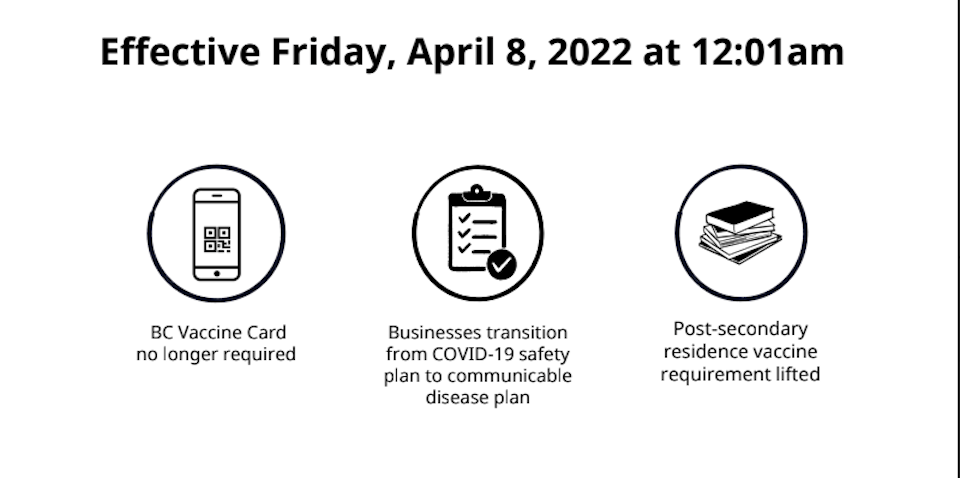 The BC Vaccine Card Program has been in place since Sept. 13, 2021, but the province allowed a grace period until Sept. 23. The program verifies that B.C. residents have received a minimum of two doses of an approved COVID-19 vaccine.
Provincial health officer Dr. Bonnie Henry confirmed April 5 the plans that were previewed March 10, when she announced that face masks would no longer be mandated in B.C.
Don't get rid of your proof of vaccination in B.C.
While the BC Vaccine Card will no longer be mandated under a public health order, Henry indicated that does not mean it will disappear from use entirely in the province.
Some events, venues, and businesses will be able to make the call on whether they want to require proof of vaccination, likely in the form of the BC Vaccine Card and its scannable QR code, in order to grant access to patrons.
Henry said that some businesses that find they might get too crowded, for example, may opt to put a proof of vaccine policy in place for access. Those businesses, like "community restaurants" or small theatres or museums, must have a plan in place for accommodating patrons who are not vaccinated, for example, a restaurant would need to offer take-out as an alternative to dining-in.
"Each business has to do its own due diligence," pointed out Henry, when it comes to deciding to put in a proof-of-vaccine requirement for entry.
Why is B.C. removing the vaccine passport now?
Henry previously stated that the timeline for removing health measures depended on the current epidemiological situation in B.C. and that the province would take a slow and measured approach.
Although B.C. is seeing an uptick in COVID-19 cases, particularly of the Omicron variant and its subvariant BA.2, in recent weeks, Henry indicated Tuesday that the province is also seeing a decreased risk of serious illness and/or hospitalization with infection, as well as high levels of antibodies both from vaccination and prior infection, in residents.
COVID-19 modelling for B.C. does show that health officials anticipate a further increase in cases provincewide through April and into May as a result of increased contacts and the removal of some protections like mandatory face masks; however, the same modelling projects that case counts will then likely drop in May and into the summer.
B.C.'s indoor mask requirements were removed on March 11. The overnight camp and youth order and capacity limits on faith gatherings was lifted at that time, too.
Long-term care visitation was restored but visitors must be fully vaccinated and will be required to take a test.
Health-care workers in British Columbia will remain mandated to be fully vaccinated, however, Henry confirmed Tuesday.
With files from Elana Shepert