Classrooms will need to make adjustments if mask mandates continue long-term in schools, says B.C. speech and language pathologists.
"Classrooms are already challenging listening environments with background noise and distance from teachers. "Masks especially muffle high-frequency sounds in speech," says Lynda Gibbons, the director of Speech-Language and Audiology Canada (SAC).
Even before the pandemic, statistics show that one in 10 students has a language disorder and one in five has hearing loss, which impacts speech development among the very youngest, according to Gibbons.
"We know wearing a mask changes communications for everyone," she adds. "As usual with COVID, we are further disadvantaging high-risk children."
A provincial review of B.C.'s remaining pandemic restrictions is slated by March 15. It's unknown if masks in schools will be addressed.
But the spectre of a new variant emerging raises questions among these experts about prolonged mask-wearing among young children, especially under the age of nine: What are the benefits? What harm may it do? Do the costs outweigh the benefits?
Becca Yu, a B.C. registered pediatric speech and language pathologist (SLP), says while there have been anecdotal claims that masks have negatively impacted children's development, there is no scientific backup.
That doesn't mean the potential risks aren't worthy of investigation, she says.
"We as a world, planet Earth, and as humans — we haven't done this before. And so, this long-term wearing of masks throughout many different seasons and the ongoing pandemic — we don't really know what the long-term consequences are," says Yu, who is also a member of Speech and Hearing BC.
Yu notes that children in Kindergarten through Grade 3 are still developing key communication skills, despite already having a lot of language skills in place.
Caroline Erdos, an SLP and leading member of SAC, points out that literacy instruction can be complicated by masks as they can attenuate a teacher's speech.
"There are reports of language delays, but it's unclear what that gap is due to," she said, noting various other pandemic disruptions to education have occurred, including prolonged online learning and social distancing.
Nevertheless, Yu, Gibbons and Erdos are hard-pressed to find scientific studies on masking and speech and literacy development for this younger cohort of students.
Neither Speech and Language BC nor SAC have an official stance on masking. While all the SLPs Glacier Media spoke to want a better understanding of the potential impacts of masking, they still advocate for them to prevent the spread of the virus.
"I'm more concerned about the health impacts of COVID," said Erdos.
Yu said studies still need to flesh out if increased diagnoses of speech or language difficulties compared to before the pandemic result from masking.
"There's a number of factors that they're going to have to tease out," said Yu. "Is it the mask? Is it the reduced social interaction? Is that a combination of the two? Are there other factors that are in play that the researchers haven't looked at or haven't identified?"
If masking continues for younger children in schools, teachers may need to make adjustments, said Gibbons and Erdos, including using audio devices in their rooms and transparent masks. Classrooms may also need to be retrofitted with sound walls, they say.
Coalition wants masks to stay
Others advocate that mask use continue in schools, including the use of publicly available N95s.
One such group, the Safe Schools Coalition BC, is petitioning for masks to stay.
"Masks are one of the most effective tools in preventing transmission of COVID-19 in classrooms," it claims in a Change.org petition. "Our schools do not have the option of social distancing, and only a small percentage of schools have made significant improvements to indoor air quality that will mitigate the risk of transmission in schools."
The group said there remain unknown risks of prolonged COVID effects, relating it to how chickenpox is now known to cause shingles.
The group says masks protect clinically vulnerable kids, such as those with diabetes, who are more affected by COVID.
Dr. Sally Otto, an evolutionary biologist with the group Protect our Province, strongly advocates masking in schools and told Glacier Media that masking should continue as long as the Omicron strain persists.
The strain's impact can be seen in the four weeks leading up to Feb. 15, when the BC Centre for Disease Control (BCCDC) reported 24 children aged 5-11 were hospitalized due to COVID-19, including four in critical care. Compare that to the total 104 children in that age range who have been hospitalized, including 10 in critical care, since the pandemic began in March 2020.
Lack of consensus on mask effectiveness for children
The U.S. Center for Disease Control has taken a strong approach, recommending masks for children above age two.
Meanwhile, the World Health Organization (WHO) does not recommend masks for children under age six. Furthermore, the WHO states a risk-based approach should apply for students six to 11 years of age, and such an approach should factor in "the potential impact of mask-wearing on learning and psychosocial development" as well as "the child's capacity to comply with the appropriate use of masks."
In Canada, B.C. was one of the last jurisdictions to mandate masks for kids aged 5-8.
In October 2021, in response to increasing rates of COVID-19 among children under 12 years of age, the province updated its K-12 order to require masks for Kindergarten to Grade 3 students. That meant K-3 students went maskless for an entire month while their older school colleagues did not. Both cohorts were unvaccinated.
The testing data showed that both cohorts' infection rates spiked nearly in lockstep for September, with the older masked children having a slightly higher rate. Meanwhile, the vaccinated older children (Grade 7 and above) saw their infection rates decline through the fall.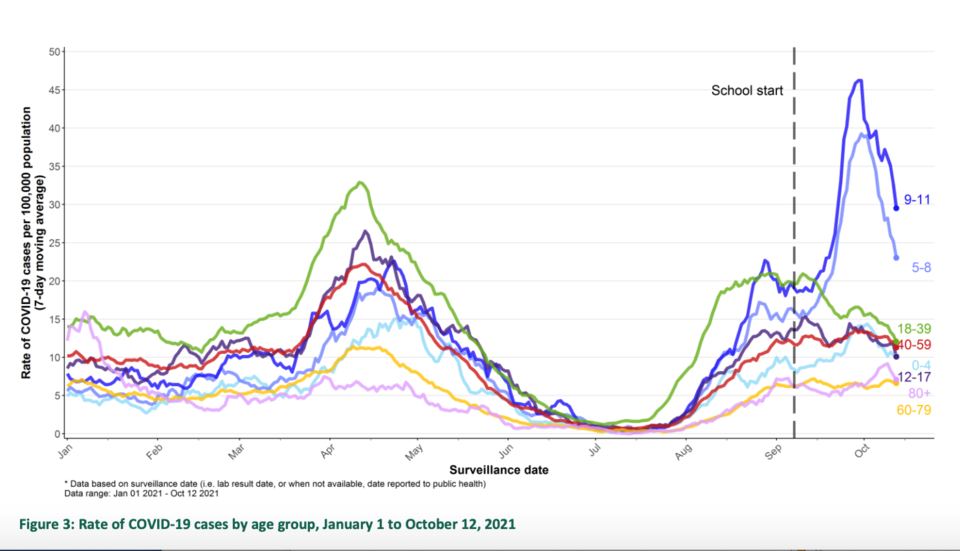 The BCCDC assessed the findings by noting in its October 2021 school report: "Masks can provide an added layer of protection against COVID-19 transmission; however, it is difficult to assess the impact of mask-wearing among younger grades. There are many factors that contribute to the risk of COVID-19 infection, including rates in the community, vaccination coverage, and contact with others through social networks. The fact that rates are higher among 9-11 year-olds does not mean that there is not any benefit to masking, rather it suggests that there are numerous factors related to risk."
B.C. provincial health officer Dr. Bonnie Henry explained that, despite the data from September, the masking order was made to the Delta variant infecting more children.
"As we were moving into more infectious strains and having those outbreaks, it became more important to have that extra barrier in place for younger students as well," she said.
Henry couldn't definitively say to what extent masks helped.
"It's really challenging to tease apart. Is it the mask that made the difference, or was it because we changed seating or because we changed cohorts? So, it's very difficult to understand what proportion of the risk was attributable to wearing masks or not wearing masks," said Henry. "It really is an overall function of all of the different pieces that need to be in place."
It's for this reason that SLP Sarah Dooge would like to see a more thorough cost-benefit analysis of masking very young children. She points out what, to her as a parent, seems like ineffective and inconsistent mask-wearing amongst children.
"Watch a group of kindergarteners with masks on," she says. "Think about the amount of energy and effort, and time and money, that went in to get that five-year-old masked that day. Observe how they're mask-wearing in the classroom and in the school community. Did the cost of the effort, energy and stress outweigh the benefits?"
One of the biggest proponents of masking younger children has been the B.C. Teachers' Federation (BCTF), the large union representing registered teachers.
BCTF president Terri Mooring declined Glacier Media's request for comment on potential learning impacts from masks and deferred to the province's public health guidelines in schools.
Glacier Media reached out to the Ministry of Health, BC Children's Hospital, Fraser Health and Vancouver Coastal Health with questions about student development and well-being from masking but none responded.