Property values across the province have declined only modestly over the past year, looking at all regions and property types, according to the 2020 BC Assessment roll announced January 2.
Owners of residential and commercial property in B.C. will be receiving their assessment notices in the mail over the next week or so, said BC Assessment.
Combining all residential and commercial properties in the Lower Mainland, Vancouver Island, Thompson-Okanagan, Northern B.C. and Columbia-Kootenays, the total value of properties was $1.934 trillion, down 2.45 per cent from the previous year's $1.983 trillion.
Most of that loss was seen in the Lower Mainland, which has a high proportion of the properties assessed and saw total values decline 4.7 per cent year over year. Within that region, the biggest drops were seen in single-family home values in West Vancouver and UBC, both down 16 per cent year over year, followed by Richmond's detached houses, down 14 per cent, and then Vancouver, Coquitlam, Port Moody and North Vancouver single-family homes, all down 11 per cent.
(Story continues below)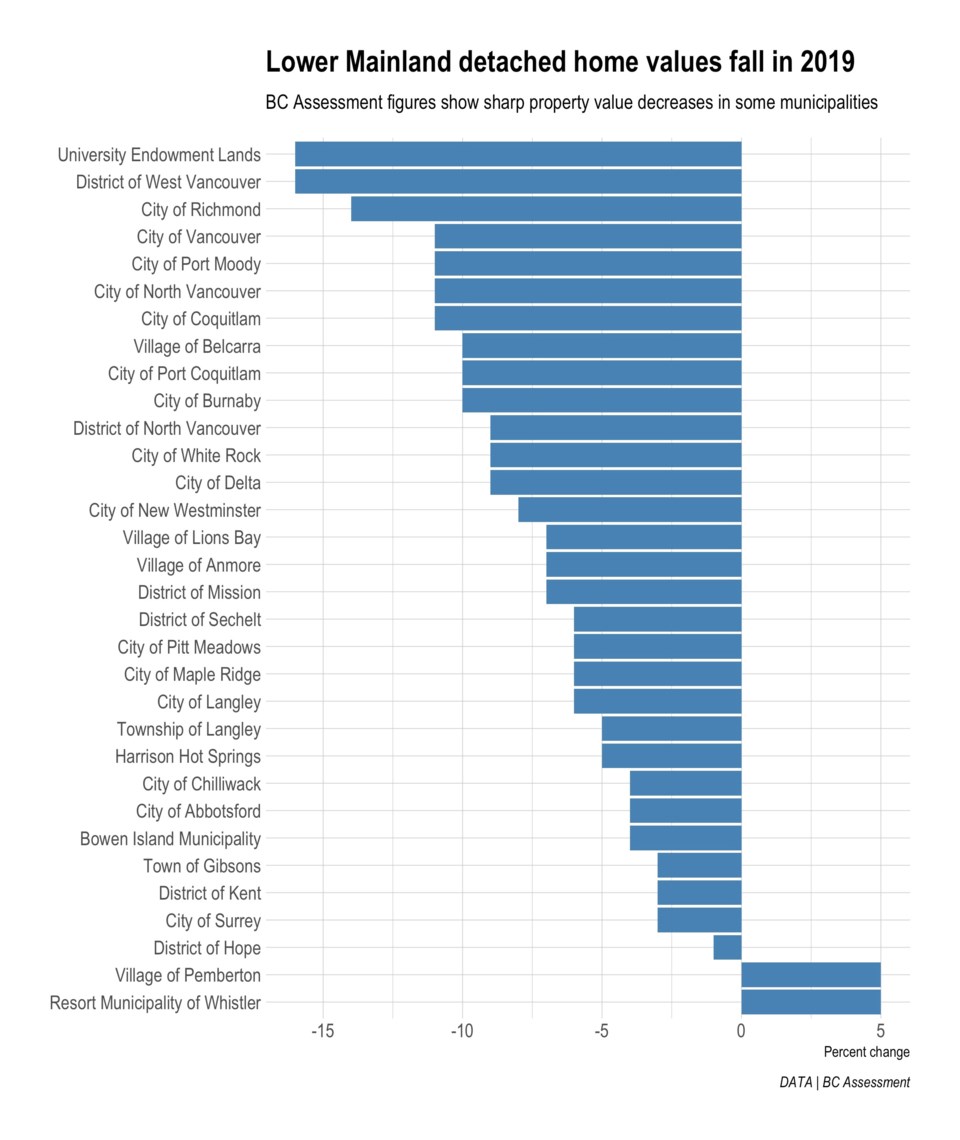 In strata residential properties such as condos and townhomes, the only Lower Mainland area to see double-digit value declines was West Vancouver, down 10 per cent, with most other areas seeing declines between four and nine per cent.
"The Lower Mainland residential real estate market continues to see signs of moderation," said Brian Smith, BC Assessment deputy assessor. "Homes located in Whistler and Pemberton can expect a minimal increase in their assessments, whereas the rest of the region will likely experience a reduced assessment value."
Housing minister Selina Robinson lauded the news as a win for the NDP government's recent housing policies. She said in a statement, "As the 2020 property assessments are released, people living in the regions hardest hit by sky-high property-value increases are seeing a moderating trend in housing prices. For the second year in a row, we see only modest changes in the value of both single-family and strata homes in most regions, particularly in the Lower Mainland and on Vancouver Island. This is a positive sign that our government's efforts to make housing more affordable for more British Columbians are having a real impact."
On Vancouver Island, the overall property value assessment, including commercial and residential, increased 3.66 per cent to $255 billion. The values of single-family homes on the Island ranged from dropping six per cent in Victoria's chi-chi Oak Bay, to seeing double-digit increases in Campbell River and some other North Island towns. Most strata homes on the Island also registered increases of a few per cent over last year, with Campbell River again posting 10 per cent value hikes.
"The market has stabilized in most areas of Vancouver Island this year," said Vancouver Island assessor Tina Ireland. "In the south part of Vancouver Island, the majority of residential property values are moving -5 per cent to +5 per cent, while up island the value increases are a little higher.  The commercial and industrial markets are generally showing increases over last year's assessments."
Northern B.C., which is seeing a slow boom due to major infrastructure projects, saw the largest increases in overall assessments among all property types, rising 6.1 per cent from last year to $69.4 billion.
Thompson-Okanagan property values rose by a total of 3.65 per cent, with most areas seeing increases in detached-home values, except Kelowna, Sun Peaks, West Kelowna, Peachland and Spallumcheen.
BC Assessment said in a statement that property owners can appeal their assessment if they feel it is inaccurate.
"Those who feel that their property assessment does not reflect market value as of July 1, 2019 or see incorrect information on their notice, should contact BC Assessment as indicated on their notice as soon as possible in January," said Smith. "If a property owner is still concerned about their assessment after speaking to one of our appraisers, they may submit a Notice of Complaint (Appeal) by January 31st, for an independent review by a Property Assessment Review Panel."
The agency pointed out that the value changes will not necessarily dictate a change in payable property taxes.
"It is important to understand that changes in property assessments do not automatically translate into a corresponding change in property taxes," added Smith. "As noted on your Assessment Notice, how your assessment changes relative to the average change in your community is what may affect your property taxes."
For example, the City of Vancouver has approved a seven per cent increase in property taxes this year, which most homeowners will have to pay even if their home has decreased in value.