Three hockey players from the Sunshine Coast joined Team BC squads for the 20th anniversary of the National Aboriginal Hockey Championships (NAHC) and brought home the hardware to show for it.
The NAHC in Winnipeg's Seven Oaks Arena gathered the top Indigenous hockey players under 18 years of age between May 7 and 13. For the third year in a row, Team BC's boys' squad earned third place. Team BC's female team earned a hard-fought fourth place in the fiercely competitive championship, placing just shy of a medal.
For Rocky Nordvie, of shíshálh Nation and Liard First Nation, it's his second year helping Team BC earn a bronze at the NAHC. He was named the player of the game for the only game the boys lost. It's the latest win for Nordvie's career on ice.
Nordvie played with the Port Alberni Bombers in the 2022-23 season and was honoured with a Premier's Award for Indigenous Youth Excellence in Sport in 2021. He was named top scorer for the Kaska Warriors when he played alongside his cousins in the Jamboree B Division of the Yukon Native Hockey Tournament in March.
As Nordvie prepares to graduate from high school this summer and turns 18 in September, his mom Tina Joe said he is weighing his options for what's next.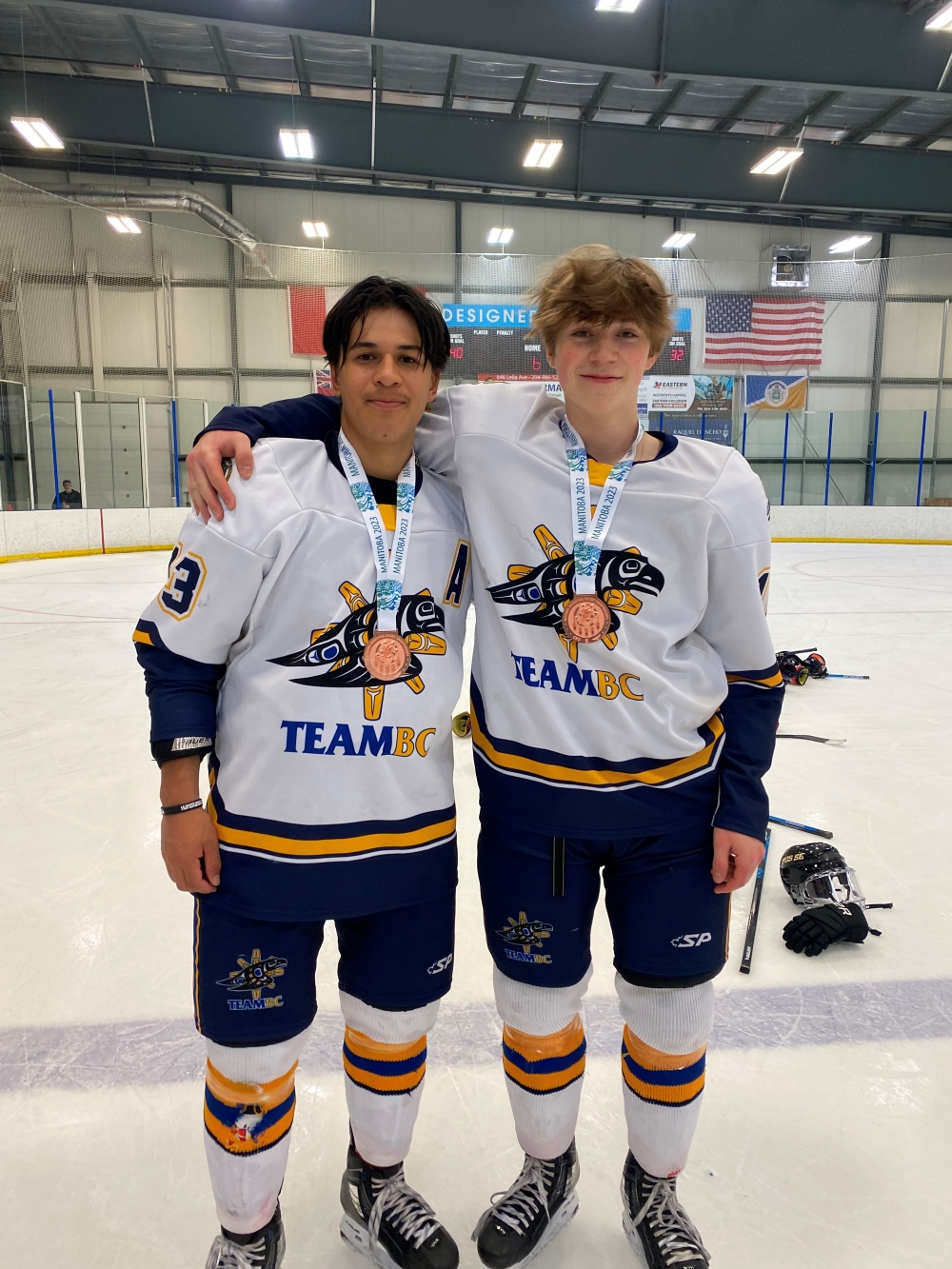 Nordvie was joined on the ice by long-time teammate, Halfmoon Bay's Jacob Wingfield. A member of the Métis Nation, Wingfield plays with the Kerry Park Islanders after time well spent on the Blues. In 2021, Wingfield was on the winning team at the U17 AAA BC Championships. The 2023 NAHC was the 17-year-old's first time at the tournament.
The two boys play well together, Joe said, adding that she hopes to see them on the same team again in the future.
On Team BC's girls' team, Jada Sadler marked her second year at the championships. Sadler, who is a member of shíshálh Nation and plays on the North Shore Avalanche team, was selected as an alternate on the official roster.
These three players were among the 40 chosen to represent Team BC from more than 140 prospects in the three-day selection camp.
"Their dedication, skill, and unwavering determination were on full display throughout the tournament," Director of Sport Lara Mussell Savage said of the two teams in a press release. "Congratulations to Team BC on their bronze medal win and to our female team for their solid fourth-place finish. They have truly represented British Columbia with honour and distinction."
The boys' team dominated the preliminary round with "impressive victories," Indigenous Sport, Physical Activity & Recreation Council (I·SPARC) said in a press release. First, they defeated Saskatchewan 6-3, then Team Nunavut 7-3, and claimed a close triumph over Team Alberta 4-3.
"Their quarter-final match was no different as they kept their winning streak alive with a resounding 6-0 shutout against Team Eastern Door & North. They faced a challenging opponent in Team Ontario during the semi-finals, and the team's unwavering determination was evident throughout the game, even in their eventual 4-2 loss," the press release said.
In the bronze medal game, Team BC faced off against Team Saskatchewan once again, almost repeating their previous score with a 6-2 victory.
The girls' team started strong with 2-2 in the preliminary round followed by a 4-1 win against Team Atlantic. They shined against Team Eastern Door & North in a 10-0 shutout. They faced their first loss, 5-0, to Team Saskatchewan, followed by another to Team Ontario at 3-0. But they had their victory over Team Saskatchewan quickly at 5-1. The semi-finals game saw another loss to Team Ontario — this time a narrow score — by 2-1.
"This propelled them to the bronze medal game, where they left their hearts on the ice, pushing the game into two overtimes. Ultimately, Team Alberta emerged victorious with a hard-fought 3-2 win, securing the bronze medal and leaving BC with a respectable fourth-place finish," ISPARC said.