An unsanctioned pop-up safe consumption site has been operating on and off out of an empty lot across from the Hightide Supportive Housing complex in Sechelt since last Saturday.
The makeshift site on Hightide Avenue is covered with a blue tarp. On a folding table inside, syringes, gloves and tourniquets are arranged on paper towels. Sharps containers rest behind them. Pipes are available, so are masks, gloves and hand sanitizer, and the opioid overdose-reversing agent Naloxone.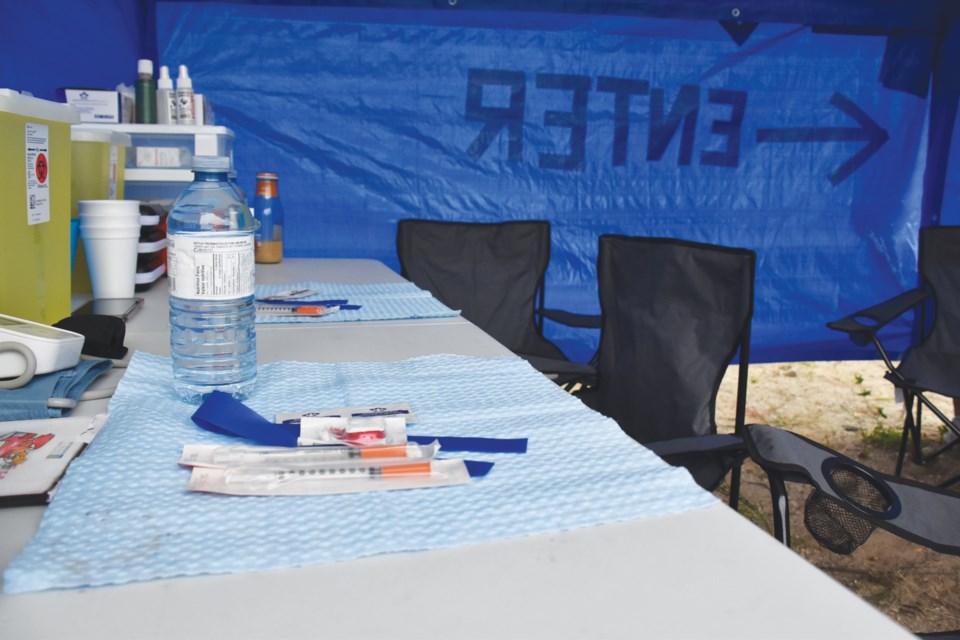 Sunshine Coast RCMP have visited the location and are working with partners, including the District of Sechelt and Vancouver Coastal Health (VCH), neither of which have authorized it. The property owner wants the shelter removed, according to the RCMP.
Already a drug-use location
Hawkfeather Peterson, president of BC / Yukon Association of Drug War Survivors, says the site was chosen because it was already a drug-use location. And Peterson said a lack of movement from VCH forced the issue.
"We need a peer-run, low barrier, public, accessible safe consumption site," Peterson told Coast Reporter on Monday. "It's not meant to be a long-term fix, it's meant to be a message to VCH: We're going to do it one way or the other."
An opioid overdose crisis is throttling the province as public health restrictions related to COVID-19 – including physical distancing and a closed border with the U.S. – leave people with fewer options for safely accessing increasingly contaminated drugs.
In May, 170 people died from illicit drug overdoses in B.C. – more than the province's COVID-19 death toll at that point and the highest monthly death count on record.
Peterson said the Sunshine Coast has "escaped" higher death rates before but has not been spared this time.
At least two deaths occurred in the first five months of 2020. More deaths are expected to be reported in June. Last month, B.C. Emergency Health Services responded to 12 overdose calls, more than double what they responded to in May 2019.
They have responded to eight calls as of June 23 – lower than the same time last year – however, VCH medical officer Geoff McKee says it's harder to rely on rural data to spot trends and that the supply on the Sunshine Coast remains contaminated.
The effects of the overdose crisis are visible across the road from the pop-up consumption site.
About 100 metres away, in front of the Hightide complex, is a memorial marking one of the latest deaths on the Sunshine Coast reportedly due to an illicit-drug overdose. The man was "a well-known community member and beloved by everyone," Peterson said.
Hightide is one of two places on the Sunshine Coast where people can use drugs in a supervised space. The other is the shelter on Wharf Avenue in Sechelt, and has been operating for approximately 18 months, according to Isaac Malgrem, associate director for RainCity Housing Services, which manages both sites.
Both programs are funded and designed to provide services to the people who reside there. The housing society gets additional funding from VCH to provide drop-in peer-supervised overdose prevention services at the shelter.
Because of that the shelter's consumption site is a "bit more publicly accessible" than Hightide, said Malgrem, but it's also a home for people, which further complicate matters.
"We've never wanted to open it to the public to the point that we've got hordes of people walking through what is essentially a number of people's living room."
On top of that, pandemic restrictions have "immensely" complicated access, with staff resorting to handing harm reduction supplies out the door.
For those reasons, Peterson says those spaces aren't adequate. "We want to be allies, but this is not where peers want the site. And they're not public."
For example, people who are refused RainCity services because of violent behaviour or otherwise, can't access those overdose prevention spaces. Malgrem is aware of two people currently banned.
One such person lives in a tent near the Hightide complex. Someone found the 22-year-old slumped in the bushes in the midst of an overdose in early May. He was one of the more than 12 people who have used the temporary site since June 20.
Peterson told Coast Reporter people who use drugs have been "begging" VCH for a low-barrier public site for more than two years.
While Malgrem told Coast Reporter he wasn't involved in assessing the need for a temporary site, he does support more service options beyond RainCity.
Some people may be banned, others might need services in other locations or may not be comfortable using RainCity services. "We want people to find a place where they can get their needs met regardless of any of those factors. The more options there are for people, the better," he said.
In a statement to Coast Reporter, VCH said efforts are underway "to provide a publicly accessible outdoor overdose prevention service through RainCity." That site would be located at the shelter.
"An operations plan is in development that will ensure drug user safety and minimize impacts to the surrounding community."
Limited funding
As for the kind of site Peterson is calling for, VCH said "limited funding remains a barrier to scaling up overdose prevention services across the VCH region."
Instead, the Community Action Team (CAT) – a multidisciplinary team funded by the province to reduce overdose risk in the community – "continues to work to develop a localized approach," said VCH.
In a June 24 statement to Coast Reporter, CAT project lead Meghan Burrows said the team "is in the process of exploring a sanctioned and permanent solution for a public overdose prevention site in Sechelt or Gibsons, in consultation with all stakeholders," and community consultation will be a part of the process.
The Sunshine Coast Division of Family Practice will be launching an Overdose Prevention Task Force, led by Dr. Joerg Jaschinski, next week.