For the second time in five years, a pair of senior sisters have found themselves evicted from a rental on the Sunshine Coast.
Since they were served notice last fall, Louise and Linda Nason have been looking for another rental they can call home, but at 66 and 71 years old respectively and with certain accommodation requirements for disabilities and health problems, the search has been a difficult one – even though they've lived on the Coast since 1996. (Their family also lived here in the '60s.)
One recent Facebook post that was seeking a tenant for a small cottage described the selection process as "heart wrenching" after more than 100 people applied.
Since April 1, the Nason sisters have been living at the Gibsons Landing Inn. They said the new unit, recently renovated, is a step up from the motel they had to move into in 2018 when a landlord decided to do renovations. For the last four years, they lived in another rental until their new landlord wanted to move a relative in. Once again, they are sharing a small studio unit. Inside there are two twin beds, a small kitchenette, sitting area, TV and bathroom. This time, laundry machines are available in the building and free of charge.
Evictions by the numbers
Their story is just one of the many cases legal advocate Ken Carson has worked on since starting at the Sunshine Coast Resource Centre in 2019. The Ministry of the Attorney General does not track evictions and not all evictions are reported to the B.C. Residential Tenancy Branch (RTB), a ministry spokesperson told Coast Reporter. The RTB also does not track the number of monetary or possession orders issued in each community in the province.
"So I collect it for our own community here," Carson said.
In the first months of the pandemic, a temporary moratorium on evictions in B.C. meant Carson had little work to do. But the second year of the pandemic was the most intensive work period in his decades of legal advocacy experience, he said.
In 2021, Carson's data shows 51 people were evicted from their rentals on the Sunshine Coast and 2022 is on track for more evictions. Twenty of the tenants impacted by evictions last year were seniors, and six of the tenants are disabled. By the end of March 2022, 33 tenants had been affected by 17 notices to evict – including 11 seniors, four people with disabilities, and five children.
Since Carson's work is funded by the Law Foundation of BC, he is able to take on clients on a pro bono basis. By the end of March this year, he attended nine Residential Tenancy Branch hearings on behalf of his clients. As of April 11, he has five filings scheduled for this month and a total of 18 active eviction files that have not yet had RTB hearings.
By sharing these numbers with the public, Carson said he hopes to sensitize Coasters to what is happening.
"This isn't a number. These are people," he said. "I see their misery every day."
While he doesn't track how many of his clients have had to move away from the Coast, Carson said it's anecdotally about 20 to 30 per cent, but it's mostly younger working people who leave.
For sale
Hunter Boucher, the director of operations for LandlordBC, said the sale of rental properties is a province-wide issue.
"The reality is that with the market the way it is, many people are choosing to sell their rental units and people are purchasing it to live in it. That is most certainly a common trend across the province," Boucher told Coast Reporter.
According to the Real Estate Board of Greater Vancouver's latest report out April 4 on home sale activity, last spring's record pace of sales has slowed but prices are higher than they were last year. Out of the communities included in the board's region, the Coast has the lowest benchmark price for single family detached homes and townhouses, and the second lowest for apartments and residential/composite properties. The change in the benchmark prices for the Coast has increased by 173.8 to 183.2 per cent, depending on the property type, over the last 10 years.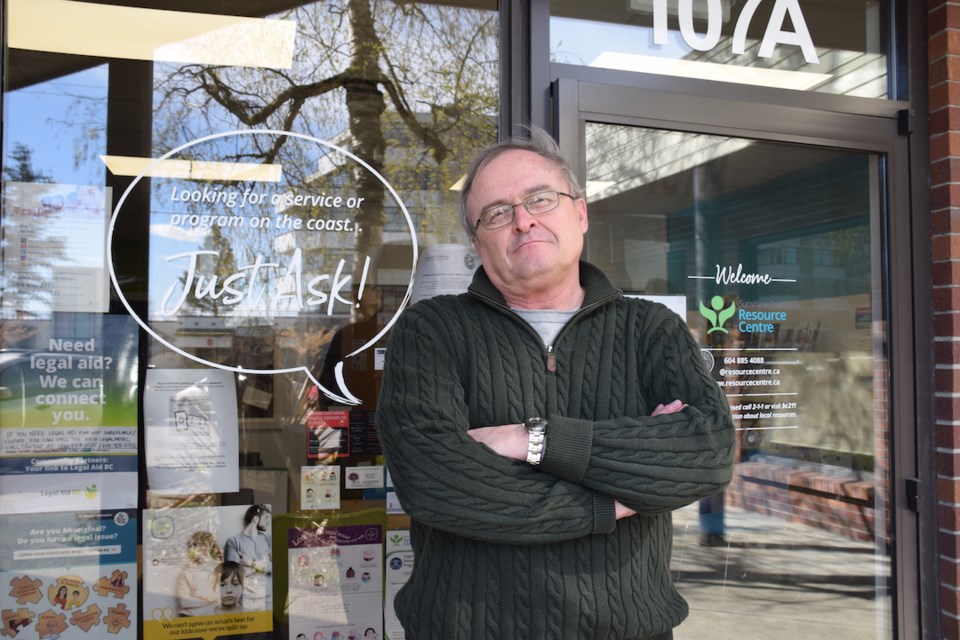 Holding out for a hearing
Louise Nason pointed out that while only gradual rent increases are allowed during a tenancy, between tenants there is no regulation on price increases for that same property.
Another tenant facing eviction told the Coast Reporter they only pay $600 a month for their small rental, a price that legally increased gradually from when they signed the lease more than 20 years ago. Now, that tenant is waiting for a hearing with the RTB while they join the many struggling to find an affordable place to live on the Coast.
Boucher said that ending tenancies is a regulated and rule-heavy process, and ending a tenancy for that reason – to increase otherwise capped rent – carries a significant risk for landlords.
The province recently "strengthened the financial penalties for landlords who evict tenants in bad faith," a ministry spokesperson told Coast Reporter via email. "For example, if a tenant is evicted for landlord's use, and the landlord fails to use the unit for the stated purpose for at least six months, the tenant could be entitled to 12 times their monthly rent."
As of July 1, 2021, "To protect renters, the Province banned illegal renovictions (evictions to complete renovations to a property) by requiring landlords to apply to the RTB for pre-approval before ending a tenancy for this purpose. In addition to strengthening eviction protections, we also made changes to give tenants who must vacate four months' notice to find new accommodation, starting after the RTB has rendered a decision, allowing more time to find alternate housing," the spokesperson said.
When asked if these new regulations are having the intended effect. Boucher said it's a pretty significant improvement to protections for tenants, and landlords with legitimate reasons to end tenancies for repairs or renovations can still do so.
"We have heard of these cases dropping significantly," he said.
For 2022, rent can increase legally by a maximum of 1.5 per cent, "but the actual increase in rental market value has gone up much higher than that. So it incentivizes landlords to try to get new tenants," Carson says. He said he encourages his clients, in this market, "to have their day in a hearing" so that a landlord has to prove they or a family member are moving in. But Carson says his preference is to try to come to a reasonable settlement before a hearing.
If a landlord does not move in within the two month notice and stay for at least six months, the RTB can file a monetary order – but by then the tenant is already out. That's why Boucher says tenants should file for a hearing in advance, before they've moved out.
"Any end of tenancy that is served, tenants have the legal right to dispute that notice," Boucher said.
Wait times for the Residential Tenancy Branch hearings are weeks long, as there is currently a high volume of applications. As of April, hearing wait times are approximately 4.2 weeks for emergency disputes, 15.3 weeks for standard disputes, and 27.7 weeks for monetary disputes, a ministry spokesperson said.
"We are working to improve wait times at the RTB, which is currently dealing with a high volume of applications," the spokesperson said via email. "We recognize this can be challenging for tenants and landlords who need to get a resolution to their issue."
After a hearing takes place, decisions are normally rendered within 30 days, and 80 per cent of decisions are issued within three days of the hearing. An expedited hearing process can be applied for when urgency and fairness require a quicker response.
Increasing costs
Louise worries that the cost of rent will only increase the longer it takes to find a new rental that can accommodate the Nasons' needs; a place without stairs or with an elevator, in-suite laundry and preferably in the Gibsons area. Nineteen years ago, they were both diagnosed with breast cancer and went through part of their treatments together. While they both have health problems – Linda has a pacemaker and mobility issues, Louise has asthma and is allergic to scented products – they're too healthy to go into a care facility. The last time they were evicted, the sisters were put on the waiting list for the Kiwanis Heritage Apartments in Gibsons. They don't know how much longer that wait could be. They have lived together for all of Louise's life, and she helps care for her older sister. They don't own a car, and rely on nearby friends and family to help take them to doctor appointments in Vancouver.
When they were asked to move out in 2021, Louise said the sisters "were quite upset, because with Linda's health it's not easy to find a place, and being seniors on fixed income limits what we can afford. And the prices keep going up."
Their last rental cost $1,350 per month. Currently, the Nasons' rent at Gibsons Landing Inn is $1,750 and they receive a $500 subsidy from RainCity Housing. But they also have to pay $247.50 a month for storage for some of their belongings that don't fit in their current unit, and those prices don't include the cost of the move itself.
Louise looks for rental listings online several times a day, but hasn't found one to fit their needs and budget. She'd like to see more affordable housing on the Coast, particularly for families and not just individuals – the sisters would like to stay together.
"I deal with keeping people in a place, I don't deal with trying to find them a place to live," Carson said. "I do have contacts in that area… but I can't guarantee that they'll find another place to live."
In the long-term, Carson would like to see more social housing in Canada that is safe, up to code, and modern. Until then, Carson would like to see the Sunshine Coast Regional District, District of Sechelt and Town of Gibsons relax some of the zoning bylaws around affordable alternative housing, and he's asked the provincial government about imposing a moratorium on evictions for seniors and people with disabilities to get through the next few years until more affordable housing is brought online. While that could create an unintentional downside of people not wanting to rent to seniors or disabled people, it could help set a priority.
Boucher of LandlordBC says it comes down to the need for more purpose-built rentals as a long-term solution for stable, sustainable housing.
"More regulations aren't necessarily the road to get more supply," he said. "It really comes down to there needs to be greater incentivization to build more supply, especially in communities where there is that dearth of rental housing."
As for the Nason sisters, they hope sharing their experience will help them find a new place to live – and raise awareness for others on the Coast who face similar challenges.