Sechelt's Seawatch neighbourhood is now behind locked security fencing, and the ultimate fate of the subdivision's high-end homes is uncertain.
The neighbourhood had been on evacuation alert since Feb. 7 after a report from Thurber Engineering, which has been monitoring the area since a new sinkhole appeared Dec. 25, concluded that the risk of damage to property, injury or death was too great to allow people to remain in their homes.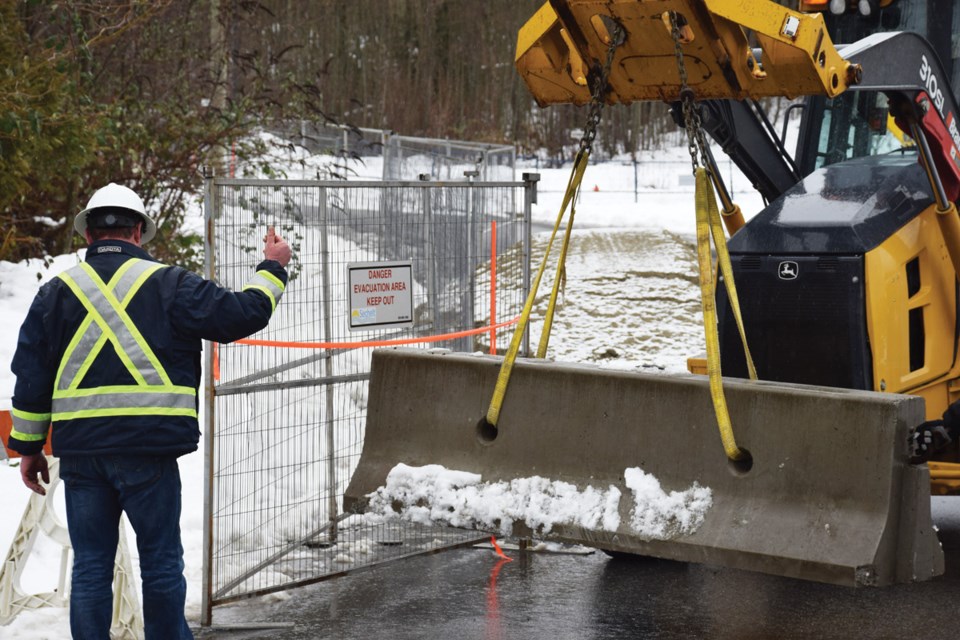 Residents worked through the rain Friday morning to try to move the last of their belongings before an evacuation order went into force at 1 p.m.
Earlier in the week they had the help of dozens of community members who've been showing up with trucks, trailers, food and coffee or just an extra set of hands.
Those who talked to Coast Reporter said they'd be moving in with friends or family or into temporary rentals, but the majority of their possessions had to go into storage and some larger items had to be left behind. 
"I would like to thank our entire community for all your help, generosity and coming to our aid in such difficult times. We could not have done it without you," said homeowner Chris Moradian in an email to media.
Earlier in the week, Moradian's neighbour Rod Goy said they'd all been overwhelmed by the response and it even had him and his wife rethinking their earlier impulse to never return to Sechelt.
"The last place in the world we were going to live would be Sechelt," he said. "Now because of the community support in the last days, we're thinking we might have to reconsider that, because this is one hell of a community."
The gratitude was matched in many cases with anger over the district's handling of the evacuation notice and order.
Ed and Rae Dene Pednaud said the district should have let people "leave with dignity" and others said the district should have offered help getting residents out.
Sechelt Mayor Darnelda Siegers, who also praised the community response Friday, said the district had to put the safety of its staff first. "Given the site is not safe, that is what has been determined by the geotechnical reports we've got, we as a municipality cannot ask our staff to go into the site."
Siegers said the district continues to work with Emergency Management BC and structural and geotechnical engineers to see if there's any way the roads can be shored up to allow residents back in temporarily.
She said, however, it's too early to say if the homes can ever be made safe to live in again. "We are checking all kinds of avenues… We can't say at this point. We have to assume, and this is what we've conveyed to the residents, that as of one o'clock [Friday] we don't know whether or not there will be access back in there ever."
Siegers said she and her councillors feel for the residents and are sympathetic to what they've been going through. "I think we all can put ourselves in their shoes and we know this is devastating."
Two property owners already have lawsuits pending against the developer, Concordia Seawatch, the district and various engineering firms. Resident Greg Latham, who had launched but then withdrew a similar lawsuit, said Friday the full-scale evacuation of the neighbourhood had him and others reconsidering their legal options.
Two other homeowners also said Friday that they have now contacted legal counsel.
Concordia provided a statement to media late Friday afternoon.  "Concordia Seawatch Ltd., has great concern and compassion for the homeowners and families that are now being required to leave their homes," it said, adding that there would be no further comment because of the ongoing legal actions.
Emergency Social Services opened at the Seaside Centre at noon Friday to register residents to receive food, lodging, clothing and "emotional support" for 72 hours from the time of the evacuation order.
Public Safety Minister Mike Farnworth said earlier this week that the residents should not expect any other compensation from the province, which is also the position the province took in 2015 when there was a request for disaster financial assistance after one family was forced to abandon its home.
"It was determined that damages incurred are related to the pre-existing geotechnical challenges. As such, this incident cannot be attributed to a sudden catastrophic event as is required by the legislation," Farnworth said.
Siegers said there were no talks between the municipality and the minister or his office before he made the statement. "I don't know what information they have that they came out with that statement," she said. "That will be something that we'll be pursuing come next week."
Siegers also said the answer to whether there will be any additional compensation from the district is "no," at least for now. "We want to pursue all of these other avenues to see if somewhere, somehow there is something for them."
Several online fundraising efforts are also underway, including one launched earlier this week on Fundrazr
Our full interview with mayor Darnelda Siegers is on this week's Coast Reporter Radio