OCTOBER
• After decades of debate, the Town of Gibsons approved a plan to develop one of the largest properties at Gospel Rock. At its Oct. 2 meeting Gibsons council adopted the final bylaws that would allow Greenlane Homes to go forward with its Gospel Rock Village project.
• A $1,000 reward was offered by the Association for the Protection of Fur-Bearing Animals for information leading to a conviction of whoever killed a family of black bears (a sow and two cubs) in Roberts Creek. By Oct. 16, the reward had more than doubled to $2,600, with money coming from individual local donors.
• After 23 months of negotiating, the shíshálh Nation and the province signed the first major reconciliation agreement of its kind between the government and an Indigenous community. Shíshálh Nation Chief Warren Paull, members of shíshálh Nation council, Premier John Horgan and several ministers attended the Oct. 4 signing in Victoria, witnessed by Sunshine Coast-Powell River MLA Nicholas Simons.
• Staff Sgt. Poppy Hallam, commander of the Sunshine Coast RCMP detachment, said her officers would be "treading lightly and carefully" when it comes to enforcing the new laws around cannabis.
• The Lions Housing Society's Greenecourt expansion passed second and third readings at Sechelt council. The Lions are working with BC Housing to replace the remaining bungalow units at Greenecourt with a five-storey, 104-unit apartment block.
• Bill Beamish went into the municipal election hoping to sit on Gibsons council, but the unexpected withdrawal of Silas White, the only mayoral candidate, changed his plans. On Oct. 20, Beamish, a veteran local government administrator and former chief administrative officer of the town, was elected mayor with 76.6 per cent of the votes for a preliminary tally of 1,347. Three others challenged Beamish in the mayoralty race: Blake MacLeod (200 votes), Les Thomson (99) and William Moysey (86).
• Stafford Lumley, the only incumbent running for Gibsons council, was second in the council voting with 963. Newcomer Aleria Ladwig topped the four who made the cut with 1,085. David Croal had 907 votes and Annemarie De Andrade won the final seat with 888. Falling short of a council seat were Suzanne Senger with 811 votes, Carol Doyle with 803 and Verna Chan with 720. Angie August, who withdrew her nomination, was on the ballot and received 192 votes.
• Darnelda Siegers soundly defeated incumbent Sechelt mayor Bruce Milne Oct. 20 in a landslide win for the two-term Sechelt councillor. Siegers received 2,513 votes (60.4 per cent) compared to 1,111 for Milne (26.7 per cent) and 487 for Allan Holt (11.7 per cent). There was also a complete turnover on council, where all four incumbents went down to defeat. Alice Lutes, Mike Shanks, Doug Wright and Darren Inkster were all rejected by voters in favour of Janice Kuester (2,513 votes), Brenda Rowe (2,295 votes), Eric Scott (2,042 votes), Alton Toth (1,989 votes), Matt McLean (1,773 votes), and Tom Lamb (1,622 votes).
• In the Sunshine Coast Regional District (SCRD) races for area director, Leonard Lee cruised to an easy win in Area A (Pender Harbour/Egmont), receiving 636 votes compared to 198 for Mike Price and 53 for Sandy Hegyi.
• In Roberts Creek, Andreas Tize won the five-way race for director with 386 votes. Hans Penner finished second with 261 votes, followed by Kathrine Fuller with 215, Steve Baker with 94 and Barbara Hague with 93.
• In Elphinstone, Donna McMahon soundly defeated four-term incumbent Lorne Lewis with 728 votes to Lewis's 333.
• In West Howe Sound, Mark Hiltz finished on top with 328 votes against Dave Brackett's 234.
• In the School District No. 46 Lower Coast area, where three trustee seats were up for grabs, Sue Girard (2,455), Stacia Leech (2,210) and incumbent Pammila Ruth (2,207) were elected, while Charlene Penner finished fourth with 1,799 votes.
• In the race for the SBL1 seat on the Sechelt Indian Government District (SIGD) Advisory Council, Mary Adele Koyanagi defeated incumbent William Scotland, receiving 71 votes to Scotland's 19.
• Eleven candidates were acclaimed prior to the election:  Lori Pratt for SCRD Area B director (Halfmoon Bay); Samantha Haines (Upper Coast) and Amanda Amaral, Maria Hampvent and Tonya Ste. Marie (Central Coast) for School District No. 46 Board of Education trustees; Rose Darland, John Miller, Douglas Stewart and Robert Werry as Sechelt Indian Government District Advisory Council members; Kate-Louise Stamford and Dan Rogers as Islands Trust trustees for the Gambier Island area.
• Halfmoon Bay resident Roger Lagassé was elected School District No. 93 trustee in a landslide on Oct. 20. He will represent Sunshine Coast's francophone students.
• Coast Reporter associate publisher and editor John Gleeson won the Jack Webster Foundation's 2018 City Mike Award as Commentator of the Year. The award was presented in Vancouver Oct. 29. The award, named after the groundbreaking Radio CJOR program that established Jack Webster as one of B.C.'s pre-eminent commentators, recognizes journalists who present informed, intelligent and impactful commentary in print, TV, radio or online.
• The Department of Fisheries and Oceans (DFO) closed all of Sechelt Inlet, areas of Agamemnon Channel, the mouth of Jervis Inlet and the waters around Nelson and Hardy islands to bivalve shellfish harvesting because of paralytic shellfish poisoning. DFO estimated the concentration of PSP bacteria at around 1,300 parts per million (ppm). The threshold for a closure is 90 ppm.
• First-past-the-post advocate Bill Tieleman and proportional representation campaigner Bet Cecil defended their positions and fielded questions at a lunch hosted by Sechelt and District Chamber of Commerce on Oct. 29. And an information session hosted by pro-proportional representation (PR) group Fair Vote Sunshine Coast drew about 100 people to the Seaside Centre on Oct. 27.
NOVEMBER
• Madeira Park-based paramedic James Shearer created the Emergency Medical Translator, a hands-on tool printed on a lightweight plastic that uses words and symbols to allow communication with patients in nine languages commonly spoken in B.C.
• Gibsons Mayor Bill Beamish and councillors Aleria Ladwig, Annemarie De Andrade, David Croal and Stafford Lumley were sworn in at a Nov. 6 ceremony held at the Gibsons Public Market.
• Silas White was facing charges of impaired driving causing bodily harm, and causing an accident resulting in bodily harm after an accident that occurred Sept. 16, two days after the municipal election nomination period closed with White as the only candidate for Gibsons mayor. White withdrew Sept. 18. White's lawyer entered a not guilty plea on his behalf during a Nov. 21 appearance in Sechelt provincial court. The trial has been scheduled for July 24 to 26, 2019.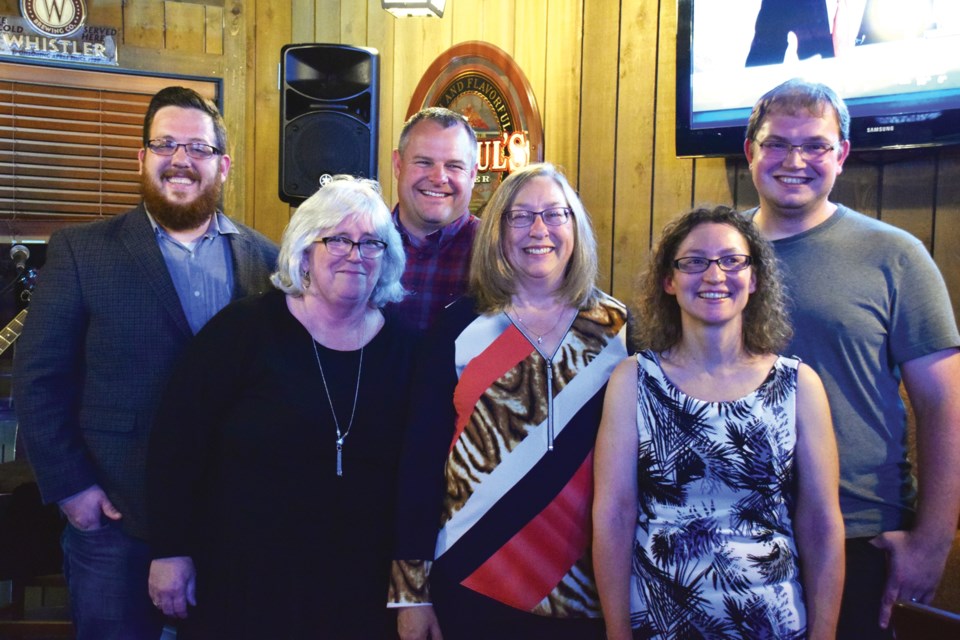 • Darnelda Siegers was sworn in as mayor of Sechelt Nov. 7, along with first-time councillors Alton Toth, Eric Scott, Brenda Rowe, Matt McLean, Janice Kuester and former councillor Tom Lamb.
• Sunshine Coast Regional District directors were sworn in at the inaugural meeting of the board on Nov. 8. Halfmoon Bay director Lori Pratt was acclaimed as chair and Sechelt Mayor Darnelda Siegers was acclaimed as vice chair.
• Two daycare centres on the Sunshine Coast – Tiny Tots Daycare in West Sechelt and Esprit Daycare in Gibsons – were among 53 facilities across the province that will offer $10-a-day child care under a B.C. government pilot project. Thirty-five families with children enrolled in the two Coast daycares will benefit from the program with fees capped at $200 per month or eliminated altogether, a release from MLA Nicholas Simons said Nov. 9.
• The Lions Housing Society was granted $10.4 million in provincial money for the next phase of the Greenecourt project in Sechelt. The funding for the 104-unit apartment building was confirmed in a release from the Ministry of Municipal Affairs and Housing Nov. 13.
• A new subdivision was proposed for Roberts Creek on land once classified as Forest Land Reserve and adjacent to District Lot 1313. The proposed subdivision would be located on a 40-hectare parcel north of Ranch Road and east of Sullivan Road, bordering Area E, Elphinstone. While the southern third of the land has already been cleared, the rest is forested by mature regrowth trees.
• A review of wastewater treatment facilities in the rural areas of the Sunshine Coast Regional District uncovered several "critical issues," including non-compliance with regulatory permits, a lack of certified staff, a lack of legally-binding agreements and in some cases the need for facility replacements.
• On Nov. 18 St. Hilda's Anglican Church in Sechelt celebrated its official reopening. The church had been undergoing renovations for about a year.
DECEMBER
• Andrea Watson was joined by two professional coaches, Lesleigh Farr and Daryl Austman, at a Nov. 22 Sunshine Coast Regional District committee meeting requesting extended ice time for user groups on the Sunshine Coast.
• Members of the Canadian Union of Postal Workers were forced to end rotating strikes following the Nov. 24 adoption of Bill C-89, the Postal Services Resumption and Continuation Act.
• A black bear destroyed the interior of a pickup truck parked on a Roberts Creek property after becoming trapped inside the vehicle overnight Monday, Dec. 3. "He just ripped the whole of the inside apart," Marlene Road resident Clinton Casley said.
• Sechelt council passed a new smoking bylaw Dec. 5 in a unanimous vote that builds on current provincial legislation on smoking and vaping of tobacco and cannabis that prohibits them in indoor public spaces and workplaces, school grounds and health facilities.
• RainCity Housing and the Town of Gibsons confirmed the seasonal homeless shelter in Gibsons would open Dec. 12.
• The District of Sechelt's finance department proposed a property tax increase of 11.81 per cent in the draft 2019 budget.
• The Elves Club had a record fundraising weekend Dec. 8 and 9, raising over $30,000 from the Crash the Coast boot drive and the annual telethon that aired on Eastlink Community TV. The money goes towards gift cards for those in need.
• Dakota Ridge recreation area was set to open Dec. 14, but the 30 centimetres of snow they had wouldn't suffice for opening day.
• Two pieces of stained glass, crafted in England in 1885 by ancestors of the Sechelt Clayton family, were purchased for £10,000 (C$16,886) and shipped to Sechelt, where they were being temporary displayed at St. Hilda's Anglican Church.