The federal government is answering Gambier's need for high speed.
High-speed internet will soon be provided to 663 households on Gambier and Keats islands, via a to-be-built subsea fibre optic connection. On Sept. 6 federal Minister of Rural Economic Development Gudie Hutchings and Member of Parliament Patrick Weiler announced funding of $1.9 million for the two projects from the senior levels of government. Around 20 Gambier residents, as well as local and federal politicians and staff, were present at the Community Hall for the event.
Fibre optic marine cable coming
Kate-Louise Stamford, an Islands Trust Trustee for the Gambier Island area, introduced the speakers and welcomed the coming arrival of the service, sharing her family's experience — and frustrations — trying to stay connected through the internet. "But today, we have a different reality as a community. The provincial Connected Coast program to bring fibre optic marine cable to Gambier and Keats is huge news." She went on to thank the Gambier Island Community Association Internet Access Group "for taking this issue by the horns and to the Regional District board for supporting it so wholeheartedly."
Applause at the announcement was loudest when Sunshine Coast Regional District Area F (West Howe Sound) director Mark Hiltz said the delivery of the service would not come with an increase in taxes.
"When we look back in the recent years of the emergence of COVID-19, the importance of staying connected cannot be overstated. Whether it was checking in on the latest health regulations from the provincial health officer, staying in touch with family and friends, having to move to a hybrid work environment or indulging in a TV show or series," Hiltz said. "The delivery of high-speed internet will open up opportunities such as work for residents, as we see many major organizations moving away from offices and towards hybrid work. I'm also pleased to say that thanks to how this project is being funded, the delivery of high-speed internet will come at no extra cost to the taxpayers of the Sunshine Coast."
Part of minister's mandate to bring high-speed internet to all Canadians
The $1.9 million is part of the federal-provincial funding of $830 million announced earlier this year, with the goal to connect the remaining rural households in the province — about 815,000 — to high-speed internet. In her speech, Hutchings said it is her mandate to make sure that 98 per cent of Canadians have access to high-speed internet by 2026 and 100 per cent by 2030. That goal comes with the $2.75 billion Universal Broadband Fund invested by the federal government.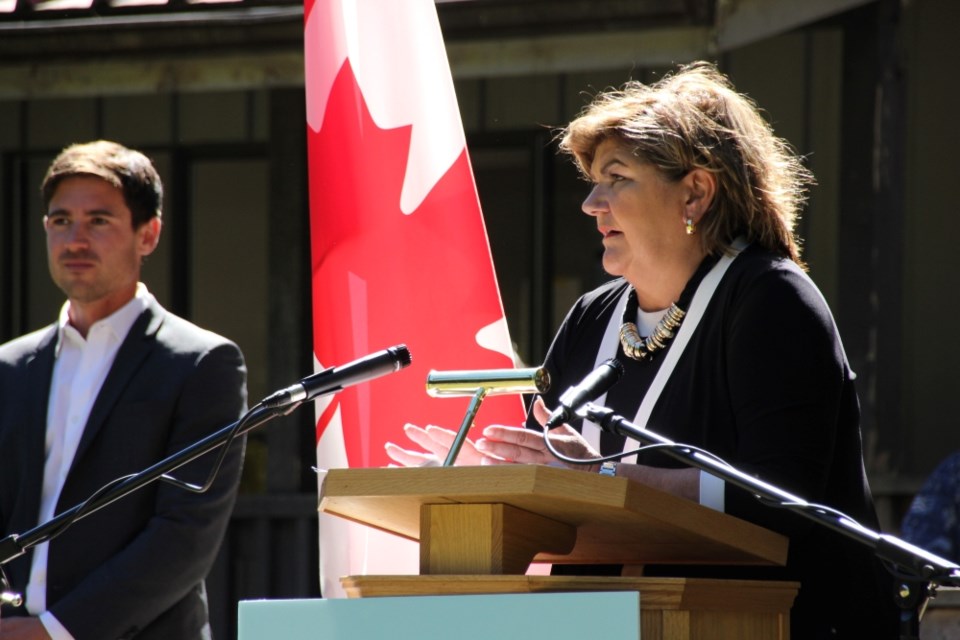 "Islands are magical places," the minister, who lives in Newfoundland and Labrador, said. "Yeah, they have their challenges. But may they have their opportunities, and they are pretty special.
"The big equalizer for rural Canada is high-speed internet, and it was an issue long before the pandemic," Hutchings continued, expressing her love for rural communities. "But you do need to have a connection. We need it for remote healthcare. We need it for remote education. We need it for businesses and again, just for keeping touch."
The population of Gambier Island has grown by more than 70 per cent in the last five years, according to the latest census. In his remarks, Hiltz pointed out the SCRD grew by seven per cent during the same time period.
CityWest serving coastal communities
Weiler said $1.2 million of the funding is coming from the federal government and $700,000 from the Province of B.C. The project, he said, will be completed by CityWest Cable and Telephone Corporation, known as CityWest. That company has been working on the Connected Coast project to build a fibre optic network serving coastal communities in the province. CityWest is owned by the City of Prince Rupert.
"We are thankful to see the provincial and federal governments step up to ensure these communities are not left behind," Scott Simpson of CityWest said at the event. "The benefits of today's announcement will be measured in decades, not years. This new state of the art fibre optic network will future-proof both of these communities, ensuring residents, businesses and visitors alike have access to safe, reliable and, most importantly, fast internet services. Linking this last mile project with the Connected Coast subsea fibre optic line will bring even more stability to the on-island networks…"
What about maintenance?
Full-time Gambier Island resident Joseph Wright asked about the maintenance, raising his concern for trees falling on lines in frequent winter storms. He said he's worried about being dependent on the internet without a quick turnaround in maintenance. To that question, Simpson said, "Wherever we can, we build underground," and cited an incident in Northern B.C. where a beaver took out the power.
The timeline for the last-mile infrastructure of marine cable was not available at the announcement. Simpson said communities will be kept informed as updates become available. Hutchings recommended people look at the soon-to-be launched online map on the Innovation, Science and Economic Development Canada website. It will include who the project has been awarded to and the estimated completion date.
Hutchings's visit marks the third time a federal minister has visited the Sunshine Coast this year.