Just days after returning from the missile-cratered streets of Kharkiv and Kyiv, Ukraine, Milos Pospisil is jet-lagged but animated by the success of his recent mission to bring medical supplies — and a little bit of joy — to the people and children of Ukraine.
He left B.C. on June 26, returning July 10. It took Pospisil days of travel in each direction to reach his destinations, but the eight days he spent near the frontlines of Russia's attack on Ukraine felt much longer. In an interview on July 14, Pospisil said it was difficult to know what to expect.
This was Pospisil's second journey overseas to help Ukrainians since Russia invaded their country earlier this year. In March, Pospisil helped evacuate refugee families arriving in Poland. Once back in Canada, Pospisil joined Project Volya, an initiative started by a retired Canadian reservist living in Kyiv, Kevin Leach. Project Volya (which means Project Freedom) coordinates donations of life-saving medical supplies to the frontlines of the Ukrainian forces. Pospisil and Dr. Paul Dhillon of Sechelt launched a fundraiser with a goal of $20,000 for the supplies.
The first time he left Canada to help Ukrainians, Pospisil did not enter Ukraine. His most recent trip, however, took him to Kyiv and Kharkiv — into Ukraine and closer to the conflict zone. That is where he finally met Leach in person.
Special delivery
Once Pospisil departed Canada, he took a 20-hour train journey to travel from Warsaw to Kyiv. With him were five suitcases and duffle bags full of toys, pediatric cardiac equipment and medical supplies — but there were no luggage carts in Warsaw, and he relied on the kindness of strangers to help him carry the heavy luggage.
"Moving it from one train to the other, I was like a pack mule," he said, adding that it was a blistering 30 degrees that day. Aboard the train, his fellow passengers also lent a helping hand.
Upon arrival in Kyiv, Pospisil took two cases of medical supplies to Okhmatdyt Children's Hospital, the largest children's hospital in Ukraine.
His mission is also a personal one. As a child, Pospisil and his family fled Russian-occupied Czechoslovakia. So when he arrived at the hospital, he asked to distribute packages of toys his wife and kids helped prepare for the children. The 60 bags were filled with colouring books, plushies, knick knacks — something to make the sick and injured children feel like kids again. With each, he shared the message he'd rehearsed in Ukrainian: "We care about your future in a free Ukraine."
"I wanted to raise their spirits, give them the toys and let them know that we care. And then I just wish them a speedy recovery," Pospisil said, flipping through photos in his living room. "It was pretty heartbreaking… but it was fun because it also made them smile, and it made them laugh a little bit."
Life-saving medical supplies
Dhillon helped by connecting Pospisil with doctors he knows from the Ukrainian Football Association of Medical Doctors (UFAM) through the global medical football (soccer) league he plays in. Dhillon started the Canadian team, and played against Ukrainian doctors for several seasons, except during the pandemic. Through a group chat with the two teams, Dhillon was able to establish direct connections. He also virtually met Leach and they realized the two men share a colleague in the military.
Pospisil also met with members of the Foreign Legion and Territorial Defense Forces to deliver medical supplies that will save lives on the frontlines — chest seals, tourniquets, and specialized equipment.
"One of the best ways to fight back if you can't fight yourself, is to try and save the lives of their fighters so they can keep fighting," Pospisil said, adding that he's noticed some people don't want to donate if those funds will be used for combat.
"They don't want it to be used to cause more death and destruction. To some degree… they don't want to be a part of the ugliness of war, right? What they're forgetting is that Ukraine didn't choose this war. Ukraine didn't instigate this war, they were invaded," Pospisil said.
With each delivery, Pospisil confirmed what will be useful and what is still needed. As he spoke with the medical officer of the 135th Battalion, Pospisil was invited to observe their training camp for volunteers. They didn't have earplugs, so Posipisil was given 9mm bullets to block out the sounds instead.
A critical part of Pospisil going to Ukraine himself was to establish contacts for future donations, and ensure the supplies would not be stored in a warehouse, left unused.
"You don't want to give it to just anybody," he said. "We wanted to make sure that it went to fighters that were directly fighting the Russians, where it would be put to use right away."
Surprises
There were several surprises during those eight days. When a train delayed their travel past curfew, Pospisil and those he was travelling with rented electric scooters to zoom through the empty streets of Kyiv. Buildings that were once residential apartments were empty, windows blown out, gaping holes and rubble and shattered glass left behind. At one point, he visited the site of a mass grave in Bucha. Before dawn one morning, Pospisil woke up to an odd sound: missiles. He learned to identify the sounds of missiles falling versus the sound of return fire.
"The city's just empty. There's no one there. Two million people have fled that city," Pospisil says of Kharkiv. "So there's no traffic, there's almost nobody out and about. Very spooky. And all you hear is just artillery fire in the distance."
But when they walked past a church, they heard something else: the voices of the choir, singing. "It was surreal," he said.
One of his contacts came from an unlikely source, and Pospisil had a brush with fame: Antytila, a popular Ukrainian band who are raising money for children who have lost fathers on the frontlines of the war. A van Pospisil loaded with $15,000 worth of medical supplies for the Ukrainian Army in Kharkiv was the same vehicle that appeared in an Ed Sheeran and Antytila music video. As Pospisil donated funds to their initiative, fans appeared to ask for the lead singer's autograph.
"It's good exposure for [Project] Volya. We're going to try and leverage our relationship with that pop band and their project to get more attention on us and hopefully get more donations for our mission," he said.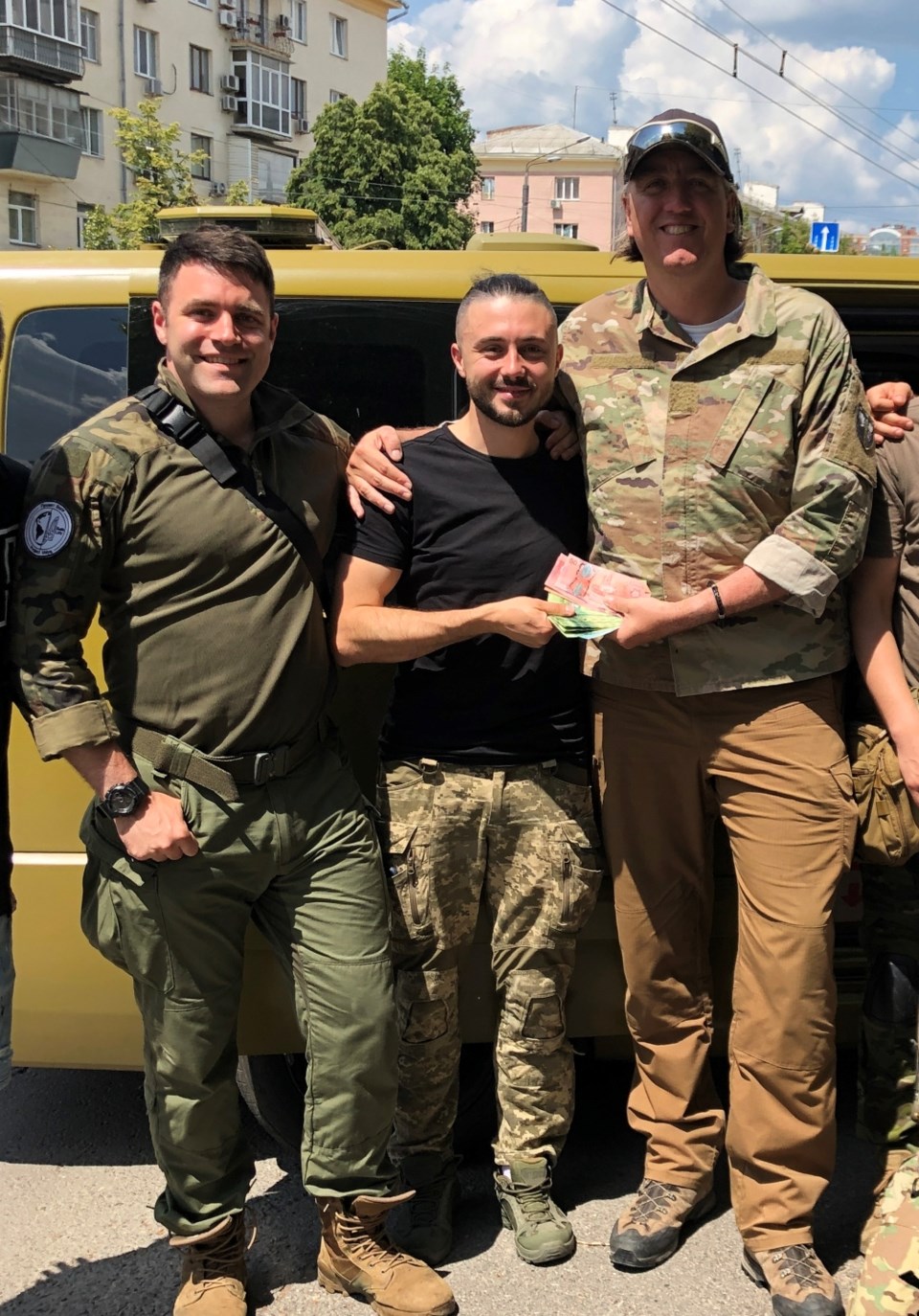 The mission continues
With his immediate mission accomplished, Pospisil says he's just getting started. Those "priceless" contacts and lines of logistics will serve to make sure donations are delivered into trusted hands. Pospisil will continue to fundraise for more medical supplies through their GoFundMe campaign "Helping Ukrainian Children & Medical Supplies" to send to their established contacts, and he'll be able to do so without returning in-person. He was able to raise around $10,000 for the June delivery, about half of his goal.
Dhillon said he'd still like to hit their $20,000 goal, and more needs will arise for supplies as the seasons and style of battle changes.
"It's really nice to be able to kind of find out what the need is, do the fundraising and then be able to physically deliver there just to close the circle, because it's challenging in a war zone," Dhillon said. "We're not used to it here."
"There's a ton of need there," Pospisil said. "I don't think that you could bring them enough of anything, honestly, at this point, with the amount of losses they're taking, the savagery of the assault, the indiscriminate nature of it."
A symbolic gesture
Pospisil says his trip was also a symbolic gesture and morale booster from "a random Canadian" to Ukrainians. It's easy for Ukrainians to feel alone, he said.
"It's so meaningful when someone shows up in person and is willing to go all the way to the front line like that, take that risk with them," Pospisil said. "I was able to accomplish more than I even expected, which has made it so worth it… If you care as much as I do, it was absolutely worth the risk."
As for Dhillon, the doctor said he's happy Pospisil is back home safe and with his family. Before he left, the two men had an extended conversation about going to Ukraine.
"I respect Milos," Dhillon said. "He absolutely did not have to go. But I think it was a positive experience, and it keeps it in the light."
But before Pospisil could return home to the Sunshine Coast, he had one more delivery to make. After landing back in B.C., he brought care packages from family members still in Ukraine to their loved ones in B.C. They contained much-needed prescriptions, momentos and pieces of home.