The Sunshine Coast has lost one of its longest-serving local politicians and community volunteers.
Former Sechelt councillor Mike Shanks died suddenly this week at the age of 76.
Shanks was born in England and moved to Canada with his parents and brother in 1948, when he was five.
The family settled in Victoria, where Shanks finished school and started his working life.
According to the bio he supplied for the District of Sechelt during his last term on council, after graduating college, Shanks held a variety of jobs before moving to the Lower Mainland in 1969 to work with the province's land assessment agency.
Shanks moved to the Sunshine Coast with his wife Gay, who died in 2014, and his young family in 1975 to work at the newly opened BC Assessment office in Sechelt.
He struck out on his own as an independent land appraiser in 1982.
Shanks was also active in the local Lions Club, various neighbourhood associations, the Sechelt Chamber of Commerce, the Sechelt Downtown Business Association and was a charter member of the Coaster's Car Club. As part of that group, he was instrumental in creating the popular Sleepy Hollow Rod Run and Show n' Shine.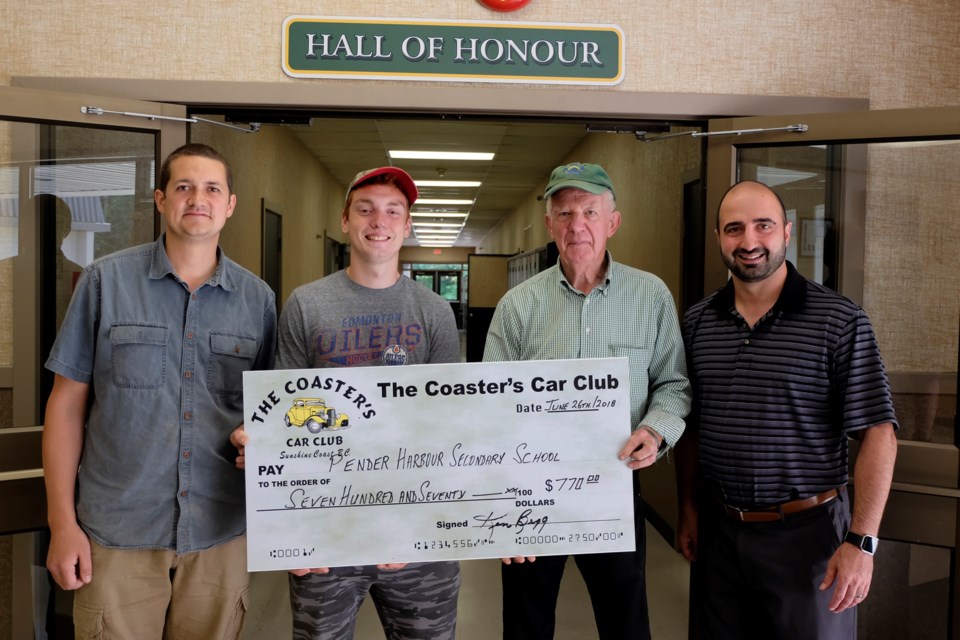 Shanks got into municipal politics in 1986, the year the Village of Sechelt was amalgamated with surrounding areas to become the District of Sechelt, and won office as a member of the newly created district's first council.
By the time the 2018 municipal election campaign began, Shanks had been on council for a total of 23 years, with breaks after a losing bid for the mayoralty in 1996 and an electoral defeat in 2008, and had served under seven different mayors.
"Community involvement has always been my focus. Being part of the solution to community issues and personal contact with the electorate has always been important to me," Shanks said in his council bio. Heading into the 2018 campaign he said, "I still feel that I have the energy and the interest to serve the needs of our growing community and the challenges that presents."
Bruce Milne was the man who won that 1996 mayoralty race, and was mayor during Shanks' last term on council.
"Mike was the experienced councillor ready for the next step, and I was the younger outsider with no track record on council," Milne told Coast Reporter. "With nothing to lose, I campaigned with enthusiasm while Mike was more careful, defending his record. Ballots were counted by hand then and the results came in well past midnight and the celebrations couldn't start until the wee hours. Nevertheless, there was a knock on my front door early Sunday morning – Mike Shanks was there to offer his congratulations and wish me well. That was the measure of the man."
Milne also remembered Shanks as "the epitome of fair-minded public service."
"Mike was 'old school' in the best sense of that term – principled, respectful, community-minded and a gentleman," Milne said. "He was the model of a great municipal councillor… He served Sechelt by putting his own interests aside and always thinking of others [and] what was best for Sechelt."
Darnelda Siegers was on council with Shanks for two terms before being elected as mayor in 2018. She described Shanks as council's "elder statesman" and "generous, gracious and courteous, [and] very humble."
"If we wanted to know the background or history on anything to do with Sechelt, we'd go to him," Siegers told Coast Reporter.
"He was down-to-earth with a huge passion for life, people, and his community… What really gave Mike joy was to be able to advocate for those who brought their personal issues to him," Siegers said. "Mike Shanks made a difference and will be missed."
After losing his council seat in 2018, Shanks continued his long-standing community involvement as a member of the Sechelt Public Library's board of directors, and as chair for the Coaster's Car Club's 2019 Sleepy Hollow Rod Run and Show-n-Shine.
Ken Begg, Coaster's president, said club members, who'd seen Shanks just recently at their Christmas party, were shocked to hear the news.
Begg said Shanks' organizing skills and contacts were crucial to making events like the rod run a success.
"He knew those people who could get our show rolling… He just knew where to go and get 'er done," Begg said. "You can't name the stuff he did on the side to make it all come together. It's going to be a big hole – big shoes to fill."
There's no word yet on a memorial service. Shanks' family is still finalizing arrangements.