NDP incumbent Nicholas Simons was forced to miss an Oct. 15 all-candidates forum after injuring his ankle at a campaign event.
Simons lost his footing crossing a ditch at a roadside rally outside the Langdale ferry terminal and had to be taken by ambulance to Sechelt Hospital.
"Campaigning can be dangerous. I've never seen my ankle at this angle," Simons said in a Tweet with a picture of himself in the ambulance. He also apologized for not being able to be at the VoiceLab-sponsored event.
Campaign team member Bill Forst spoke on behalf of Simons during the opening and closing statements and said he expected Simons would be back on the campaign trail "in just a few days."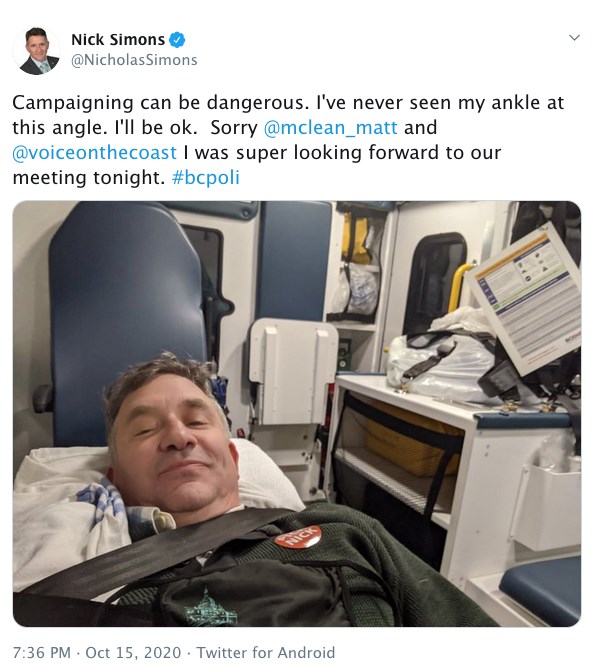 The VoiceLab online event was billed as a chance for the candidates to "respond to questions from our community about affordable housing, employment support, and concerns most pressing to young adults facing uncertainty amidst the pandemic."
As well as perennial issues like ferry service, highway improvements, housing and daycare, Liberal Sandra Stoddart-Hansen and Green Kim Darwin faced questions about whether they'd support expanding public health coverage to include dentistry and vision care and a pharmacare program.
"It's an expensive proposition," Stoddart-Hansen said, noting that while many people get supplementary coverage through work or elsewhere, a lot of people don't.
"I think it's something governments should look at," she said, but criticised the NDP for "moving the burden" of the MSP to businesses.
Darwin said she finds it "kind of bizarre that our medical [coverage] ended at the neck and that it didn't cover our teeth and our eyes."
"It creates a disparity between people who can afford to get that kind of care and people who can't, and when you delay getting dental work or vision work it leads to other issues and you end up in the medical system anyway," she said.
Darwin said she agreed with Stoddart-Hansen's criticism of the government shifting MSP premiums to employers.
The candidates were also given a chance to talk at greater length on questions provided in advance, including one that captured many of the issues VoiceLab is active on: how do you propose to support the need for long-term employment opportunities with a livable wage for young adults on the Sunshine Coast?
Stoddart-Hansen said for her the question "speaks to economic opportunity, leading to a living wage."
"Our economy on the Sunshine Coast is primarily a service economy," she said. "We need to diversify the economy and encourage and develop industries and businesses here on the Coast that are going to generate those higher skill, higher paying jobs.
"And we need to work to support the young entrepreneurs in our community to create opportunities to develop businesses."
Darwin said the province is in the midst of a unique recession, where the majority of the impact is falling on women working "mostly in low paying jobs," and that a major investment in childcare would have a significant impact.
"Childcare is one of the best ways of getting women and parents back to work… Some people are paying basically mortgage-size childcare costs. So when we reduce those costs by investing into it, that enables young people to have more money to put towards their shelter costs."
Darwin also said the Greens support a guaranteed livable income.
At several points both Stoddart-Hansen and Darwin questioned the need for an early election.
"In my view the Green Party, the B.C. Liberals and the NDP were working really well, collaboratively, under the exceptional direction of Dr. Bonnie Henry to achieve the successes that we've had dealing with the COVID pandemic," Stoddart-Hansen said during her opening statement. "There was no need to break the fixed election law and rip up an agreement with the Green Party."
Darwin called the election "our chance to send a clear message to the old-school politicians."
"We are in the middle of an unnecessary election in the middle of one of the biggest health and economic crises of the past century," she said. "MLAs should be in Victoria working on solutions, government should be flowing supports to keep small businesses alive, implementing childcare solutions and making decisions to help us navigate this crazy pandemic. Instead the NDP has put their political interests ahead of people."
Although Simons wasn't able attend the VoiceLab forum, he defended the decision to call an election in an interview with Coast Reporter earlier in the day.
Simons said even if the election were held next year the province would still be dealing with the pandemic, and he defended the logic of NDP Leader John Horgan who's maintained the relationship with the Greens had changed and that, despite the Confidence and Supply Agreement, it was time for the party to seek a new mandate.
"We managed to hold it together and keep working positively for the most part, but it was clear that the premier was interested in getting a mandate for what will be a steady recovery," Simons said. "I think it's fair to say it's time to ask for a mandate to continue the programs and initiatives we've begun."
There are at least two more all-candidates forums planned in the coming days, both online.
On Oct. 17, from 3:30 to 5:30 p.m., the Sunshine Coast Alliance for Seniors' Care Co-Op is hosting a Q&A on issues affecting seniors and seniors care. Visit www.scseniorscarecoop.ca for more information.
On Oct. 19, from 7 to 9 p.m., the Sechelt & District Chamber of Commerce is holding its all-candidates meeting. The general public can watch via Zoom. The forum will also be rebroadcast on Coast TV. For more information visit www.secheltchamber.bc.ca