Sunshine Coast RCMP are sharing an accident victim's harrowing tale.
The Surrey woman's SUV started fishtailing as she rounded a hairpin curve in the 12000 block of Highway 101, north of Middlepoint, on Nov. 23. It went off the road and plunged 12 metres (40 feet) down an embankment and into a fast moving, rain-swollen creek.
According to RCMP Const. Harrison Mohr, the woman has asked that only her first name, Carolynne, be used.
"Before I knew it, I was going over that cliff, and I thought I was going to die," Carolynne told RCMP. The SUV landed with the driver's side submerged, and Carolynne found herself up to her neck in the frigid water.
She was able to release her seatbelt and climb out, onto the passenger side, with the fast flowing water continuing to soak her. "I could see the cars [driving on the highway] in the distance, but no one could see me," she said.
Her situation looked grim. If she stayed on her vehicle, she risked hypothermia, as well as the possibility that the rushing water could push the SUV over another waterfall. And if she tried to swim to either side of the creek, she would almost certainly be swept over the next waterfall.
"All of my ideas led to a place I didn't want to end up … I kept saying to myself, 'I was so close.'"
Carolynne found a corner inside her vehicle where she could get herself partially out of the water to try to preserve her body heat. Doing so may have helped save her life. It's also when her luck started to change.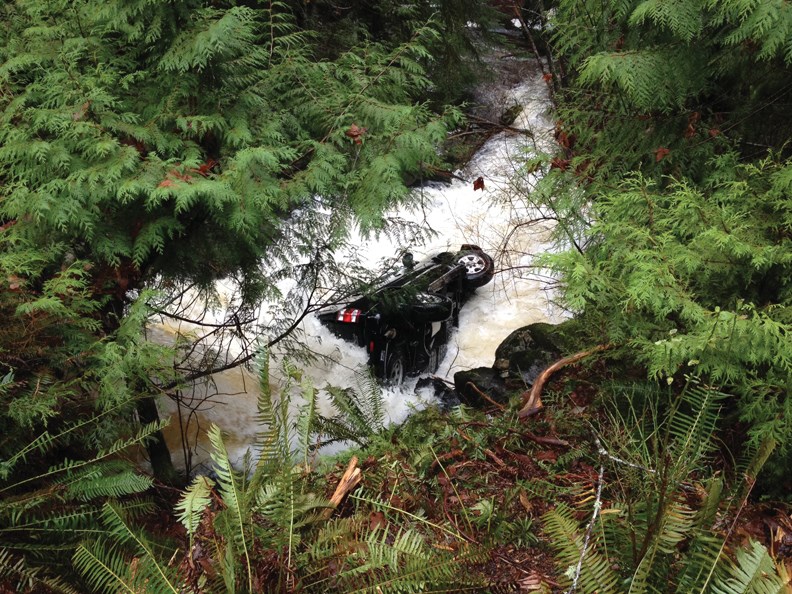 RCMP said another driver, also a visitor to the area, pulled over to take a look at the waterfalls and was shocked to see a vehicle lying on its side dangerously close to one of the falls.
The Pender Harbour Volunteer Fire Department and BC Ambulance crews were first to the scene.
Mohr said they worked quickly to make sure the vehicle didn't slide any closer to the next set of falls. RCMP, Sunshine Coast Search and Rescue, and the Sechelt Fire Department also took part in the rescue effort.
Pender Harbour deputy chief Bill Gilkes and Sechelt firefighter Tyrel Brackett made it down onto the SUV. Gilkes scurried down the embankment with a cable around him, while Brackett was lowered in a harness from the ladder truck. By the time they were able to get her to safety, Carolynne had been stuck in her vehicle for three-and-a-half hours.
She's now been released after spending nearly a week in hospital, where she was treated for hypothermia, a broken nose, a concussion and other injuries.
"All Sechelt Fire Department members train annually in rope rescue operations as part of our extensive training program, and many of our members are certified in [high angle] rope rescue operations and swift water awareness. I am extremely proud of our members who worked diligently under such pressure and harsh conditions," said Dwight Davison, assistant chief of the Sechelt Fire Department.
Pender Harbour Chief Don Murray added that "this was an all-encompassing team effort, and we could not have accomplished what we did without the contributions of everyone there."
"This was a miraculous rescue," said Mohr. "Everyone – including Carolynne – was committed to ensuring a successful outcome. Failure was not an option."
The SUV is being left in the creek, because conditions are too dangerous to send someone back down to attach a tow cable. Mohr said crews will continue to monitor the situation.
– With files from Harrison Mohr, Sunshine Coast RCMP