Hydro bills will be climbing for several houses on the Sunshine Coast over the next month – but it's not the cold that's to blame. It's Christmas.
"It's a disease," said Drew Sherwood, whose house has become a focal point on Spindrift Road, a quiet cul-de-sac in Sechelt. "I think I've got about 3,000 lights on it. My goal is to be close to 10,000."
It's not just lights. An oil painting of Santa Claus festoons the front door – a family heirloom. A tiny Woodstock is mechanically ejected from Snoopy's mailbox, which sits on their roof next to a glowing Abominable Snow Monster. Candles, reindeer and a blow-up Santa overtake the front lawn.
Sherwood moved to the Sunshine Coast from the Okanagan where he earned the moniker Clark Griswold, the protagonist in National Lampoon's Christmas Vacation who caused a citywide power outage after plugging in his home's 25,000-light display. "His were gaudy, gaudy, gaudy. I try to do it a little more tasteful," said Sherwood, whose display has also gone a little more Coastal. "This is the first year I've ever decorated my boat."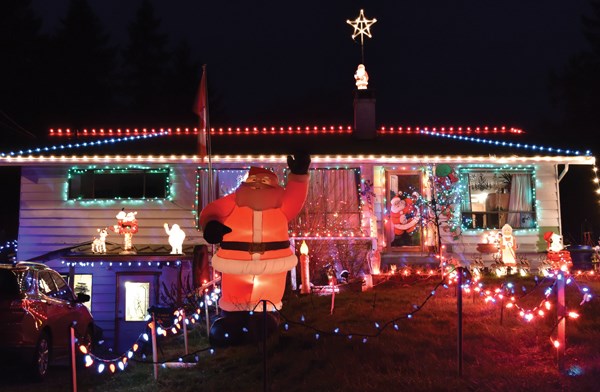 If over-the-top Christmas decorations are a disease, Sherwood isn't the only victim. Houses up and down the Sunshine Coast appear infected, some worse than others, each displaying unique symptoms.
Sherwood mentions another must-see house a few blocks over on Mermaid Street near the Sechelt Fire Hall, but on another quiet cul-de-sac in Wilson Creek sits a hidden gem. Blazing with a canopy of multi-coloured lights, its lawn engorged with inflatable characters, the house on Hall Road is in a league of its own.
"Every year we keep adding to our lights," said homeowner John Davis. "Our neighbours across the street, we were competing for lots of years with lights, but I kind of went a little crazy."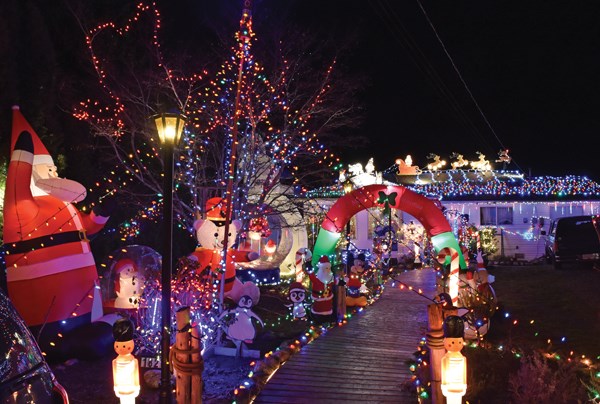 A dancer in the Sunshine Coast's Nutcracker ballet, Davis was hosting the after-party Tuesday evening. Children streamed down the pathway, bordered by a candy cane arch, in awe of the brightness – and the inflatable snowman that towers over the one-storey house. "Seeing my daughters grow up, it's just been a special thing," said Davis, who grew up touring Christmas lights with his mother. "When I was little I thought, when I'm older and have kids, I'm going to do that for them."
He attracts up to 30 visitors an evening in search of festive lights. Sherwood of Sechelt would like to see those visitors, too, and a "twinkle tour" that catalogues the Sunshine Coast's best-lit properties.
If that happens, an obvious addition would be 7625 Eureka Place in Halfmoon Bay.
The spectacular display is a giant leap into 21st century illumination.
"There are 10,000 computer-animated lights synchronized to music," explained Paul Leberge, who began his digital love affair with a set of "sugar plum salmon" at his North Vancouver residence in 2012. "We decided to animate them and then got involved in this whole computer animation of Christmas lights.
"Some people would go to local fast food and sit down and watch the show. It was awesome, it was like TV."
For those interested in embarking on a "twinkle tour" of the Sunshine Coast, bring cans for the food bank, as some residences, such as at Eureka Place, collect. And be wary of the Christmas light contagion. It appears to be chronic. "I'm already thinking about the display for next year," said Leberge.