A boathouse, 30 kayaks and three sailboats were destroyed in a fire that broke out in Gibsons Harbour between the public wharf and the Hyak Marine fuelling dock in the early hours of Monday, June 4. Two other sailboats and a cruiser also suffered minor damage in the blaze.
"We're in shock, total shock," said Loretta Suidy, who owns Sunshine Kayaking with her husband Greg. "They phoned us at about 4:30 in the morning… We headed down right away. It was already gone by the time we got there," Suidy said, referring to the business's boathouse.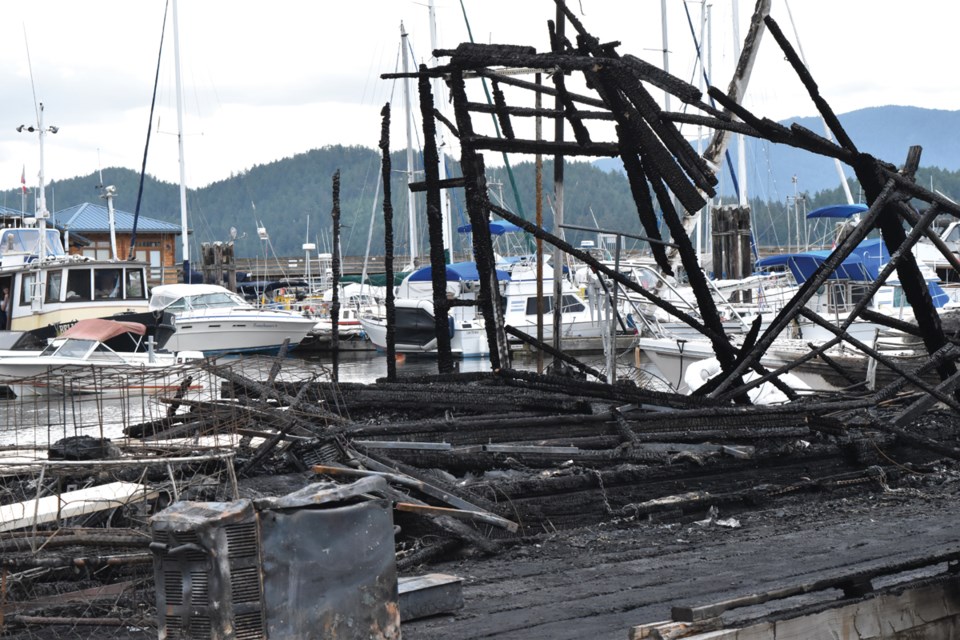 Ken Mackenzie, retired owner and operator of Coastwise Security Systems, witnessed the fire from his apartment on Gower Point Road. "I was up yesterday morning, just after four, and I hadn't even turned the TV on and I heard an odd noise outside, kind of a popping sound or a bit of a metallic sound," he said.
"I went, opened the curtains, looked outside and said, 'Oh my God.'"
He called the fire department but by that time, he said, the fire was blazing "like a rocket." Between 15 and 20 minutes into the fire Mackenzie said he heard "a very loud bang … that really sent a plume up into the sky."
According to Greg Suidy, a medical oxygen tank stored in the boathouse exploded after the fire broke out, and landed on a boat nearby in Smitty's Marina.
Gibsons and District Volunteer Fire Department received a call at 4:13 a.m. and arrived on scene by 4:20. According to George Williams, captain and training officer with the fire department, it took 24 firefighters to control the blaze, which engulfed the 20-by-40-foot boathouse and charred the dock on which it stood. Royal Canadian Marine Search and Rescue, Coast Guard, RCMP and Emergency Health Services also responded to the fire.
After daybreak Mackenzie witnessed one of the sailboats' lines burn through, become loose from the burned dock and drift in a light wind. Fire crews doused the boat, which began to sit low in the water. The Coast Guard on site pumped it to prevent it from capsizing. Firefighters spent four hours dousing the flames. As of 8:30 a.m. Monday, all vessels were still floating.
The Suidys of Sunshine Kayaking lost fishing and diving gear, paddleboards and other equipment stored in the boathouse. Their EagleCraft cruiser also suffered minor damage.
The boat rental and charter business has been operating in Gibsons Harbour since 1991 and was the first kayak rental outlet on the Sunshine Coast. The boathouse was also used in the CBC television series The Beachcombers.
"That piece of history is gone now, too," said Loretta Suidy. "Life goes on… We're still in business, we're just ordering in more kayaks right now," she said. The business has 18 single kayaks and 10 double kayaks available to rent and their retail store, located on Molly's Lane, remains open. "The whole community has reached out and is offering support," she said.
Coast Guard will oversee clean up. The RCMP are investigating the cause.