BC Ferries abandoned diplomacy this week and took a hard line, saying it was no longer willing to talk about fare equity or restoring cut sailings on the Langdale to Horseshoe Bay route.
Mark Collins, BC Ferries' vice president of strategic planning and community engagement, said Sunshine Coast residents will have to talk to the provincial government if they want to see any change in service levels going forward. He also refused outright to talk about fare equity ever again, to the surprise of committee members gathered at a Southern Sunshine Coast Ferry Advisory Committee (FAC) meeting on Oct. 27.
"We will not meet on this topic, and going forward we will not discuss fare equity any more," Collins said at the meeting.
"The reason the fares are calculated the way they are is based on decisions taken back in the '70s by order in cabinet. The rationale for those decisions is unknown. It's unknown to anybody right now. The fares that we face today are percentage bills on a basis which we can't know. So there just is no basis for a discussion."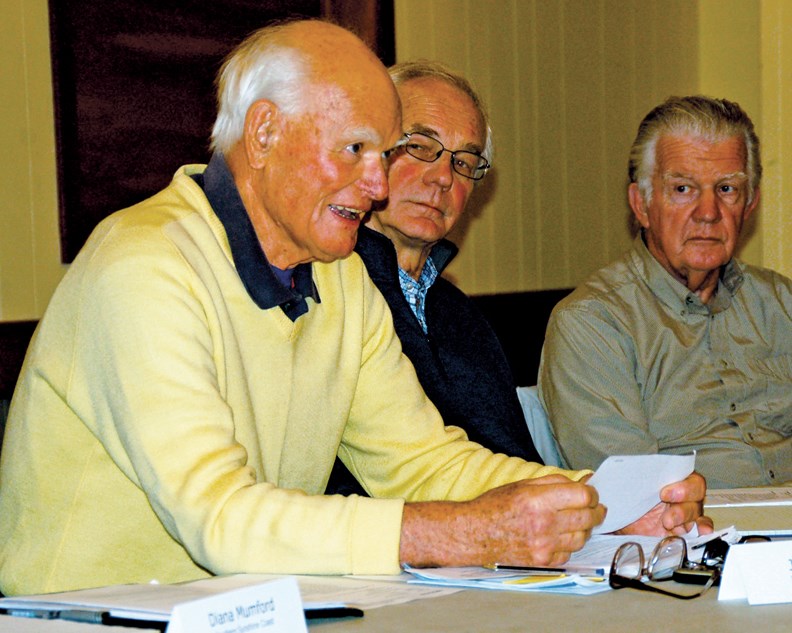 Committee member Jakob Knaus said that in 2003 BC Ferries made a policy decision that fares were going to be based on distance, which would have significantly lowered fares on the Horseshoe Bay to Langdale route, but nothing was ever done.
Collins said that policy decision came from government before BC Ferries restructured.
"In general we have built the fares from the basis that we inherited. We do not know the basis on which they were set before we were restructured," Collins said, noting BC Ferries sees discussing fare equity as "an extremely divisive and unproductive debate."
"Every change that occurs on this route would have to be compensated for in a change on another route and which route do you propose should pay more so some routes can pay less?"
He went on to say there was no rational basis for tying the fares to distance, but committee member Jef Keighley said, "You may not choose it, but it's a very rational way … It's a hell of a lot more rational than the current system."
Collins said it was "possibly" more rational but added: "We're not going to attempt to find out. We've made the decision that we will do nothing on this."
Committee members got a similarly cold response when they asked about reinstating the Sunday morning sailing that's been cut from the Langdale to Horseshoe Bay schedule during off-peak times.
Knaus explained the sailing cuts were ordered by the government to address underutilization on routes with 55 per cent capacity utilization or less, but that in the first quarter of the 2015-16 year, the Horseshoe Bay to Langdale route had 60.2 per cent utilization. Knaus connected the dots to say the local route deserved to have its service reinstated.
Collins shot down the idea.
"Quite simply, the 55 per cent was a criteria used for that process. That process is closed, finished, done. There is no expectation that the minute you go over you get something back," he rebutted.
"Service levels have been permanently adjusted downwards and will not be restored even if you go above it. If you wish to have service added back, you must go to the government and ask them to restore your service level."
Knaus pointed to correspondence he had with BC Ferries that suggested the corporation would consider increasing service if there was a business case to do so.
"And that's absolutely correct," Collins said. "If you want us to pay for the sailing and lose money on it and therefore go into the fare box and look for a fare increase to pay for it, sure. We can add back all kinds of sailings if you're up for a fare increase.
"If you want the government service fee to cover this additional service level, then the government must agree to that and increase the service level. But if the government service fee doesn't cover it, who do you expect to cover the cost of the sailing? So if you can produce a business case that says the increased traffic will pay for the cost of that sailing, we will do it."
Committee members left the Oct. 27 meeting feeling angry and mistreated.
"BC Ferries appears to have abandoned all business ethics of fair and equitable treatment of us, their customers, on the smaller routes," Knaus said following the meeting.
"They appear to have decided to rapaciously make full use of their monopoly position to extract maximum dollars out of our pockets to feed their bottom line."