How can 30 per cent of the world's oceans be protected by 2030? Youth may not have all the answers, but they want to be part of the solution.
Just days before the fifth International Marine Protected Areas Congress (IMPAC5), 88 young advocates prepared for the event by first gathering at Camp Elphinstone on the Sunshine Coast.
On Jan. 31 and Feb. 1, those 88 people from 19 countries and six Indigenous nations met in person for the first time for the Coastal Connection Program, through partnership with Ocean Wise.
Just days later, they left for Vancouver, where from Feb. 3 through 9, professionals from around the world are meeting to "chart a course" towards protecting 30 per cent of the world's oceans by 2030. One third of the participants were expected to be young (between the ages of 18 and 35). Among attendees were fisheries and oceans minister Joyce Murray and environment minister Steven Guilbeault.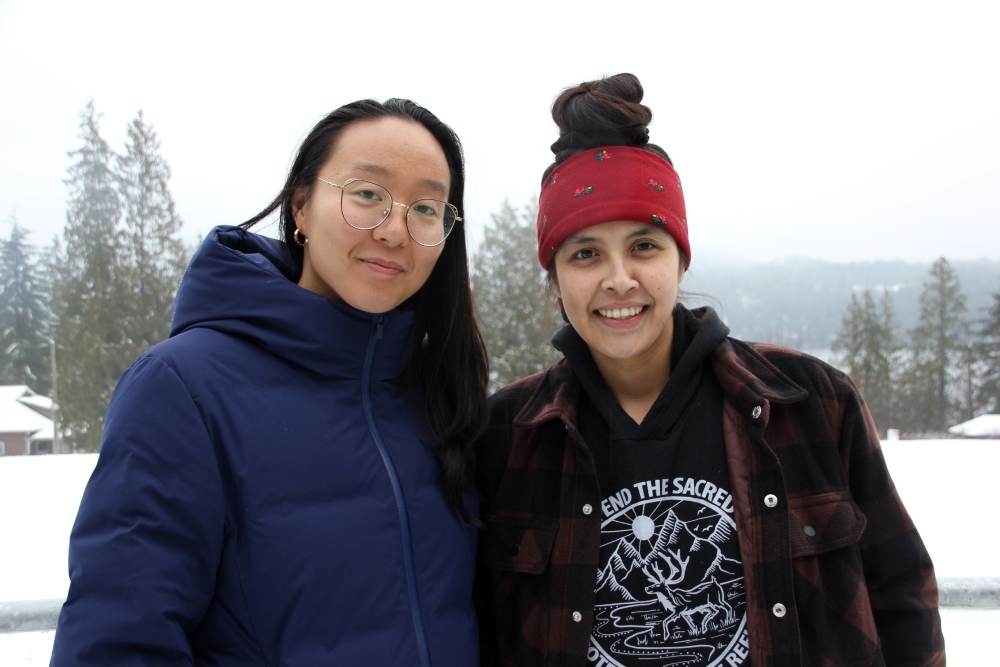 Cécile (Xixi) Tang is one of 15 members of the IMPAC5 Young Professionals Committee, who are all between 18 and 32 years old. For the past year and a half, they have been working together on youth engagement from their home countries. Tang herself is from France and China, and has been living in Montreal for several years as she works with different organizations on youth engagement and empowerment. She's also the co-founder and co-director of Youth 4 Wildlife Conservation.
"For us around the world, it is very easy to feel isolated. And so the idea of bringing us together here for two days at Camp Elphinstone, even though I'm sure it's a logistical headache, is very important to create those peer-to-peer connections, to meet others to be able to connect outside of a virtual setting. I think that personal connections are made in a more authentic way," Tang told Coast Reporter.
Sharing knowledge and getting comfortable with one another will also help when they take space and contribute to the discussions at IMPAC5. Gathered around fireplaces and in the cabins of Camp Elphinstone, they attended workshops led by Ocean Wise and held group discussions on topics such as eco-grief.
Tang said it's important to remember there is diversity within youth voices. People often say youth are the future leaders of tomorrow, but for Tang, "They're actually leaders today… They're agents of change today."
Geraldine Blake, who is Gwich'in from the Northwest Territories, is known for advocating the protection of the Porcupine caribou and lobbying Canadian banks on behalf of the Arctic National Wildlife Refuge Blake has attended many international youth conferences, but the event at Camp Elphinstone is the best so far, she said. The conversations are focused on protection, conservation, and the environment — all of which are closely linked to the advocacy Blake has undertaken, mostly alone, since she was 16. Now 29, she hopes to bring traditional and cultural knowledge to IMPAC5, then to bring what she learns back home. Blake is also interested in environmental law.
"Don't underestimate the power you have as an individual, young or old, it doesn't matter," Blake said. "When something means something to you, speak up. Don't hesitate, because there's people listening, people watching … People need to be educated and aware of what's going on."
It's important to be involved, Blake says.
In a press release announcing more than $430,000 in funding to amplify the voices of youth at IMPAC5, Minister Joyce Murray said, "From Marseilles to Mexico City, Suva to St. John's, young ocean professionals are calling for increased funding for biodiversity, pushing for innovation in the blue economy and advocating for community involvement in all aspects of managing Marine Protected Areas. In the last year alone, we've witnessed the power of youth voices at international environmental conferences in Lisbon, Marseilles and Montreal. Thanks to this partnership with Ocean Wise, youth from around the world will gather at IMPAC5 to share knowledge and advise leaders on how to create a sustainable, blue future."