If you are wondering what happened to the roof of the Gibsons Public Art Gallery this month, wonder no more. No, it's not under construction. An assortment of wood panels in varying colours and sizes has been mounted on it, drawing varying comments from the public, both positive and negative.
A shower of seatless chairs cascades from the eaves to the ground – they signal the entrance to a group woodworking show that features 26 artisans with work that is both traditional and innovative.
The rooftop installation, Blow 24 fps, is by Gibsons artist Matthew Talbot-Kelly and is explained somewhat better through a clever video that can be viewed just inside the door. Talbot-Kelly says, "Unlike typical fine woodworking, this is wood play at a larger scale of craft, more to the scale of architecture than furniture."
The craftsmanship in this group show is superb, especially apparent in the elegant tables and musical instruments. Doug Ives, who organized the show, exhibits his coffee table of exquisitely grained walnut and plane wood.
His whatnot cabinet is a curious piece of decorative furniture. Open a tiny compartment, pull a lever, and a figure pops up. It's a delight.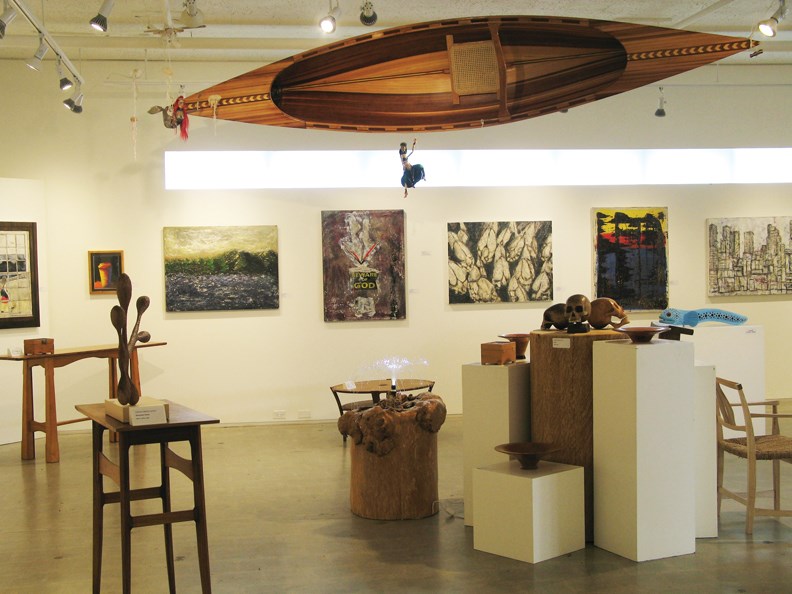 Looking up is important for this show. Two wooden cedar strip canoes by Richard Crook hang from the ceiling. Also hanging there are marionettes by Vanessa McLean. They have wooden bodies with painted clothes and real hair while one of them, Pearl Queen of the Sea, is accompanied in her swimming adventures by fabric jellyfish.
Spencer Barnard's imaginative maple box of curios is titled At Least I'll Know and is the result of a 10-week course the student took. In each of the box's partitions are all sorts of meaningful items: mini tools, a carved dolphin, bracelets and rings.
The show tends more toward the traditional, centuries-old, functional woodworking of the artisan. Dave Beauchesne's Mantle Cabinet is made of yew wood while Caroline Woon's Vicar's Chair uses ash with woven seagrass for a seat. Though carving is a traditional activity in many cultures, a skilled carver can always come up with something new. Keith Burdon is at the top of his art when he shows his two whales carved from western broadleaf maple, black walnut and alder. His folk art, a blue wolf eel with black polka dots, is funkier. Craig Voisin's two eagles, one looking up with its abalone eye and the other looking down, represent a more traditional Aboriginal style.
Among the more unusual items are yellow cedar human skulls by Andrew Dunkerton that look surprisingly decorative. Will Cummer has two interesting pieces both made from Douglas fir meristem stumps. When fir is cut in the spring, the rising sap foams over the cut, thus stimulating the stump's meristem cells to form new bark. The result creates weird formations. Cummer has turned one of them into a floor lamp with maple burl insets and the other into a fibre optic light display titled Freakanature.
Also among the more innovative pieces is a collaborative piece by Juan Carlos Fernandez and Lee Roberts titled Formation. The clever cut-out is made of birch and plywood and has to be seen to be appreciated. Federico Mendez Castro's Biomorphic Volume is a work in walnut and yellow cedar that also requires a longer viewing to appreciate its fine balance.
The three-dimensional woodworking is accompanied by Out of the Dark, a show of paintings by Jeff Barringer. The non-representational art is fiery and energetic – it provides a hot background to the cool, smooth wood. Barringer will give an artist's talk on Saturday, June 13 at 2 p.m. at the gallery (431 Marine Dr. in Gibsons).
Woodworker Doug Ives will be giving a talk and demo this Saturday, June 6 at 2 p.m. The show is on until June 21.