The organizers of the Sunshine Coast Art Crawl face the biggest decision in the event's decade-long history: Do they hope for a continuing flattening of B.C.'s pandemic curve and proceed with the Art Crawl this October, or call it off? 
The Coast Cultural Alliance (CCA), the non-profit group that organizes the lucrative Coast-wide project, has sought opinions on the matter from 265 vendors involved in last year's Art Crawl. The CCA asked them to fill out a five-question, multiple-choice survey and submit it by May 30. 
A key question was, "At this time, how do you feel about participating in the 2020 Art Crawl?" Possible answers included, "definite yes, but not in my own home," "definite yes in my studio/home working with October Provincial Health Guidelines," "definite no," and "maybe." 
Linda Williams, the CCA board member who takes the lead on the Art Crawl, told Coast Reporter that most replies were yet to come in and, while there were many positive responses, the interim results were inconclusive. Williams added that there were several suggestions as to how to make the Art Crawl work and keep everyone safe, so she remains positive the Oct. 23 to 25 event might happen. 
Williams said the traditional July 15 deadline for vendors to sign up and pay fees could be extended another few weeks to provide as much time as possible for an informed decision. Reminders are usually sent out to vendors in June. "But if we have enough [survey responses] that are 'definitely no,' we won't put that call out," Williams said.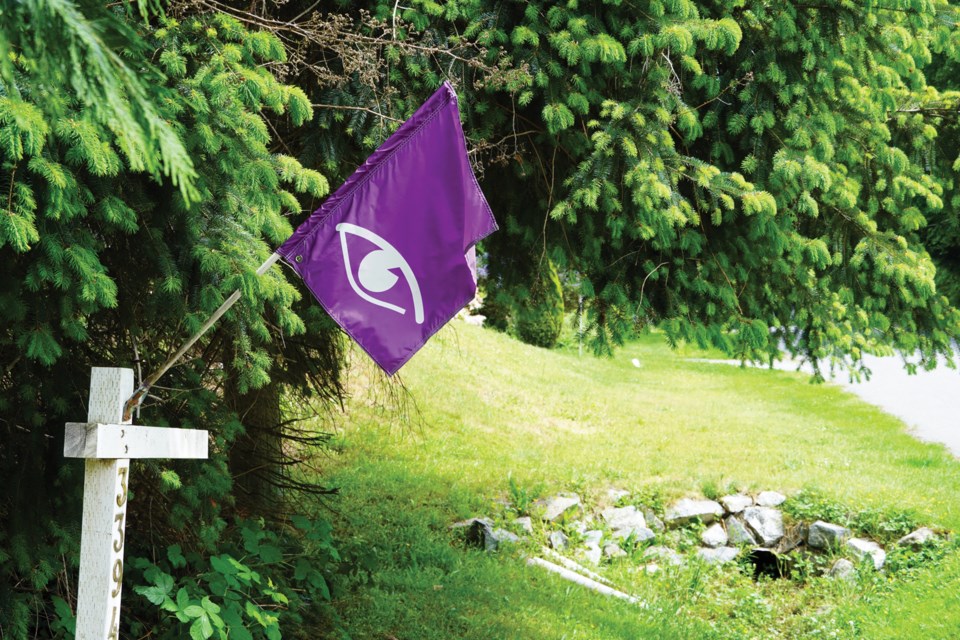 Calling off the event would be another blow to hundreds of local artists, already suffering from a lack of studio visits due to ongoing concern about the spread of COVID-19. Last year's Art Crawl generated more than $450,000 in direct sales. And, like the Sunshine Coast Festival of the Written Arts and the Rogue Arts Festival, both held in August and both cancelled this year, the Art Crawl attracts many off-Coast visitors who spend on accommodation, food and other goods and attractions. The absence of that spending would be felt across much of the Coast economy. 
The CCA board has another task to complete before the Art Crawl decision is made – completing the 2020-21 Purple Banner brochure and map. The online and hard-copy guides are an effective marketing tool for arts studios and galleries from Langdale to Lund. The banners – purple flags emblazoned with a white eye-icon – can hang off participating businesses year-round. "Wherever you see a Purple Banner, the arts are at work. In many cases, but not always, the banner is an invitation to drop in," the CCA says in its publicity. Unlike the Art Crawl, vendors' information in the guide can specify that would-be visitors must call ahead, so studio owners can specify a time and prepare for visits, important in this time of plague. 
Williams noted that, while the Art Crawl is a hugely important, three-day event, the Purple Banner Guide is in distribution, and paying potential dividends, for 12 months. "If artists and vendors definitely don't want to go into the Art Crawl, the Purple Guide is another opportunity for them," Williams said. About 20,000 brochures are printed every year. The deadline for inclusion is usually May, but that also has been extended for one month. You can lean more about the Purple Banner program at the CCA's website, suncoastarts.com