When you combine the words "sasquatch" and "stinky feet" in the title, you might have come up with a children's book that will get the attention of young readers and their parents. That's what Roberts Creek author Heather Conn hopes to do with her newly published kids' page-turner, Six Stinky Feet and a Sasquatch, which she will launch at a Saturday, Dec. 7 event at the Sechelt Public Library. 
"I've always been intrigued by the notion of sasquatches, from a storytelling perspective – the fact that something like that can capture people's attention so much," Conn said in an interview. "I just love how it's become an engaging figure in our culture."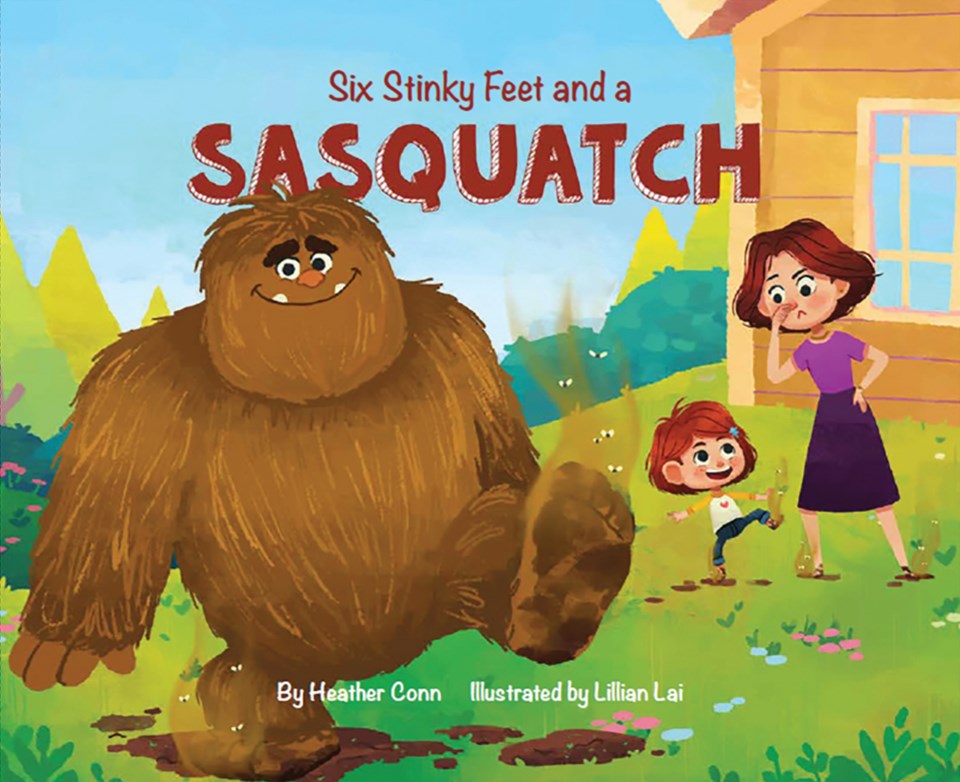 Her 19-page illustrated story is about young protagonist Annie's forest encounters with a friendly sasquatch, whom – to the horror of her mother – she eventually invites home. It's aimed at the six- to nine-year-old zone of the children's market. Conn noted that younger kids also could just enjoy the book's two dozen drawings by Vancouver's Lillian Lai. The author has added four pages of sasquatch history and trivia at the end of the book, which will interest any age group. 
That's where we learn, among many other facts, that the sasquatch might be related to a giant ape that roamed Asia millions of years ago; that renowned primate scientist Jane Goodall believes the creatures likely exist; that Americans tend more than us to refer to the hairy beast as bigfoot; and that the word sasquatch is derived from the Coast Salish sushq'uhtch. 
Shíshálh singer Andy Johnson will open the book launch at 10 a.m., Conn said. "He's also going to tell a story about the sasquatch within shíshálh culture. Then I'll do a reading of the book, which only takes about 20 minutes." Delta publisher Peppermint Toast will be on hand with copies of the book for signing, she added. The company is donating ten per cent of the sales proceeds to pediatric palliative care in B.C. 
Conn has dedicated the book to the memory of Sunshine Coast conservationist Rick O'Neill, who died in his late 80s last August. She said the dedication was inspired by a story she heard at O'Neill's memorial service. There's a tree on his Roberts Creek property that has a branch that's bent in an odd way. As the story goes, when O'Neill was asked about it, he said, "Oh, a sasquatch did that."