A Bowen Island artist is among the recipients of one of the province's top community recognitions.
Simon Daniel James, known also as Winadzi, was awarded the Community Award by the BC Achievement Foundation earlier this month. The program, now in its 20th year, "recognizes extraordinary British Columbians who build better, stronger and more resilient communities." Twenty-one British Columbians were selected as this year's award winners. James joined them for the award ceremony Wednesday, May 10 at Government House in Victoria.
James' selection came in part for his contributions to community art. Boweners are likely familiar with many of his pieces whether they know it or not. This includes the totem pole at the Trunk Road entrance to Village Square. A collaborative project with Shane Tweten, the pole commemorates the spirit of the flame.
Another of the projects James has contributed to welcomes everyone who arrives on the island – the Snug Cove Gateway Mural. Located along the lock block wall at the ferry terminal, Simon was one of the dozens of locals who left their mark on the legacy piece spearheaded by artists Di, Sarah Haxby, and Paula Love. He painted a trio of whales, and his daughter pitched in too with some starfish.
The other mural where James' work can be found hangs in Bowen Island Community School, and along with other local artists was his first contribution to the public art scene in the community. He's definitely left his mark on the institution since, as another of his totem poles can be found out front. (His children also go there too.)
Winadzi, who is a member of Kwakwaka'wakw Nation, got his start in carving from his father while growing up in Campbell River. He had asked him for money to buy a car, but was instead told it was time to get to work and make the money himself. Naturally, this included making his own tools as well. "My first three days on the job I made five knives for myself. It was the school of hard knocks, so to speak," says James of his first few days working in his father's studio.
"I buy my tools these days, but I can make them if I'm in a crunch," he adds.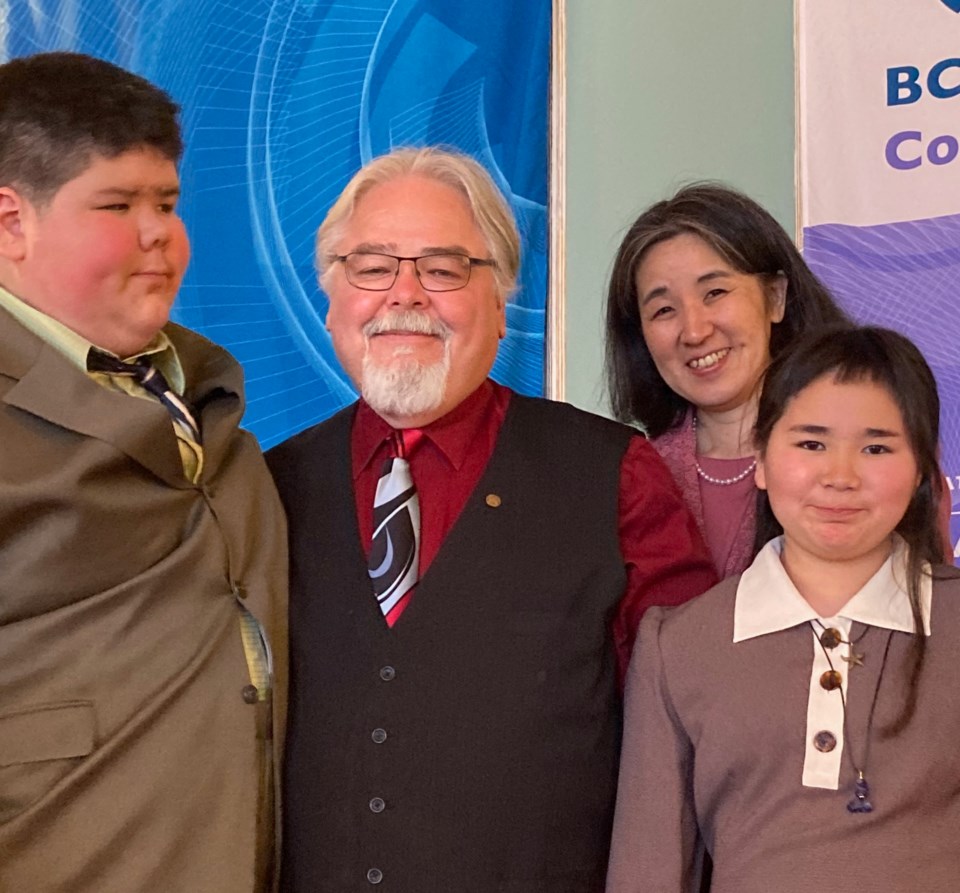 James later began studying at the Vancouver Film School in 1996, focusing on classes in computer animation. He used the skills he learned as a springboard to become co-creator (and voice actor) in the animated series Raven Tales, which debuted in 2004 on the Aboriginal Peoples Television Network. The show follows the Raven character and represented a breakthrough in Indigenous storytelling through an animated medium.
Simon's art process goes well beyond the creation of his pieces though. As an independent contractor by trade he has spent countless hours inside schools crafting his projects, and it's here where he's perhaps made his greatest imprints.
"Every project that I've ever done in a school, there's always at least one person – it could be a student, teacher, or principal – they always come to me while I'm working. And they stand there, not saying anything. And I ask them a question, and they answer the question. Sometimes the answer is something that I'm shocked by. 'I don't like being in the school. I'm a victim of bullying.' And then I sit there and listen. And by the time I'm done, we have a bond. So I try my best to help, by listening first. And then try to contribute some kind of answer," explains James.
"Principal (Dave) Maclean (Inman Elementary School, Burnaby), for example, will tell you half-a-dozen stories of children that he thinks that I have helped, and I keep reminding him you're giving me too much credit. I didn't help that child graduate, the child graduated themselves. I just so happened to listen to them when they were in Grade 3, when they needed to be heard. And those are the stories I get to share now."
"So every project I go to, I can use that story if a child comes to me and says, 'I don't like this school, I want to quit'. I can listen and try to give them some advice… and then when I go to the next school I can share that story again," he says.
As a result of what are now decades of accumulated stories such as these, James' Community Award was also for his impact on students at the many schools he's worked at. He says it was moving to be honoured for all the work which falls well outside the realm of his commissions. "I'm being acknowledged for the fact that I don't get paid for most of what I do," he says.
Simon has now lived on Bowen since 2007, though he's been coming to the island since 1994 when he first participated in a winter festival. After James and his family decided they were ready for a quieter life, they made the move on December 1 – arriving in the middle of a snowstorm which welcomed him to Bowen with several cars stranded along Trunk Road coming up the hill from the ferry.
The stormy welcome was not a sign of things to come though, as Winadzi's integration and contributions to the community have been smooth and successful since. His next public art project, which will be his fifth since landing here 16 years ago, is a sculpture which will stand at the new Cove Commons pavilion, outside the Public Library and Hearth Gallery. The unveiling is scheduled to take place on Sunday, June 25.
And Simon has much more planned for the local public art scene. He's hoping to see even more artistic celebratory events on the island, and an uptick of public art around Bowen too – specifically outside the Cove. James also has his daughter apprenticing with him, just like he did with his father. It likely won't be long before she makes her next contribution to beautifying the island.