FibreWorks Gallery in Madeira Park has scored again with an exhibit of finely made art that is as intriguing and challenging as it is visually appealing. Under the auspices of the gallery and studio's savvy curator and director, Alexis Bach, two broadly talented artists – Squamish-based Elizabeth Harris and Catherine Nicholls of Gibsons – have put together the show, titled bro.ken. The dozens of works on display explore the theme of broken-ness in ways both obvious and subtle, and in a variety of media. 
"Things can get more beautiful with age," Nicholls said in an interview at the exhibit's Sept. 28 opening reception. "A few wrinkles and warts can be far more interesting than something perfect and shiny on the outside. For me, this is a play on the state of the world as well." 
The state of the world Nicholls refers to in this show is the one humankind has brought about, both socially and environmentally. She expresses her judgments in lovely works, even if they carry titles like A Landscape of Exhaustion and Moral Decay – an installation of five ceiling-high, hanging banners Nicholls created in a painstaking process, winding organdy fabric around steel wool and immersing the rolls for days in buckets of saltwater. And that was just the first step, before various appliques were added. The deep and delicate complex of patterns imparted onto the fabric by the rusting steel literally puts the iron in irony, hinting at an artistic redemption of human folly. We can only hope.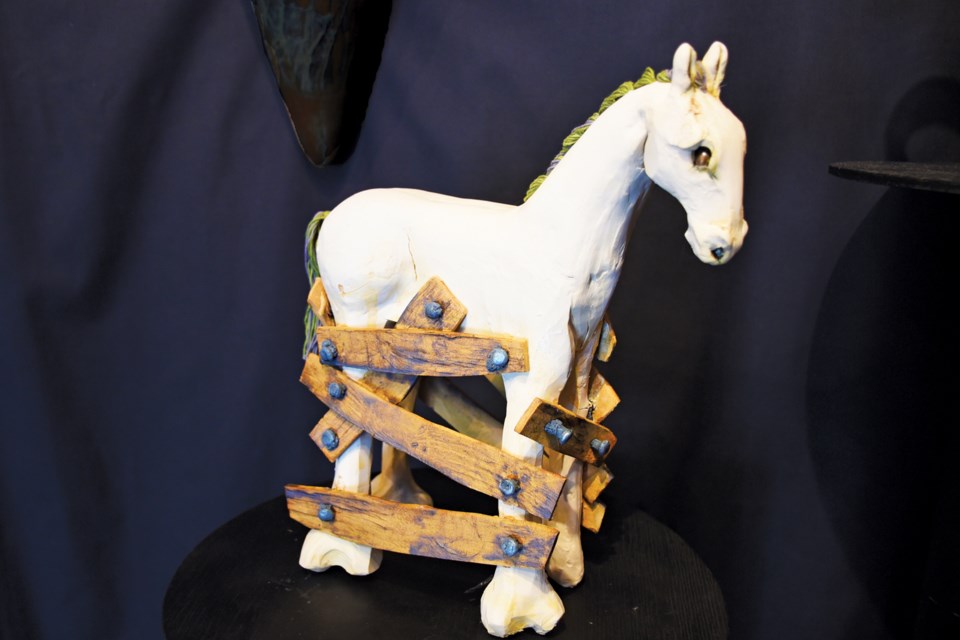 Harris is a painter as well as a three-dimensional artist, but it's clays and ceramics that she's brought to this show. Pots, cisterns and cups dominate, along with three small installations using trunks and a packing crate to hold and display various clay pieces.
Two striking, 14-inch-tall horses speak to different aspects of the "broken" theme. One, entitled Trojan, looks like a clay form that has come apart and been patched with wood and nails. The nails are metal that partly melted in the firing process, and the wood is actually clay that's been molded to look like planks. 
One of Harris's trunk installations is entitled Storm in a Teacup, featuring wobbly cups finished in swirling, hurricane-like cloud patterns, and with purposely sculpted cracks. They won't hold much liquid for long. "We are in a precarious situation with how we live, both with the environment and the economy," Harris said. 
The show at the FibreWorks' distinctive yurt complex runs until Nov. 11.