Finding a good brunch spot on the Coast need not be as difficult to find as a ferry reservation on a long weekend. There are bruncheries all along the peninsula to enjoy the meal that late-risers crave and not just on weekends. Here, we start with the newest of the brunch pack, then a couple of local faves, and end with a well-kept secret brunchery on the way to the Earls Cove ferry.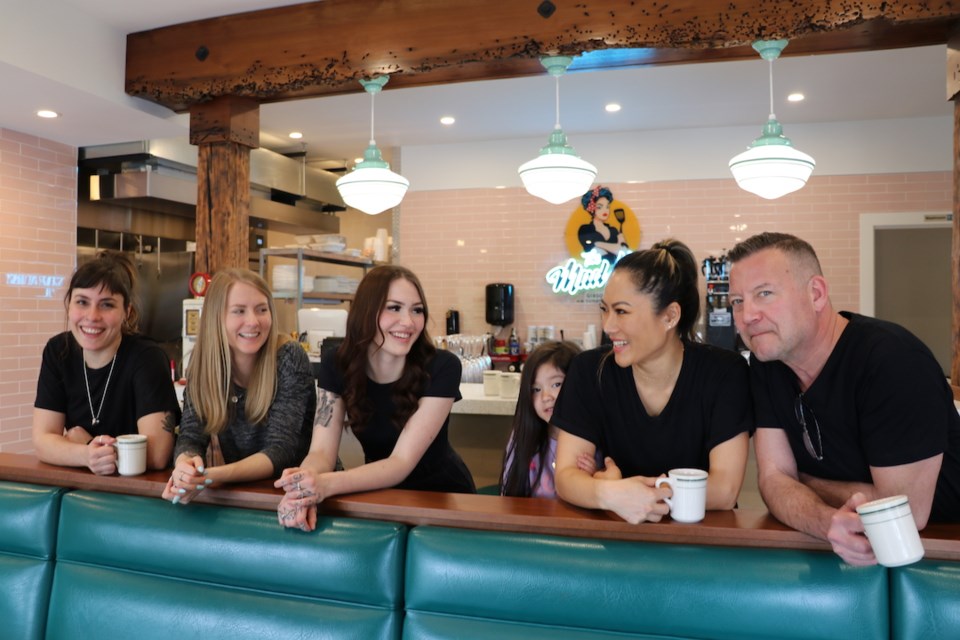 Mad Hen: Insanely good
320 Gower Point Rd, Gibsons
@madhen_gibsons
The newest diner in lower Gibsons is a funky homage to the '50s called the Mad Hen. I dropped in on a Saturday morning and the place was already packed, but we were whisked to our table by a friendly server. A Warhol-esque wall of fame is enough to wake you up if their strong coffee doesn't.
I chose Jenny's Crazy-Good Crab Cake Brekky Bowl as per our server's suggestion, and husband Stephen ordered the Benny with ham. While we waited, I asked the gentlemen next to us how they enjoyed their Bennys and they gave their dishes the thumbs up.
Our brunches arrived and I was enamoured with the crunchy exterior and smooth interior of the crab cake, and the mélange of roasted root veggies hiding underneath a perfectly poached egg. I enjoyed smashing the soft, creamy avocado onto piping hot toast.
The diners around me had high praises for their French toast. Arrive early to get ahead of the crowd and enjoy.
Gourmet Girl: Groovy as it gets
#6 – 4720 Sunshine Coast Hwy, Sechelt
Gourmetgirl.ca
From the Langdale ferry terminal, the Gourmet Girl in Davis Bay is a 25-minute drive on Highway 101 flanked by forest. Suddenly, the trees fall away and you see the open ocean and Davis Bay Pier jutting into the sea.
Try to ignore the stunning ocean view or you may miss Pier 17 on your right, the location of Gourmet Girl. It's an ideal spot to sit on the patio and enjoy the ocean view with family and friends including your pooch, on the undercover patio.
Gourmet Girl, owned by Nicole and Paolo, has their own line of tea, Gone Coastal, with tantalizing flavours, like Blueberry Pie, Coastal Wild Strawberry, Coastal Rain, Pacific Sunshine, Wintersong Chai, and Over the Moon Turmeric, as well as Salt Spring Island Coffee from their mammoth espresso machine.
Stephen loves the Hangover Cure—two poached eggs ladled with Hollandaise sauce over hash browns and chopped peppers with melted cheese curds poutine-style. He also recommends the Fisherman's Breakfast—two eggs, hash browns, bacon, two gluten-free English bangers and toast.
My Coast Breakfast Bowl, that usually comes with Andouille sausage, is a wholesome dish of brown rice, grains, spinach, cilantro, cabbage, vinaigrette, roasted yams, two eggs and Bravas sauce.
A vegan option is available with Cajun-seasoned tofu scramble, black beans, and roasted peppers. I finished all of the savoury bowl of goodness.
Gourmet Girl is known for its gluten-free options. Grab a meal or pastry to-go and browse the shop. The wooden wick scented candles I purchased were a big hit with discerning recipients. Next, mosey over to the pier to see the catch of the day, and appreciate the shelter carved by Indigenous artisans.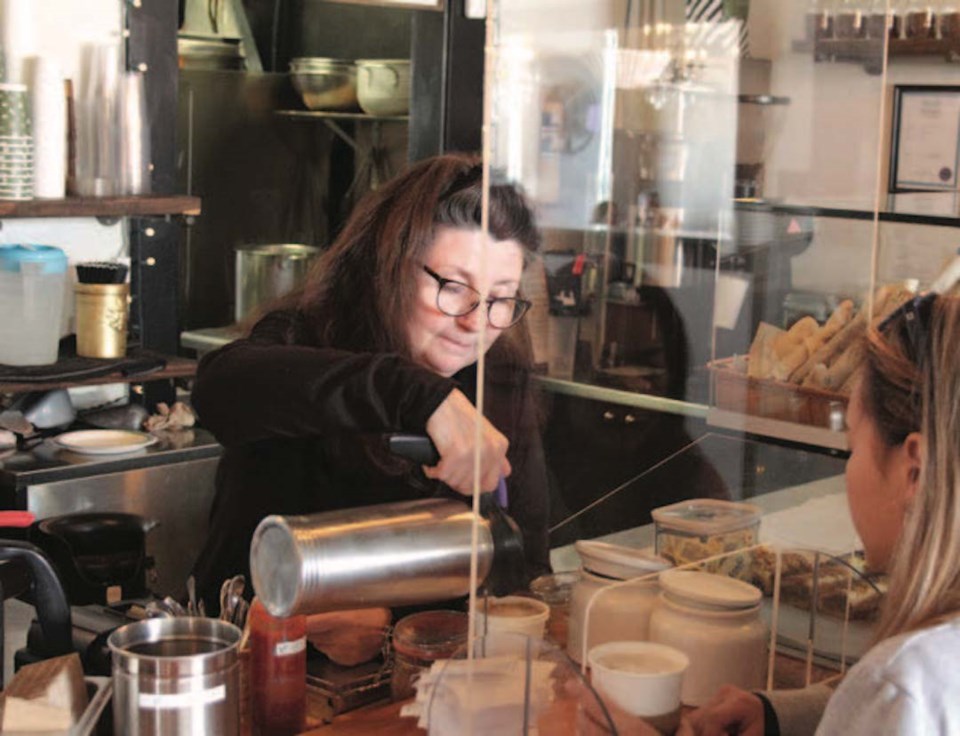 Basted Baker: Ode to biscuits
5685 Cowrie Street, Sechelt
@basted_baker
There's a pig on the door at the Basted Baker's Bistro and Espresso Bar in Sechelt, that would seem more at home on a butcher's door. There are decorative pigs inside the restaurant too.
Melanie Boekstael took over Basted Baker in 2019. Boekstael relocated from Calgary, Alberta where she was a hair stylist, to be with her partner.
She says the pig theme represents their roasted ketchup and pulled pork. Sadly, they don't sell their ketchup, because it's divine. Molasses taste hits your palate first, a smokey barbeque flavour then bursts through, then it finishes with spicy heat.
Basted Baker has biscuit-making skills that our grannies would envy. Their eggs Benny is hard to beat with that scrumptious biscuit base.
My half Benny had mushrooms that were tastily fried. Home fries with house-made ketchup made me want to come back for more.
I steered away from the sugary goodies, although it's difficult to pass on the enormous cinnamon bun with a scoop of cream cheese icing. They make a quality Americano using Timbertrain beans roasted in Vancouver and have a large selection of whole leaf teas as well.
There are cozy patios both at the front and back for overflow seating. The owner's talented son, Matthew Boekstael, fills the walls with realistic portraits of celebrities.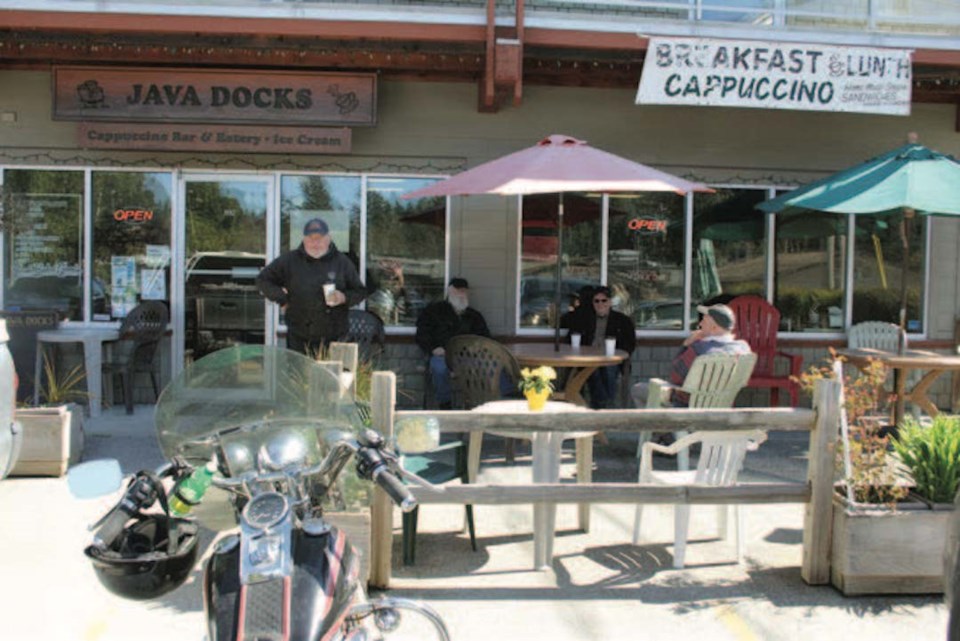 Java Docks: Family business forever
12890 Madeira Park Rd, Madeira Park
Crave brunch and a special coffee on the Earls Cove ferry run? Java Docks is just the place to tuck into honest homestyle breakfasts and brunch. There's a patio outside but it was unseasonably chilly, so we chose a comfy booth inside, where we could enjoy the scenery and wildlife photos by a local photographer on the walls.
Shelley Wharton has owned Java Docks in Madeira Park for a decade. Her daughter, Christine, took our order, then disappeared into the kitchen to cook it. She's worked in the restaurant since she was a kiddo.
They have baked goods, wraps, soup and quiches to accompany cappuccinos, lattes, and drip coffee, if you need something quick or to-go.
I ordered French toast but the three portions of seedy, hearty bread were more than I could eat. Fortunately, Stephen finished up half of my perfectly browned brunch. Stephen enjoyed his Benny, with ooey gooey Hollandaise and egg goodness, and ham overlapping the crumpets.
Christine will take over the family business once her children are older. They are already being recruited to help out behind the counter.
More brunch places on the Coast
Blackfish Pub, 966 Venture Way, Gibsons
Drift Cafe & Bistro, 546 Gibsons Way, Gibsons
Emelle's Market Bistro, Gibsons Public Market, 473 Gower Point Road, Gibsons
Sheer Bliss Bakery and Cafe, Suite 102, 1001 Gibsons Way, Gibsons
Gumboot Restaurant , 1041 Roberts Creek Road, Roberts Creek
Savour, 5530 Wharf Plaza, Sechelt
Twenty Two Taphouse, 5770 Teredo St, Sechelt
Aquis es Mexico, 12808 Madeira Park Rd, Madeira Park
Inlets, 6952 Maple Road, Egmont