Every graduation, every election on the lower Sunshine Coast, for decades, Steve Sleep has been there.
The manager of Eastlink Community TV (long known as Coast Cable) started with the Coast's only community television station back in 1985 – but his love of the medium was well-established by that point.
As a student at Elphinstone Secondary School in the '70s, Sleep would sneak away to hang around the Beachcombers set, learning what he could, eventually getting jobs here and there. His first gig in the industry was an extra in a parade for the iconic CBC series filmed in Gibsons – that was July 1, 1972. Now, 50 years and a day later, Sleep is retiring.
There's a surprise party for him on July 2 from 2 to 5 p.m. at the Eric Cardinal Hall that everyone is welcome to attend. (Small-town life and Sleep's popularity did away with the "surprise" part a while ago.)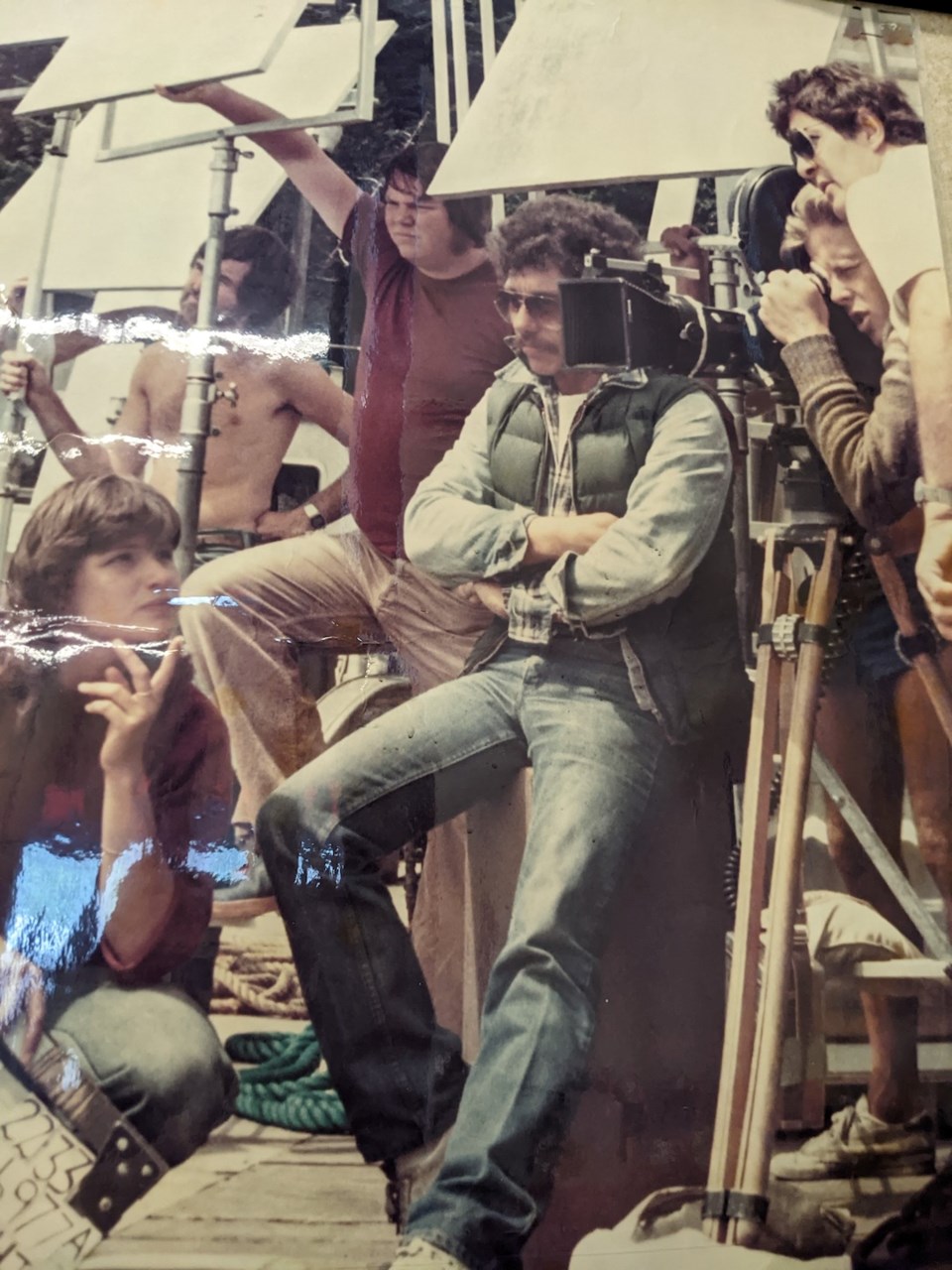 CBC years
Out of high school, Sleep got a job at CBC in technical production – lighting, camera, audio – in an era where the federal government was investing heavily in the corporation. "We were doing some incredibly huge productions in a massive studio," he said.
A highlight was 1980's Ritter's Cove, filmed in Egmont. The two-season Canadian-West German-British co-production was at the time the most expensive show in Canada done by the CBC, said Sleep. With the same writers as the Beachcombers, Ritter's Cove swapped out the boats for a Bell Jet Ranger helicopter and a de Havilland Beaver. "A lot of the storylines you could just change the names and make the Beachcombers episodes and vice versa," he remembered. The show didn't live up to its sister series's fame, or the production budget, and was soon cancelled.
After leaving CBC, Sleep did freelance work, including on Disney's The Journey of Natty Gann, set in 1935 Chicago. The director of photography wanted to use lighting fixtures that would've been used on a 1930s film set: The pre-incandescent arc light technology known for pre-Second World War searchlights and movie projectors. "Nobody was using them anymore. But I had a lot of experience through Beachcombers because we had four of them on the truck."
The film was a lot of fun – riding steam locomotives, visiting Whistler, Pincher Creek – but also meant a lot of time away. "I came home from that film and realized my kids, my daughter, was growing up and I wasn't there."
So, like generations of his students would do after him, Sleep returned home.
A TV channel is born
In the years following Sleep's graduation from high school, Elphinstone teacher Marta MacKown and a passionate group of students had founded the community TV channel, based out of the school.
The Canadian Radio-television and Telecommunications Commission (CRTC) requires cable companies of a certain size to provide communities with their own community television station – but Coast Cable was below that subscriber threshold, explained Sleep. He credits the enthusiasm of MacKown, Maryann West and the students for winning over the cable company. "The cable company was a little wary of this teacher who came by and wanted to take over his television station that didn't exist yet, and really didn't want to put money into community television, but got caught up with that enthusiasm.
"Eventually, this partnership formed that was never really anything but a handshake agreement until last year."
The partnership between the school district and the cable company saw the school providing space and the teacher, the cable company providing the equipment and the students doing much of the work producing the TV.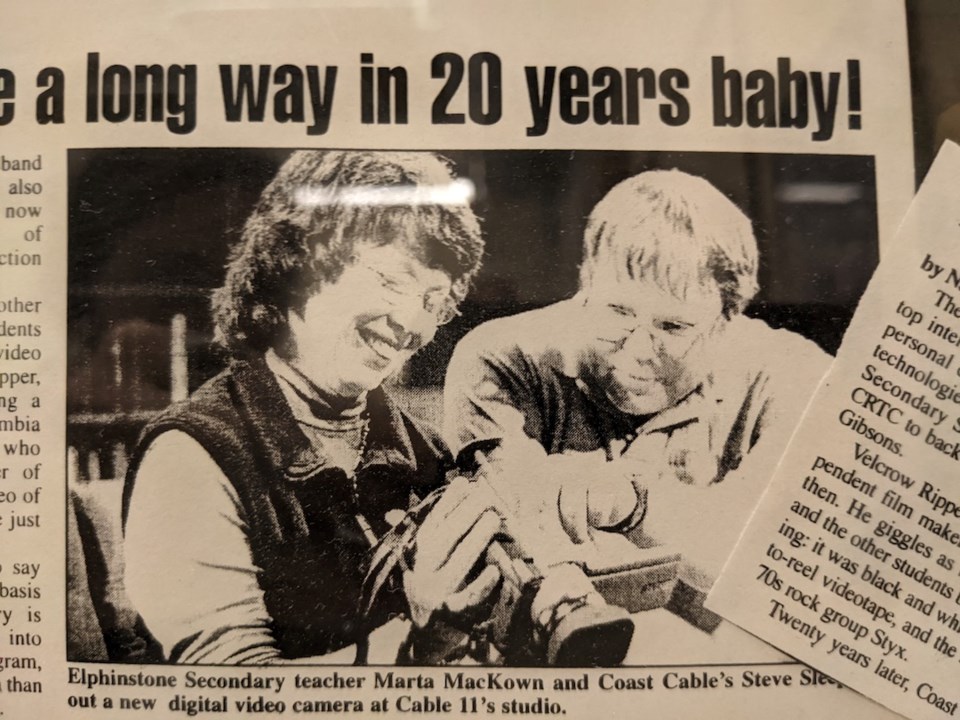 Teaching students
Sleep joined as programming manager in 1985, six-ish years after the channel's founding, to take some of the duties from MacKown.
"I never thought I would be an educator," said Sleep. "But I really enjoyed working with the students and helping them learn."
Before there was a studio, the students would pull all the desks from the classroom after school, pile them against the wall and build a set. They'd put up risers, get lights, get wired, and do a live show Thursday nights.
Today, there's a full, dedicated studio on the west side of the school.
"My goal at the end of the term working with kids was, if I could sit and watch the show on a TV somewhere else and they were running it, that made me happy," said Sleep.
With just two employees on the Coast at Eastlink, much of the production work is done by volunteers, and many of them are those high school students. "And everybody here has always worked at the same level," said Sleep.
Many of the program's students have gone on to work in the television industry. "There are students that have been involved in this program in pretty much every television station in the Lower Mainland and on big film sets," said Sleep. But he didn't just influence those who went into TV.
From student to teacher
Emily Sheridan was raised on the Coast and was a student of Sleep's at Elphinstone. After high school, she thought about going into television broadcasting but went into teaching instead. Five years ago, she returned to Elphi and became the teacher for its TV program (though she describes the role as more of a facilitator to Sleep's instruction). "Steve's an amazing teacher," she said. "He puts an incredible amount of trust into students to be working with a lot of expensive equipment.
"He's so patient but so willing to let students really take control of things.
"We've had Grade 9 students directing hockey games, with six cameras, and it's just wild that that's even possible."
As Eastlink's other Coast employee, Brittany Broderson has worked with Sleep since moving to the Coast six years ago. "A really big part of Steve's outlook on the community channel and specifically working with the students is, 'We did okay this time, but we'll do better next time,' and every time gets better and every time gets better."
When a program doesn't turn out as well as hoped, Sleep looks to the positive, said Broderson. "He'll say well, what was good about it? What did we do that was good?"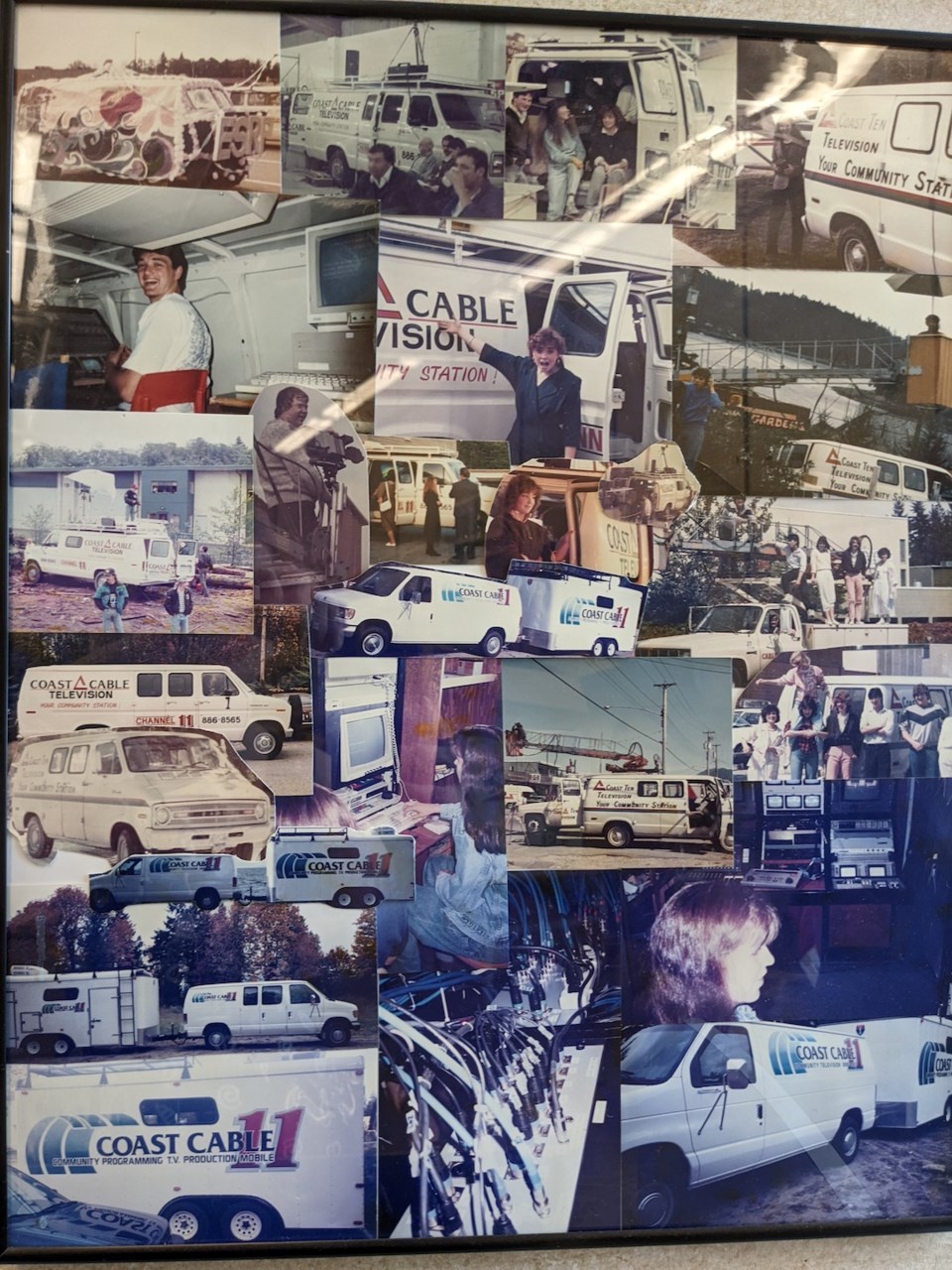 The community TV mandate
Programs at the station have been varied and plentiful – craft shows, cooking shows, fitness shows, a wilderness survival show, an astronomy show now in its seventh season and broadcast on community channels across Eastlink's network. There are local political shows with the MP, MLA and elected representatives. There is Sleep's Hiking Back in Time two-episode hit program that was revived this year, 26 years after first airing. Dance shows, telethons, elections and Steve's covered 100 graduation ceremonies on the Coast.
Programs just have to fall within the mandate: something with, by, for or about the community.
As the channel is funded through a CRTC mandate, not advertising and therefore audience numbers, programming can be and is niche. "The opportunity for somebody to make a television show that promotes their idea, or helps their cause, even though it might only reach 100 viewers, is a pretty important part of community television," said Sleep.
Community members often come to him to suggest program ideas.
"My answer is always well, why don't you do it?" He said.
For Sleep, that's why the station is there. They help people make their ideas into productions that can be aired. And behind the scenes are the students on camera and in the truck, directing and switching. "It's what makes me come to work every day is the excitement of being able to help somebody take an idea and build it into a finished product and at the same time helping somebody learn the other side of the television production."
Times have changed
Sleep started his career carrying around more than 60 pounds of equipment and recording onto half-inch open reel video tape. Today, they can use mirrorless cameras to film in HD onto memory cards.
And while the internet era – cellphones and online streaming – have changed the biz, they haven't changed Sleep's belief in community TV. "You might see somebody who went to the Coast Academy of Dance and shot the whole performance with their phone and stuck it [online], but they won't have the sound quality that we've got. They won't have a picture quality. They won't have five cameras.
"We know that there are a lot of customers that have the Eastlink service because the community channel is there – we know that, they tell us that. It's part of the system that Eastlink offers that nobody else does."
"It's not just a television station," said Sleep. "We're the voice of the community on the community channel, we're the opportunity to reflect the community back on itself."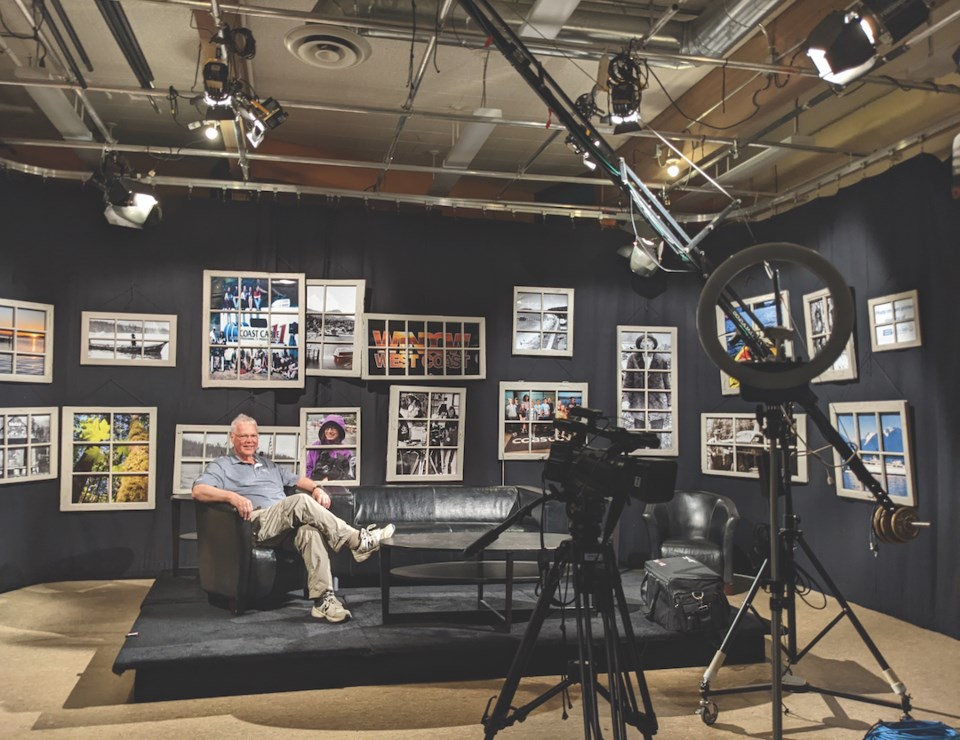 This isn't the end
"You can't go anywhere in this town with Steve without him being stopped by dozens of people to run to chat with him, because everybody knows Steve," said Sheridan. "It's a loss, definitely for him to retire. But it's such a legacy that he's left behind."
"I think he's impacted so many more people than he realizes he has in the industry," said Broderson.
Broderson's not convinced he's gone. "One of the things about Steve is that he is the world's best volunteer." He does work at Dakota Ridge on mountain bike trails and so much more, said Broderson. "I do not think that Steve retiring means that we are rid of Steve. He is such an integral part of the Sunshine Coast."
When asked what comes next, Sleep said he wants to give back to the community that's given him so much. "It's gonna be tough to leave," he said. "I'm going to fill out a volunteer application."