Follow a long wooden walkway past ducks, a chittering kingfisher, two scrambling river otters, rows of moored sailboats, power boats and a few catamarans. You'll find the floating hub of Secret Cove Marina: a well-stocked store, fuel dock and the re-opened Upper Deck Restaurant (the future La Bettolina ("barge" in Italian)) in Halfmoon Bay.
It's easy to imagine "Ah, this is the life" in the marina's sumptuous 5,000-square-foot float home, newly renovated and designed with warm, modern décor. Besides superb sunsets, it displays the perks of outdoor summer leisure: an oceanfront hot tub, paddle boards and kayaks.
Andreas and Kendra Tize bought the 150-berth property as "a romantic idea" in November 2021, then opened it for about four months, starting on the May 2022 long weekend. Although neither had ever owned a marina, both are experienced boaters. Kendra grew up exploring the surrounding waters with her family and remembers visiting the marina as a 10-year-old.
A former sailing instructor, Andreas sailed Lasers in his teens and early twenties. He arrived with tourism know-how: he worked as a guide for his family's West Coast Sightseeing business in Vancouver and has a degree in tourism management from Capilano University.
The visionary couple is marketing the marina's four-bedroom float home as a short-term rental and luxury venue for parties, workshops or retreats. In the store, they plan to offer new made-in-Canada swag, books, souvenirs and products sourced from local vendors and artisans. They'll still carry long-time customers' favourite brands and items from wine, gourmet and staple foods to Helly Hansen marine clothing, parts and fishing tackle.
"The community has been very welcoming," says Andreas. "Most people were super supportive and giving us a little growing room, knowing we were in a place of learning."
Over decades, the marina has been a destination point for thousands of loyal boaters, including people from Washington state and eastern Canada, but mostly from B.C.: those in the nearby waters of Smuggler Cove and Thormanby Island and beyond to Princess Louisa Inlet, Lund and Savary Island.
For the first few years, the couple says they have no plans to make drastic changes to this long-standing successful business. Andreas and Kendra credit the competencies and attitude of their "amazing" group of employees, including 10 seasonal staff, for making their first season a success. Operations manager Jerome Marois, who worked for 11 years at the Royal Vancouver Yacht Club at Jericho Beach in Vancouver, came with long-time connections to the boating community and knew chef Adam Pegg, now part of the new team leasing the marina restaurant.
"We were super thrilled with the people who run the restaurant," says Andreas. "They are so enthusiastic about the food and service they provide."
The locals are delighted, he says, that the marina's restaurant is now reopened, under manager Jennifer Bell and her fiancé, chef Anthony Santi. Owners Adam Pegg and Karin Lazzaris are an award-winning duo from Vancouver's La Quercia, where Jennifer and Anthony worked and still put in the occasional shift. The four teamed up to operate the Upper Deck.
"Anthony and I view La Quercia as a second home," says Jennifer of the restaurant that offers traditional Italian fare.
The Upper Deck's cozy space seats 30 including the patio, and is open from May until autumn. Its seasonal, changing menu offers fresh pasta, meat from an Abbotsford farm and local produce while all of its seafood comes from B.C. waters (see next page for more details).
Andreas says his recent experience as the Roberts Creek rep for the Sunshine Coast Regional District (SCRD) made the prospect of running a marina less daunting. In that public role he learned about zoning, water and waste management, renewal of a foreshore lease (the marina's is up this year), and how a community septic system operates. "I know the process and the players," he says. Andreas has a master's degree in Resource and Environmental Management from Simon Fraser University and taught Operations Management at Capilano University.
Yet, like any new business, this waterborne one has brought ongoing challenges. "Everything was breaking," says Andreas. "Nothing feels like it's going from A to B without a problem. Nature is trying to destroy it. It's my job to fight entropy."
Kendra confides that their first year of operation was an overwhelming trial by fire at times, leaving her "a nervous wreck." "We were wondering if we got in over our heads," says the mother of daughter Jayla, 11, "with the volume of things we were responsible for and the many steps of learning in the process."
A registered massage therapist, Kendra had never hired or trained staff or worked as a manager. She had no experience in doing bulk commercial grocery or retail orders. Yet, in her new leadership role, she multi-tasked with fervour (data entry, website redesign, assessing supplies and reservation system software, liaising with a designer, assembling furniture, etc.) all while trying to respond promptly and courteously to customers' needs and requests. During my visit, she hand-delivered a bottle of white wine to three kayakers who paddled up to the dock and remained in their boats.
Meanwhile, Andreas was completing his four-year stint with the SCRD for Roberts Creek, where the couple still lives. He and Kendra spelled each other off with a myriad of tasks in 12- to 14-hour days. He says he got stressed out trying to deal with people dumping mattresses, tires, furniture and other garbage on the property and spent far too many hours re-sorting the public's recycling items until he hired someone to handle that specific task. "This (re-sorting recycling) is not what we signed up for," says Andreas, an eco-aware resident who drives a Nissan Leaf electric car.
Despite their frustrations, the entrepreneurial couple, who moved to the Sunshine Coast in 2014 and built a house together in Roberts Creek, feels positive about the future. "The team of people we are working with is evolving and it feels really good," says Kendra. Of her own working partnership with Andreas, she says: "Our individual strengths make us work pretty well as a team."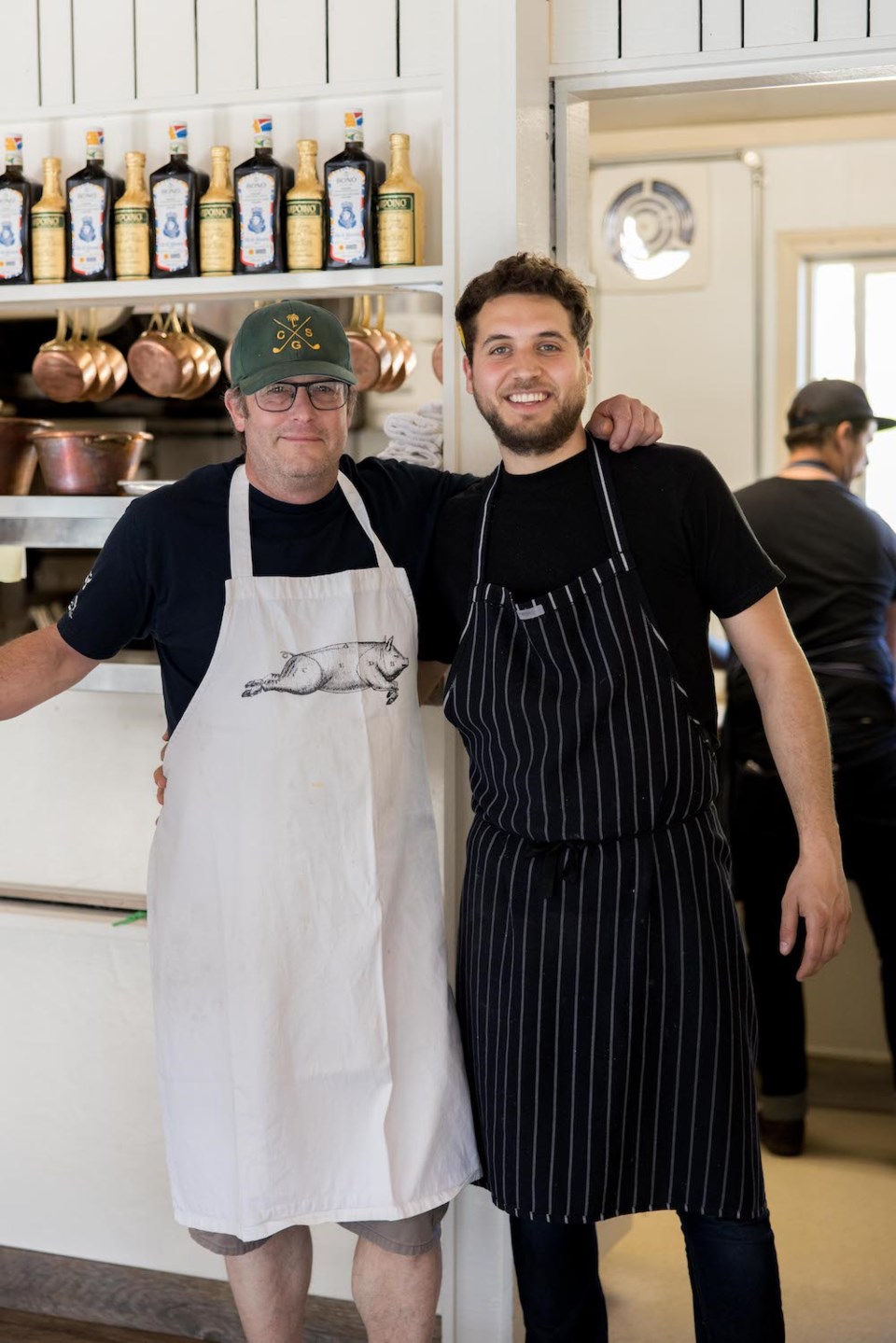 Authentic Italian at The Upper deck
Fresh local seafood. Italian wine and fresh pasta. Oceanfront patio. And sunsets to ahhhhh over.
Summer bliss comes easy at the Upper Deck restaurant at Secret Cove Marina. And manager Jennifer Bell and chef Anthony Santi want to cater to their sea-bound customers' needs as best they can.
That's why they now offer reservations solely for their tasting menu. That leaves space for walk-in diners who will be offered both the tasting menu and à la carte options. No takeout, though.
"Oftentimes, the majority of our guests are travelling by boat whose plans are subject to change, quite literally, with the wind," Jennifer says. "We want to provide some wiggle room for those types to be able to dine with us last minute."
Menu wise, almost all of their produce is grown on the coast. Their beef and lamb come from an in-the-family farm in Abbotsford. Like their wine list, many dry goods are sourced from Italy.
"Our menu changes frequently to reflect the season and what is coming out of the earth or ocean," says Jennifer. "Fresh pasta will always be available and risotto may be offered from time to time. Being open through the warmer months [May to mid-to-late autumn], there are plenty of fresh ingredients to cater to both vegetarian and vegan diners."
Jennifer and Anthony, who met while working together in Toronto, have both spent more than a decade in the restaurant industry. After settling in Vancouver in 2019, they worked at La Quercia under owners Adam Pegg and Karin Lazzaris. Jennifer and Anthony moved to Halfmoon Bay in March 2022 and plan to call it home for years to come.