Most major grocery chains in Canada fail to label their salmon products as "farmed," according to a new sustainability report.
The annual scorecard, released Thursday by the sustainable seafood partnership SeaChoice, found major Canadian grocers' seafood sustainability practices had their national average slip to 68 per cent from 71 per cent a year earlier.
Costco and Metro were the only two major grocery chains that labelled farmed salmon. Buy-Low Foods was the only major grocer found to continue refraining from selling farmed salmon.
"That means a significant amount of seafood — from canned salmon and tuna to frozen seafood — is being ignored," Dana Cleaveley, SeaChoice's supply chain analyst, said.
"For healthy oceans, we need grocers to be addressing all seafood sold in their stores, not just some."
The report also criticized brands and grocers such as Costco, Co-op, Loblaw, METRO, Save-On-Foods and Walmart for relying on salmon certifications that are "not fit for purpose. Certifications such as the Aquaculture Stewardship Council and Best Aquaculture Practices "fail to adequately protect wild salmon from disease or sea lice impacts from certified farms," wrote the organization in a release.
Half the grocers examined in the report saw their score drop from last year because their supply chains were found to have inadequate due diligence processes. Only Costco was found to improve in this area after initiating a supplier audit process under its human rights policy.
Critical information on labels across most grocery chains decreased to 38 per cent from 53 per cent. Only METRO and Walmart did not see their scores decrease, though the latter included just 25 per cent of critical information compared to METRO's 100 per cent.
Grocers FCL, Loblaws and Walmart were found applying "self claims of sustainability" to their own private-label products. Costco was the only brand to apply "credible certification claims on its packaging," the report found.
"Grocers and shoppers are being hoodwinked by open-net pen salmon certifications claiming 'best practice' or 'responsibly farmed,'" added Christina Callegari, SeaChoice representative from Ecology Action Centre.
Seafood sustainability questioned as feds decide on future of B.C. salmon farms
The report come as Joyce Murray, Minister of Fisheries, Oceans and the Canadian Coast Guard, moves to make a decision on the future of open-net pen salmon farms on B.C.'s coast.
Many scientists and First Nations point to a growing body of research that suggests the technology opens a path for pathogens — such as sea lice and fish viruses — to pass from farmed to Pacific salmon, further threatening the pressured fish.
Outside of salmon farms, climate change, habitat degradation and overfishing are all leading to significant declines of wild species. Of the Fraser River's 31 sockeye salmon populations, 11 are endangered, two are threatened and seven are designated as facing a special concern. Salmon farm industry groups, meanwhile, have pushed back against evidence salmon farms harm wild fish and point to another body of research.
Salmon farms off B.C.'s. coast have become a flashpoint over what should be seen as legitimate science, with some claiming government scientists have been captured by industry.
Earlier this year, a group of over a dozen leading fish scientists slammed a federal study that found "no statistically significant association" between infested salmon farms and sea lice in nearby wild salmon.
The letter, signed by 16 scientists from the University of British Columbia, Simon Fraser University, and the University of Toronto, among others, said the Fisheries and Oceans Canada (DFO) Science Response Report, published in January, contained "serious scientific failings," including cherry-picked data and a lack of consultation with leading experts outside DFO.
The biggest flaw in the report, says Gideon Mordecai, a research associate studying salmon viruses at UBC who signed the letter, comes from evidence the report's authors ran multiple statistical analyses, picked the answer that suited their bias and only reported that.
"It's a scientific sin," Mordecai said at the time.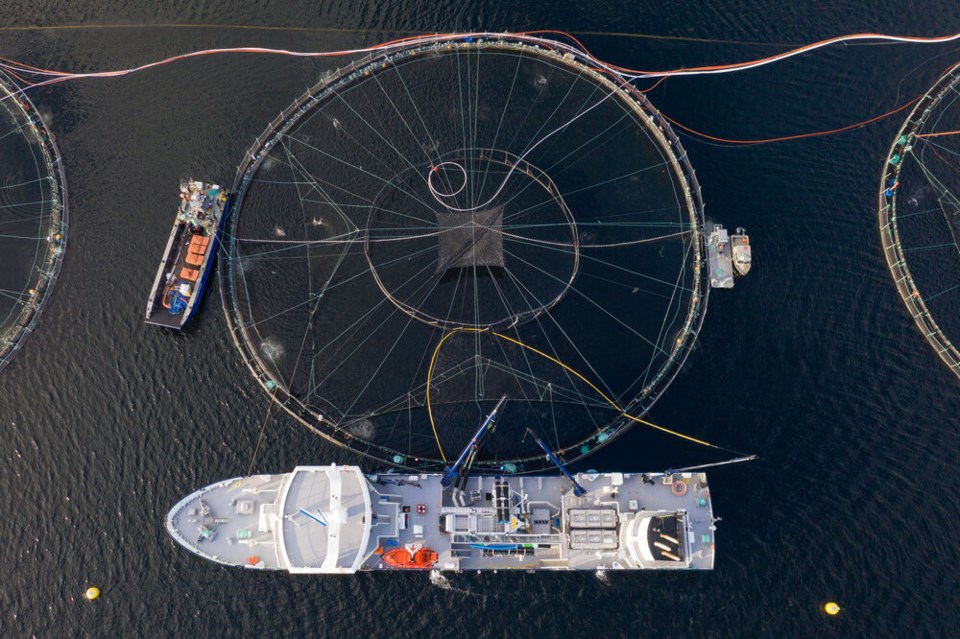 In March, the fight over the future of salmon farms in B.C. escalated to a federal court. Three major salmon farm companies — Grieg Seafood, Mowi Canada West, Cermaq — and the We Wai Kai and Wai Wai Kum First Nations launched a legal challenge against Murray's decision to not renew federal licences for 15 salmon farms in the Discovery Islands.
In an application for federal review, Mowi described the move to not renew the licences off Vancouver Island near Campbell River as "unreasonable, invalid and unlawful." It said the decision has already led to the company to cut its workforce in half to just over 300 people.
But Murray has stood by her February decision, defending it as a difficult but necessary step in a precautionary approach to help a threatened species.
For now, many more open-net salmon farms remain open. As those fish make their way to grocers and on to consumers' plates, the authors of the report released Tuesday said the failure of major grocers to properly label farmed salmon is evidence that the government must act "to do what certifications in the marketplace have failed to do: protect wild salmon."
They called on Murray to remove the open-net pen design from the Pacific coast and transition the industry to close-containment land-based aquaculture.
With files from the Canadian Press