California property owners are facing dwindling options to insure their home against wildfire after two major providers pulled out of the state citing worsening climate conditions.
Earlier this month, Allstate confirmed it had quietly stopped offering new policies in the state because of increased climate risk and spiralling construction costs. A week earlier, State Farm released a statement saying California's "rapidly growing catastrophe exposure," rising construction costs and a challenging reinsurance market had combined to make new policies for homes and businesses untenable.
California is not alone. Across the United States, insurance companies are raising premiums and declining to offer insurance in areas most vulnerable to flooding and wildfires. Part of the calculation comes from the inflation-driven costs to build back after a disaster. In Florida, the closure of a number of insurance companies pushed the state to create a complicated system backed by Citizens Property Insurance Corporation. The state's insurer of last resort is currently eying a double-digit rate hike.
As Canada faces the worst wildfire season of the 21st century, the U.S. insurance industry's pattern of retreat has not gone unnoticed by providers north of the border.
"California provides a cautionary tale for us in British Columbia and Alberta," said Aaron Sutherland, vice-president for the Insurance Bureau of Canada's western and pacific regions.
"The growing wildfire risk in California is almost getting to a point where it's no longer unforeseen… you've got urban areas in extremely high-risk areas that are getting so dry for so long now that it's no longer a question of if but when."
Rates going up across much of Canada
Across Canada, property claim payouts due to severe weather damage have doubled every five to 10 years since the 1980s, according to the Insurance Institute of Canada. The trend is expected to continue, with paid claims more than doubling to $5 billion by 2030.
According to a July 2022 report by Ratesdotca, home insurance premiums in Ontario had risen around 10 per cent in less than a year, with increasing incidences of severe weather one of several factors contributing to higher costs for homeowners, especially those in smaller population centres.
A similar report published a year earlier found that home insurance rate growth was well outpacing inflation, with average home insurance rates in Alberta up 140 per cent over 10 years to $1,779 as of early 2021, while in Ontario the average annual rate was up 64 per cent to $1,284.
Severe weather caused $3.1 billion in insured damage in 2022, up from $2.1 billion in 2021, and the third worst year in Canadian history, according to the Insurance Bureau of Canada's annual report. The Fort McMurray fire put 2016 in the highest spot at almost $6 billion.
Canada's high-risk fire zones already pay more for insurance. But Sutherland said homeowners still have time to reduce their fire risk through programs like FireSmart before insurance premiums get out of reach.
Most B.C. residents say they need help to protect their homes
British Columbians appear to be ready to do their part, but most say they need help, according to a poll released Tuesday.
Around 72 per cent of B.C. residents want more information on how to better protect their home, but 88 per cent need more help to make that happen, found the Leger survey carried out on behalf of FireSmart BC and the BC Automobile Association (BCAA).
"We're facing an intense fire season and over and over, year after year, we're seeing that more and more. British Columbians see that and they care. They want to protect their homes," said Rachel Woodhurst, program director at FireSmart BC.
The poll, which surveyed 1,000 people across the province, also found 90 per cent of of British Columbians fear vulnerable communities will struggle to recover from a fire.
The survey coincided with the launch of a new FireSmart BC program backed by the BCAA that will ramp up the presence of fire prevention experts in remote and at-risk communities across B.C. The Home Partners Program will offer free home assessments and recommendations to improve fire safety specific to a property. Residents of the following B.C. communities can currently access a personalized assessment:
Apex Mountain Resort
Coquitlam
Fort Nelson First Nation
Fraser Lake
Galiano Island
Kelowna
Lake Country
Langford
Metchosin
Nelson
North Vancouver
Peachland
Pemberton
Penticton
Port Moody
Bulkley-Nechako
Capital Regional District
Central Kootenay
Central Okanagan
Cowichan Valley
Fraser Valley
Kootenay Boundary Regional District
North Coast Regional District
Okanagan-Similkameen Regional District
Sidney Island
Sooke
West Kelowna
Whistler
Woodhurst also said they are working to target people and communities who live in areas at high risk to wildfires but who don't have good internet connections to access the organization's resources.
"We have data that if people put in the effort, and they work to FireSmart their home, it stands an absolutely solid chance if it faces a wildfire," said Woodhurst.
"This is the window of opportunity."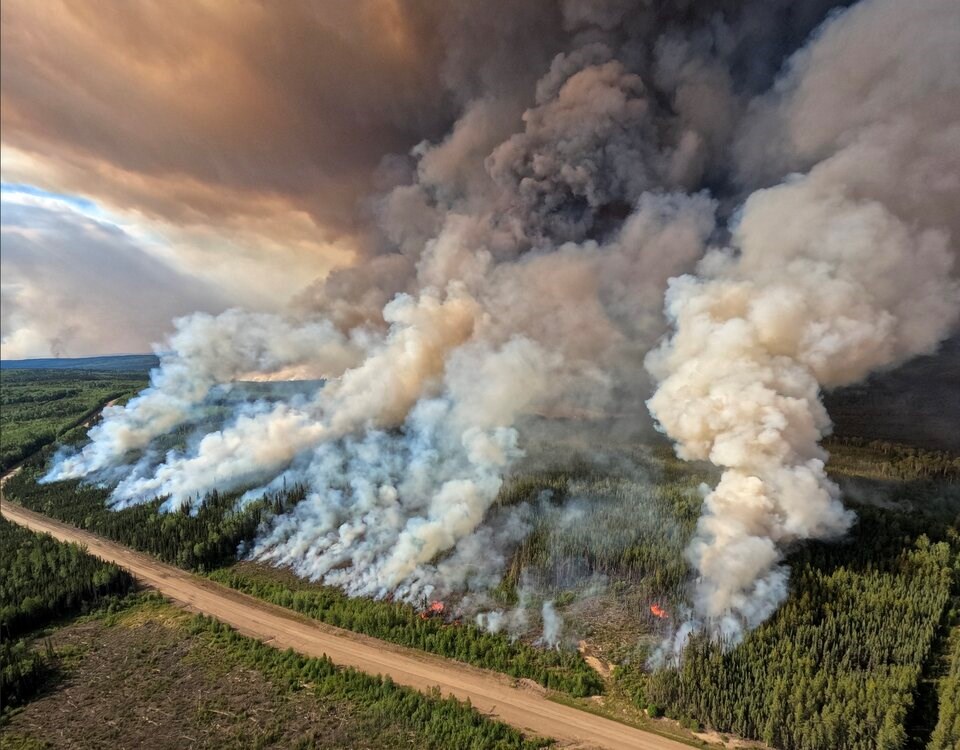 Small changes can prevent catastrophic loss
Small changes around your home can significantly reduce the risk to fire, according to FireSmart BC.
The provincial wildfire program recommends cleaning out flammable debris from gutters, and moving propane and firewood between 10 and 30 metres from structures.
Other safety measures include keeping grass cut below 10 centimetres and pruning low branches on trees close to your home. They recommend making a 1.5-metre "non-combustible zone" around your house and deck, and landscaping with gravel and wildfire-resistant plants that have moist, supply leaves.
And if you have a wooden fence, consider installing a metal gate to act as a fire break where it touches your home, recommends FireSmart.
"If a fire breaks out, all of these things factor into to the ultimate price you'll be paying," said Sutherland.
More time than California to prepare for fire and floods
With a good level of preparedness, Sutherland says he doesn't foresee Canadians facing a situation like in California anytime soon — at least when it comes to wildfires.
Risk to flooding, on the other hand, has already left between five and 10 per cent of Canadian homeowners without access to insurance, according to the bureau.
"The insurance industry alone simply cannot create a solution for them and offer them a policy that is affordable moving forward," Sutherland said. "If a home is expected to flood every 10 years, it's very difficult to create an affordable product for them."
Sutherland said the Insurance Bureau of Canada is working with the federal government to create a government-backed system that would be within financial reach of homeowners living in high-risk flood areas.
But Sutherland said there are some communities in Western Canada — including Cache Creek, Grand Forks and the Sumas Prairie — where extreme events made worse by climate change could make risk untenable.
"Where does it make economic sense to have a conversation around strategically retreating from these areas, you know, returning them to natural wetlands?" questioned Sutherland.
"Unlike California, we have time to prepare."
With files from the Canadian Press