The Canadian government's plan to plant two billion trees by 2030 is largely on track after 97 per cent of the 30 million trees slated for planting in 2021 made it into the ground.
The tree planting program is designed to boost the natural environment's ability to absorb atmospheric carbon, thereby fighting the climate crisis, while trying to slow biodiversity loss across the country.
In areas near human settlement, the trees could also act as buffers against extreme heat and cold, filter water and help reduce peak flood levels.
Last year, 29 million trees of 150 different species were planted at more than 500 locations across Canada.
In a prepared statement, Minister of Natural Resources Jonathan Wilkinson said the government is "on track to plant two billion trees over the course of 10 years."
Two Vancouver Island watersheds get over 50,000 trees
In announcing the numbers, the ministry pointed to the planting of 51,070 new saplings along the banks of the Hiłsyaqƛis (Tranquil Creek) and Atleo rivers in British Columbia. The saplings are meant to help recover the two watersheds and restore critical spawning grounds for endangered chinook and chum salmon, while offering employment for the Ahousaht and Tla-o-qui-aht First Nations.
Roughly 20 kilometres east of Tofino in Clayquot Sound, Hiłsyaqƛis has seen a sharp decline in wild Pacific salmonids since the 1970s. While it's estimated to be able to support up to 3,000 returning adult chinook and up to 25,000 adult chum, in 2018, only 59 chinook and 2,672 chum returned,
The Redd Fish Restoration Society, which oversaw the tree planting effort, says much of the declines are due to industrial scale logging, which began in the two watersheds in the 1960s.
"They historically logged right up to the riverbank," said Mandala Smulders, the society's director of operations.
That's left forest stands dominated by a handful of species and prevented the growth of important underbrush — diversity required to evolve into the old-growth stands that support a healthy river.
The society has identified a number of problems caused by logging and preventing the recovery of healthy fish populations. Those include channel instability, bank erosion, lack of habitat and limited cover overhead.
To rehabilitate the watershed, the group has engineered log jams to recreate natural pools and, with funding from the two billion tree program, has planted tens of thousands of alder and native conifers like Sitka spruce, western red cedar and fir.
"This last year, we've had the heaviest rainfall we've seen in years," Smulders said. "The banks are eroding. There are more landslides."
"We're not just planting the trees, we're able to create this watershed that's more resistant to the impacts of climate change, such as flooding or drought."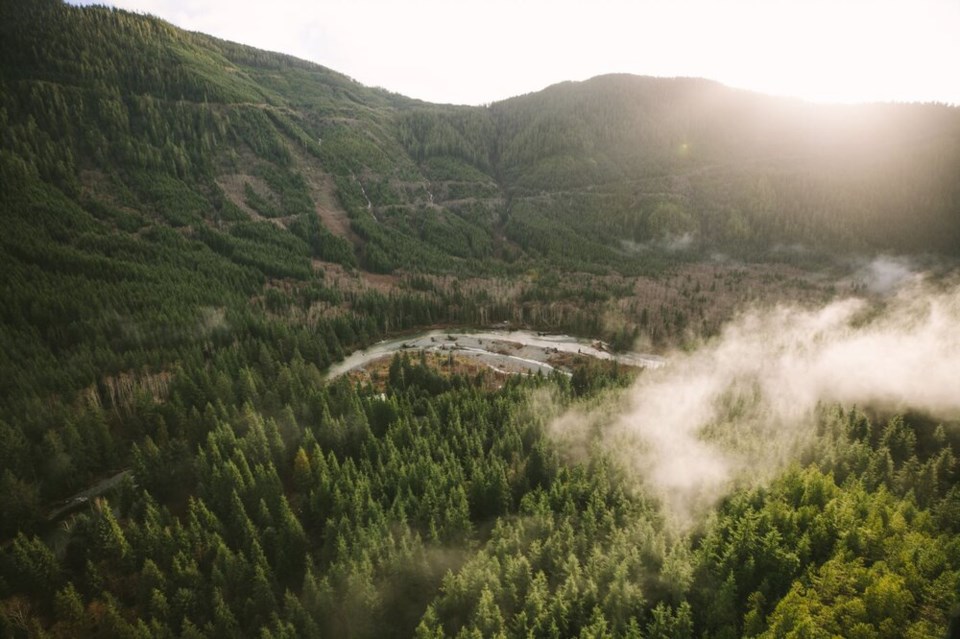 Similar restoration efforts have been rolled out at Alteo River, 10 kilometres northeast of Maktosis on the west coast of Vancouver Island.
Located on Ahousaht First Nation territory, the river provides several kilometres of low-gradient spawning and rearing habitat for fish. Once home to five Pacific salmon species, their populations have dwindled, impacting the health of the entire surrounding ecosystem.
But it's not just about supporting fish. Smulders said the two billion tree program helped directly employ 10 staff for four months in 2021, including five from local First Nations communities.
"It's a huge contribution," she said. "Having long-term sustainable work out on the West Coast, particularly for people living in remote Indigenous communities, is life-changing for sure."
Keeping that work going can be a challenge. The Redd Fish Rehabilitation Society has to clear several hectares of brush before it can plant the trees and that has required finding more money elsewhere.
So far this year, the two billion trees program received more than 200 project applications that represent several multi-year projects that if approved would plant about 425 million trees.
"These multi-year agreements will create predictable, stable, long-term demand for nurseries and others supporting the supply of seedlings, ensuring that the right tree is grown and planted in the right place," said a spokesperson for the Ministry of Natural Resources in a press release.
Smulders said her restoration society has applied for long-term funding through the two billion trees program to back the planting of 200,000 trees over the next decade. If it goes through, it would be the first time the organization got long-term stability and would allow them to double staff at peak planting times.
"We put our last application in maybe five months ago and we haven't heard anything," Smulders said.
The federal planting targets are designed to grow significantly over the coming years. While contracts for 30 million trees were signed in 2021, its first year, in 2022 and 2023, the federal government plans to double that to 60 million trees planted annually. By 2027, the number of trees planted across Canada under the program is expected to peak at 320 million per year.
That will require ramping up contracts with tree nurseries several years in advance to ensure a steady supply of saplings.
Labour shortages a concern for some tree planting companies
A bigger barrier, say some B.C. tree planting companies, is labour. Earlier this year, several companies struggled to fill their tree planter quotas, a sign some say could spell trouble in the coming years.
"People just have lots of jobs. We got the positions filled but it was certainly leaner pickings," said Jason Krueger, owner and CEO of Summit Reforestation in Smithers. "It takes a special kind of person to go out and bend over 3,500 times a day."
Roughly 40 per cent of Summit Reforestation's planters are hired as first-time planters every year, with about a third travelling from Ontario, 20 per cent from Alberta and another third from B.C.
All of those workers have to fly or drive out on their own dime to get to work for the season at a time when soaring inflation pushed up Canada's consumer price index 7.7 per cent in May compared to a year earlier.
In May, Statistics Canada reported the price of groceries jumped 9.7 per cent — the largest increase since September 1981 — while gasoline prices were up 36.3 per cent year over year.
In response, Krueger said he has had "to beg" clients to pay more per tree in order to keep up with the rising cost of almost everything.
"If those trends continue until next year, the fed's two billion tree program is going to be in trouble," he said.