It was never the plan for Sandra Krotez and her husband John to leave Courtenay for Vancouver.
But two things happened: the landlord wanted to sell the house they were renting, and two weeks after receiving that news, John fell ill.
He was diagnosed with critical illness neuropathy.
In other words, he was paralyzed.
"John was a very active gentleman at 74 and all of a sudden he couldn't walk," said Sandra, sharing her story before appearing Monday at a housing-related news conference with Housing Minister Ravi Kahlon and Mayor Ken Sim.
John ended up in hospital in Comox before transferring to Vancouver General Hospital, where he had access to specialists. The landlord in Courtenay was good enough to pause the sale of the house, while Sandra searched for housing in Metro Vancouver.
That search began in September 2022.
In April of this year, the New Chelsea Society called with good news that an accessible, affordable suite was available in a new complex that opened in December 2022 on Southwest Marine Drive in Vancouver.
"Through sheer luck, or great karma or divine intervention, something came up," said Sandra, noting the couple was living on pensions and some income from a job that she had semi-retired from. "It was such a gift."
The couple moved into the suite, where no more than 30 per cent of their income would go to the cost of rent. The suite inspired John to get better. He was confined to a bed, then was able to use a wheelchair.
A local rehabilitation centre eventually found a spot for him.
But just two months ago, John died from COVID-19.
"When he heard that the house was being sold, it really got him depressed," said Sandra, who got emotional during the interview and later at the news conference.
"When he heard that we found this home, it gave him the will to get better. So these homes are not just a roof over our heads. This was our forever home, and he got to enjoy it for a few months."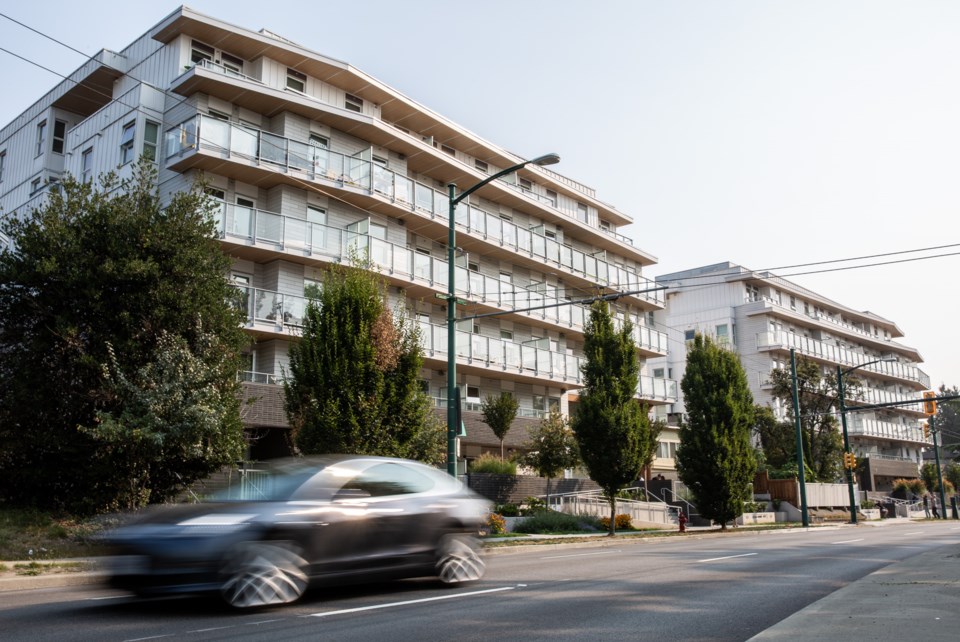 $61.8-million project
The six-storey building in which Sandra lives is one of two on the same property between Main and Cambie streets, where there is a combination of 120 affordable and market rent suites.
Project documents from 2020 show 20 units for people with annual incomes up to $26,000; 51 units for households with incomes ranging between $25,000 and $73,000; and 31 units for households with incomes up to $113,000.
The $61.8-million project was made possible by investments from the provincial government and the City of Vancouver, which contributed the land (valued at $22.7 million in 2020). It's an example of a project funded via the provincial government's "community housing fund."
The housing minister announced Monday another round of that fund, saying there will be enough money available to build up to 3,500 housing units. Applications will be accepted until mid-November.
"I expect we're going to have our partners from the Co-op Association, our partners from not-for-profit housing, from Aboriginal management housing societies and local governments coming forward with projects," Kahlon said. "We've seen the success of this fund."
How much the 3,500 units will cost wasn't shared at the news conference, but the government says it has dedicated $3.3 billion to build more than 20,000 affordable rental homes for people with moderate and low incomes by 2031-32.
Approximately 9,000 of these homes are open or underway throughout the province.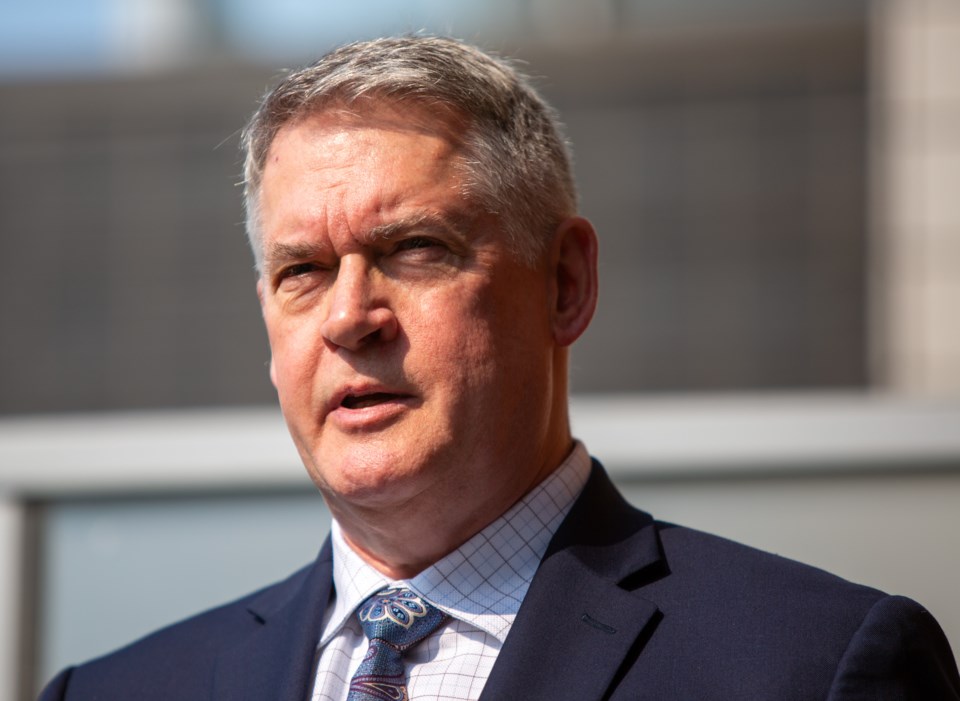 'It will never be enough'
Thom Armstrong, CEO of Co-operative Housing Federation of British Columbia, welcomed the new round of applications and says his organization will apply for some of the funds. Armstrong described Monday's announcement as "a day the community housing sector has waited for, for a long time."
"I know the minister would be the first to acknowledge that when one in almost five renter households in B.C. is paying more than half of their income on rent and utilities, it will never be enough," he said at the news conference.
"But this government is leading the way. Not just here in B.C., but in Canada, in funding new housing supply. And I'm going to say frankly, it's time for everyone else to step up and to match that commitment."
That remark was directed at the federal government, Armstrong said in an interview after the news conference. He recognized the federal government recently announced nearly $500-million in low-cost loans for projects in Vancouver, but loans aren't grants, he said.
"The financing alone doesn't get you to a deep enough level of affordability to reflect what's really happening out there in the housing market," he said. "So you can build purpose-built rental housing, but not to serve income levels that this [community housing fund] program will target. That's the real gap here."
'Nothing more than remarkable'
In the mayor's remarks, Sim made reference to a recent Rentals.ca report showing one-bedroom apartments in Vancouver were being advertised in July for an average of $3,037 per month.
"To put it bluntly, that's just not attainable for families," he said.
"While today's announcement is certainly good news, I think we can all agree we still need to do more — and we will do more. At city council, we've already laid the groundwork for faster approvals to get more homes built. And we're actively going to take more bold steps to ensure that people who want to call Vancouver home will be able to call Vancouver home."
For Sandra Krotez, meanwhile, she will eventually be moving out of her suite to another one in the complex. She wants to ensure someone or a household struggling to find an accessible home will get one.
"The New Chelsea Society has been nothing more than remarkable with their support after the loss of my husband," she said at the news conference. "I cannot say how grateful I am also to hear the announcement today to help other people. So thank you, and forgive me for being so emotional."