Charges are in the works after the Department of Fisheries and Oceans (DFO) arrested three men suspected of large-scale crab poaching on the Sunshine Coast.
Posters headed "Poacher Alert" placed along Ocean Beach Esplanade by community members and showing a picture of a boat working the area between Roberts Creek and Gibsons urged people to keep an eye out and call DFO.
Last week, tips from the public paid off.
Tom Hlavak, a DFO conservation and protection area chief, said the men were arrested Jan. 26 in an operation involving six fisheries officers. Their boat and several crab traps were also seized.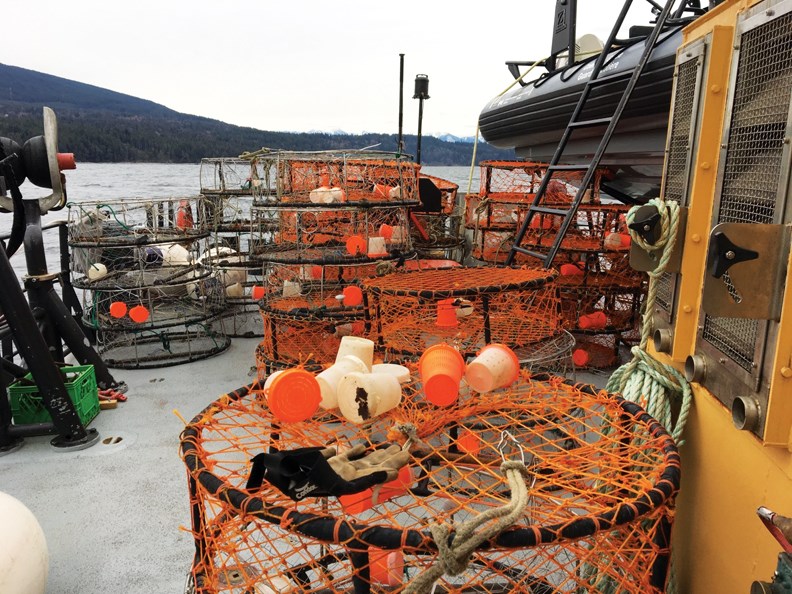 "It was our three fisheries officers from Powell River, and three from Nanaimo," Hlavak said. "Thursday night they were doing surveillance based on the information we got from the locals, and we sent out one of our Zodiacs… More recently we sent the patrol boat out – the Canadian Coast Guard vessel Martin Charles, which is equipped for hauling traps. They've hauled 88 traps [approximately]."
Dozens of crabs in those traps were returned to the ocean, and Hlavak said once the case gets to court, DFO plans to ask for forfeiture of the boat and the traps if the suspects are found guilty.
Hlavak also said the amount of illegal fishing in this case is quite large. He estimates the first string of traps seized after just one night of fishing by three people contained about 400 crabs worth about $4,000. "We are quite concerned when we have this type of scale. It's not an individual with one or two traps fishing out of a skiff, it's a large number of commercial traps."
The other troubling aspect is that the crabs were taken from an area that's been under closure because of dioxin contamination. "The dioxin contaminants concentrate in the part of the crab that may not normally be eaten and it can be removed, but if the crabs are laundered into the regular commercial crab market, the consumers wouldn't know and they may eat that part of the crab," Hlavak said.
"On top of the fact that it's unlicensed fishing in a high value fishery, it's also a public health issue."
Hlavak said it's hard to say if other large scale crab poaching is happening in the area, but with Dungeness crab valued at around $10 each it's becoming a bigger problem throughout the Salish Sea.
He also said the high stakes mean fisheries officers have to be ready for anything during an operation like the one last week. 
"When you're being apprehended in this, there's a chance you could lose a boat, you're going to be going to court. People can get pretty excited about that – it's a pretty stressful situation."
Hlavak told Coast Reporter that DFO doesn't necessarily condone the idea of putting up posters, but there's no doubt in this case it prompted several people to file reports. "The activities of the suspects were pretty visible to local people, so we had quite a few calls, so that helped us identify when they were likely to be fishing and so on," he said.
Anyone who suspects illegal fishing should call the DFO's 24-hour phone line at 1-800-465-4336. Even if fisheries officers can't get to the scene right away, the information can be used to identify areas that should be targeted with extra patrols or a major investigation.