Ghosts of Graffiti, in the main showroom at the Gibsons Public Art Gallery, might be one of the most conceptually innovative art exhibits ever to be staged on the Sunshine Coast, featuring 20 large, boldly-coloured, photographic canvasses depicting local outdoor wall paintings. 
Graffiti, that furtive, mostly anonymous and almost always illegal public art, has long been considered by many to be a modern urban nuisance. Some "tags" are obviously senseless and unsightly sprays left by vandals. But the subjects that local graffiti historian Beau Smith and photographer Gerald Shaffer deal with here are of a different order. They've made ultra-high-resolution images from detailed sections of wall paintings found in Lower Gibsons' Molly's Lane, largely out of sight and thus tolerated, unofficially, by the Town. 
The pair have done such an impressive job with this collection that on first sight, any suggestion of vandalism is blown away. They've cleverly transformed what are often well-conceived but rudimentary spray paintings into 23-square-foot, mostly abstract works of an undeniably finer art. The images are so clear you're tempted to reach out and run your fingers over the scars in the concrete. The curators have even gathered paint chips fallen over time from graffiti in Molly's Lane and scattered them below the canvasses, amplifying the tactile effect. 
The ephemeral nature of graffiti is part its attraction, Smith explained in an interview. "The paintings themselves get weathered," he said, noting that some works might be on a wall for just a few weeks or months before being painted over. "There's more than 20 years of paint on those walls. The weather brings out all the layers… We're peering back into time and seeing years and years worth of deep-rooted graffiti history." 
Smith and Shaffer said they met in Molly's Lane in 2018 when both happened to be there photographing wall art. They later sorted through their collections, used Smith's knowledge of the history of the lane's graffiti artists for text content, and created a book and an online "Graffiti Art Museum" early last year. They then pitched the show to the Gibsons gallery, which wisely approved the idea. 
Smith and Shaffer added that they plan to give royalties from any sales to graffiti artists who are known to have created the original images. Grants to artists can also be applied for through their website to help purchase paint for new works.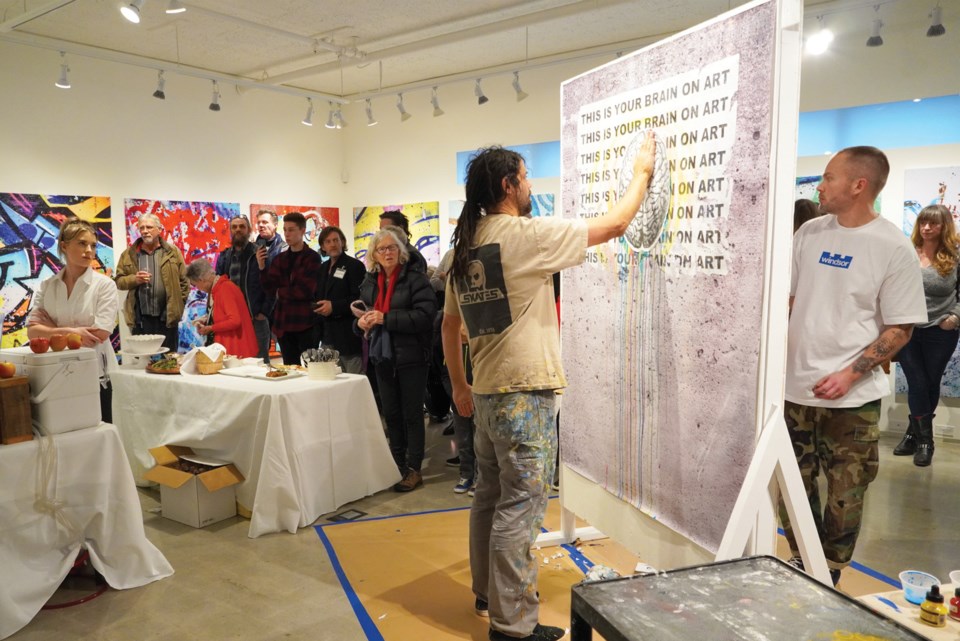 The show's opening reception on Jan. 18 was an artwork in itself, featuring DJ Daniel Bates, a food table catered by Emelle's Market Bistro, a graffiti easel where local muralists Dean Schutz and Ben Tour did live graffiti demos, and a virtual reality station created by Coast artist Marc-Andre Renaud, where participants could virtually spray paint graffiti on the gallery walls. 
Not to be overlooked is the urban-themed companion show in the smaller Eve Smart Gallery, where Vancouver's Stanley Mishkin is displaying eight oil paintings from his series City-Seen, reflecting the city's continuing round of demolition and construction. In these impressionistic works, Mishkin both admires and enhances the stark geometry of high-rises while questioning the social effects of so-called "urban renewal." 
Both exhibitions run until Feb. 9.