There was much to enjoy at this year's 34th annual Festival of the Written Arts: we learned about the novella from Pender Harbour's Theresa Kishkan, heard a dynamic performance from three aboriginal spoken word poets and received an interesting insight into the TV business from Lawrence Hill. However, this festival may be remembered as the festival of the body parts.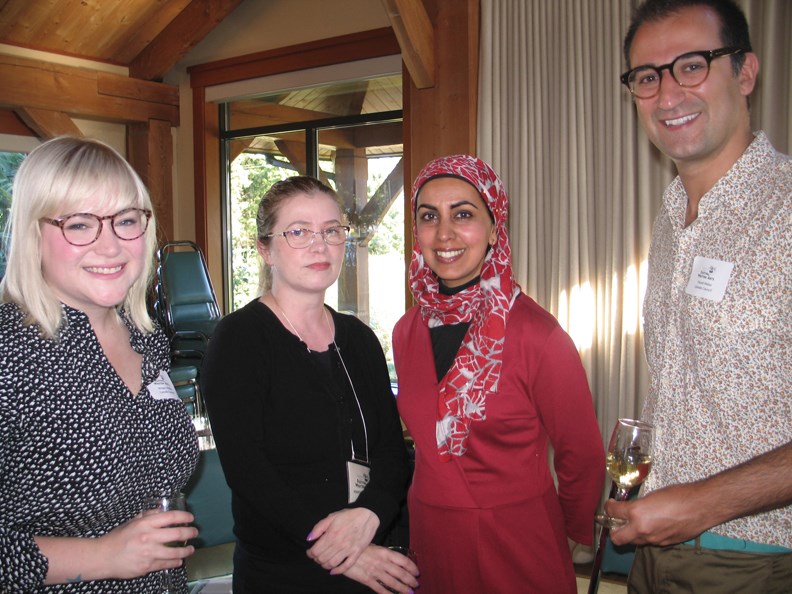 Opening night was hilarious with Bill Richardson introducing guests and talking about what it means to be funny. Zarqa Nawaz, creator of Little Mosque on the Prairie, opened the subject by describing her "story of terrorism," when she had to cope with airline security while having a heavy period. She followed up the next day with a story of the male member, recounting the circumcision of her son. Though Charles Demers was hugely entertaining, describing the joys of canned alphagetti on toast and giving one of the best quotable quotes from the festival: "A joke is the sound of anger leaving my body" – the die had been cast.
Boobs, the anthology subtitled Women Explore What It Means to Have Breasts, took on the female bosom as its theme. This book would be worth buying simply for Lorna Crozier's wonderful poem, "Breasts Are Back." The Coast's own Rebecca Hendry read from her short story, a resonant tale about finding a bump in her breast, while Gibsons author Janine Alyson Young wrote about breastfeeding difficulties in Montreal. The audience was intrigued.
Lawrence Hill, who delivered the annual Bruce Hutchison lecture on Saturday evening, was rightly the star of the show. His account of how his novel, The Book of Negroes, was turned into a TV series (recently airing again on CBC) was fascinating. It was necessary to work with a scriptwriter as he had never written for screen before.
"I had to learn something new and learn fast," he said. Some things had to be deleted; others added. "You can't have characters die off screen like you can in a novel." Casting was important – the actress chosen had to look like an 18th century African. His current book, The Illegal, will be made into an eight-part mini-series.
Theresa Kishkan reprised two of her novellas: Inishbream, about a visitor to an Irish island, and Patrin, a fictional tale of a young woman discovering her heritage. Kishkan's latest, Winter Wren, appears in her role as publisher for the newly minted Fish Gotta Swim Press.
Shilpi Somaya Gowda was perhaps the most poised speaker at the festival as she gave background into her best seller, Secret Daughter, and read from her latest, The Golden Son.
One of the highlights for this reviewer was the poetry event on Saturday when three aboriginal poets/spoken word artists took to the stage to give an electric performance of joy, tragedy and laughter.
Janet Rogers led the way with drumming and rhythmic chanting of her poetry. Ostwelve (Ronnie Dean Harris) spoke of the long, proud heritage of the Sto:lo nation on the Fraser River. "When does reconciliation become reconcili-action?" he asked. His poetry themes ranged from fashion to the Mt. Polley disaster. Jordan Abel wrote by piecing together fragments from other writing, in this case Stephen Harper's apology to aboriginal people for residential schools.
The trio fit together with ease, providing the festival with one of those special moments of discovery.