Numbers of new COVID cases on the North Shore have dropped in the past week.
There were 73 new cases of COVID-19 on the North Shore in the past week – down from 99 cases the week before.
Between Oct. 3 - 9, there were 57 cases in North Vancouver and 16 in West Vancouver, according to information released by B.C.'s Centre for Disease Control.
The number of new cases on the North Shore remained below 100 this week for the fourth week in a row – down from the numbers earlier in September when the fourth wave of the pandemic began.
Data from the B.C. CDC shows there has recently been a higher rate of cases in the central part of the District of North Vancouver, where there have been 9 new daily cases per 100,000 people and in the eastern part of the City of North Vancouver, where there have been 8 new daily cases per 100,000. Positive COVID test rates there are between three and four per cent, as they are for the lower Ambleside area of West Vancouver.
Lions Bay/Bowen Island had the lowest daily case rate at zero per 100,000.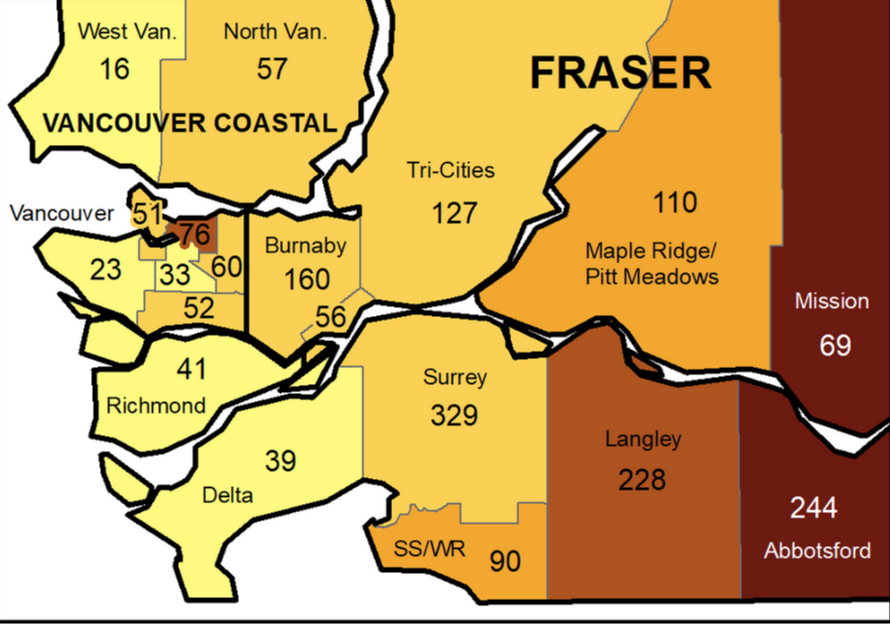 Rates of vaccination on the North Shore are still inching up, at about one per cent per week, with between 90 and 94 per cent of people over 12 having received one dose and between 85 and 89 per cent of those fully vaccinated as of Oct. 12.
Between 83 and 88 per cent of teens between 12 and 17 are fully vaccinated on the North Shore while between 81 and 89 per cent of adults between 18 and 49 have received both shots. Rates of vaccination remain highest in adults over 50.
Provincially, 605 new cases of COVID-19 were reported Wednesday. A total of 374 people were in hospital with COVID, or COVID-related complications, while 153 people were in intensive care.
In the past two weeks, about 73 per cent of hospitalizations in the province were among people not fully vaccinated.
Hot spots continue to be in the Interior and Northern health regions, as well as in the eastern Fraser Valley.
Recently, 55 people in critical care were airlifted from overwhelmed hospitals in B.C.'s north to hospitals in the south. Of those 42 of them were COVID patients who had not been fully vaccinated, said Health Minister Adrian Dix.
Dr. Bonnie Henry, the province's medical health officer, urged people to get vaccinated, saying health care workers are tired. "It's been a long 20 months," she said. "It is so, so hard hard for us to see a preventable illness now affecting people across the province."
Since school started, there has been an increase in COVID-19 cases among school-aged children 5 – 11 years old, who can't yet be vaccinated, according to the BC CDC, although those numbers are now leveling off. There has also been an increase in the numbers of children being tested, as other respiratory viruses have started to circulate more widely again in a way they didn't last year.
A decision from Health Canada on approvals for vaccines for children under 12 is expected soon.
​
​